Da Nang is a coastal city in Central Vietnam and is one of the top most livable cities in Southeast Asia thanks to its favorable natural conditions and friendly living environment. Da Nang is not only famous for its beautiful natural scenery and long beaches, but also attracts tourists by its extremely diverse cuisine with delicious dishes. If you have the opportunity to visit this city during the Vietnam Private Holidays, do not forget to enjoy these delicious local dishes of Da Nang!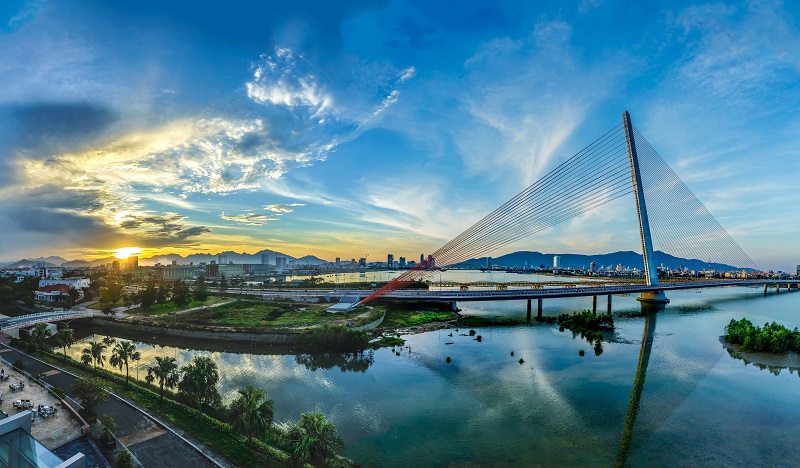 Banh Trang Cuon Thit Heo (Sliced Pork Rolled With Rice Paper)

Da Nang Pork Roll Cake is a famous specialty of this coastal city. The dish is made from slices of pork wrapped in thin and chewy rice paper, accompanied by raw vegetables, sliced vegetables (pineapple, mango, cucumber), fresh vermicelli, and dipped in Mam Nem - a specialty fish sauce made directly from salted fish by the people of the sea.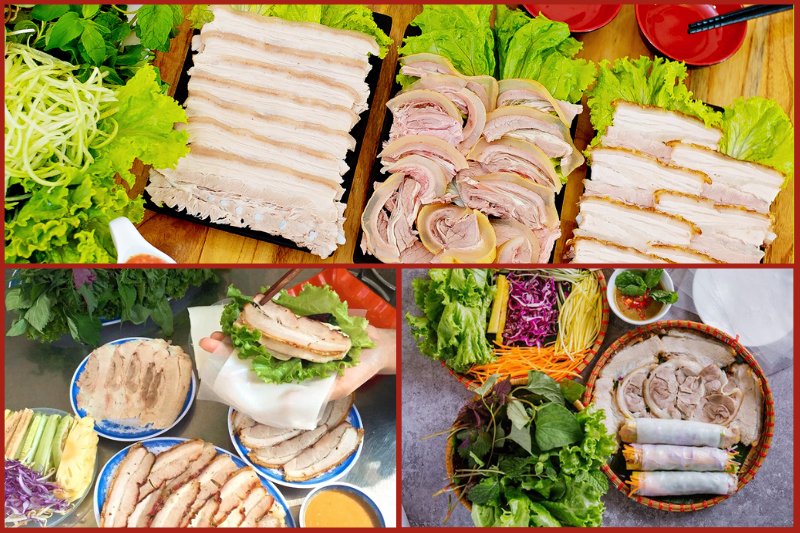 (Banh Trang Cuon Thit Heo in Danang)
Mi Quang (Quang noodle)
Quang noodle is
a traditional specialty dish
originating from Quang Nam and gradually becoming popular in
Da Nang
. Noodles are made from
rice milled into a fine powder and coated in thin layers, then sliced into bite-sized fibers
. As for the filling, there will be many types of shrimp, meat, chicken, snakehead fish, frog, beef, ... Depending on the preferences of each person to choose. Quang noodles will be served with raw vegetables, grilled rice paper, roasted peanuts and indispensable horn chili.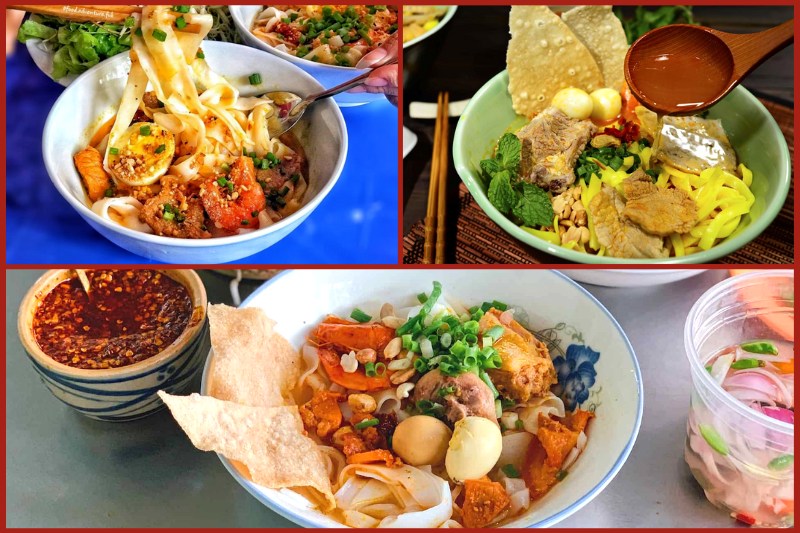 (Mi Quang in Danang)


Banh Xeo, Nem lui (Crispy pancake, Pork skewers)
Banh Xeo is a national dish that is present in all parts of our country, but Banh Xeo in Da Nang has its own unique flavor. The crust is made from
pureed rice flour
, while the filling includes
shrimp, squid, minced meat, finely chopped scallions and bean sprouts
. The dish is poured on the spot to ensure a crispy heat and served with spring rolls, raw vegetables, and fish sauce mixed to your taste.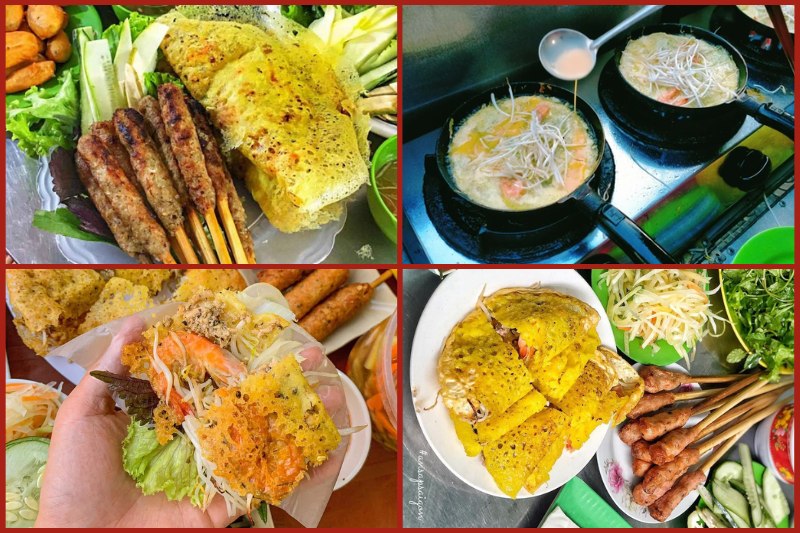 (Banh xeo and nem lui in Danang)
To eat Banh Xeo properly, you should use them with
raw vegetables and sweet and sour fish sauce
. Each person eating about 4-5 pancakes is "full". Remember to order a few more skewers of spring rolls made from grilled loin!
Chicken Rice
Chicken rice is a dish not to be missed in the
Da Nang
culinary manual when attending
Vietnam Private Tours
. Chicken rice is prepared in many different ways such as
shredded chicken rice, roasted chicken rice, fried chicken, boiled chicken
, etc. accompanied by a bowl of sour dishes and a bowl of cool soup that looks very attractive.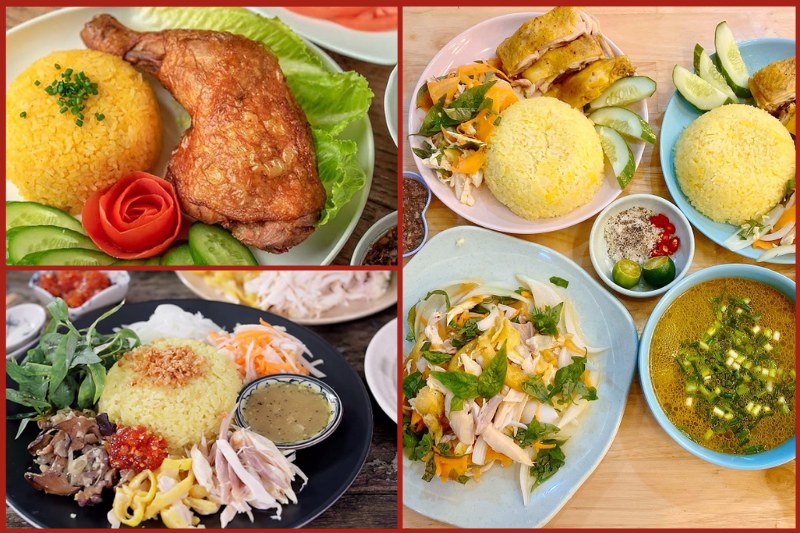 (Chicken Rice in Danang)

Bun Mam Nem (Noodle with Vietnamese Fermented Anchovy Dipping Sauce)

The bowl of vermicelli will include all the ingredients: fresh vermicelli, boiled pork, beef patties, some mixed jackfruit, roasted peanuts and raw vegetables. What makes this dish delicious lies in Mam Nem.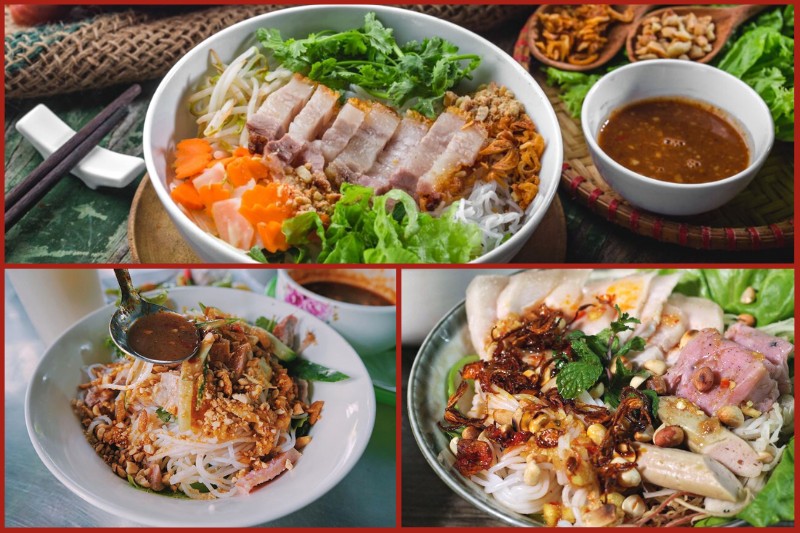 (Bun Mam Nem in Danang)
When enjoying, people often add
a little shrimp paste and chili
to enhance the flavor. This dish is very popular and favored by its simplicity, ease of eating and strange taste.
Bun Cha Ca (Fishcake noodles soup)
Referring to Da Nang cuisine of
Vietnam Customized Tours,
it is indispensable for the famous delicious fish noodle soup. A bowl of Bun Cha Ca in style includes
fish cakes, pumpkin, kohlrabi, fresh bamboo shoots, a little more shrimp, onions and tomatoes
. The broth is stewed from the fish bones, sweet and pleasant, making diners eat once and remember forever.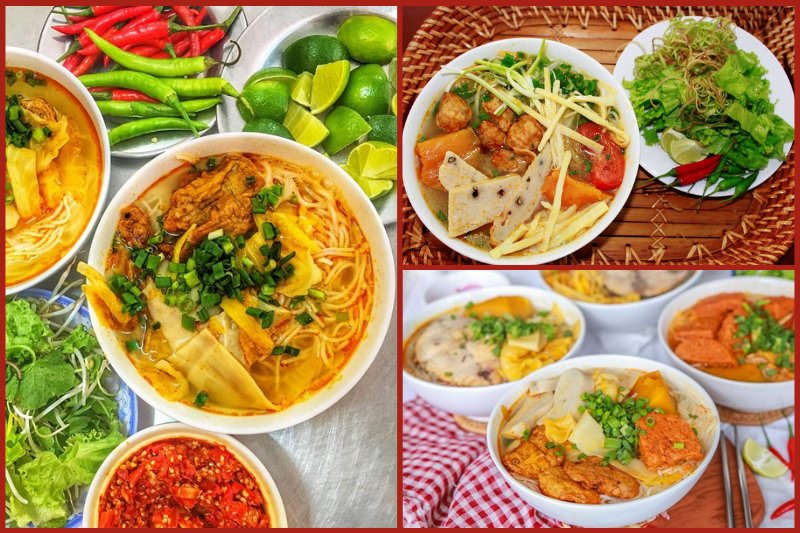 (Bun Cha Ca in Danang)

Da Nang fish cake is made from fresh fish, so it also has a strong sea flavor, both chewy and soft. We can add a little chili fish sauce and serve with delicious raw vegetables.

Banh Trang Dap (Crushed Rice Cracker)

This rustic dish is a combination of crispy and hot baked Banh Trang (Rice Paper) and Banh Uot (Steamed Thin Rice Pancake). The top will be spread with some onion fat. When eating, you have to use your hands to break the cake and eat it with a dipping sauce with a very attractive flavor.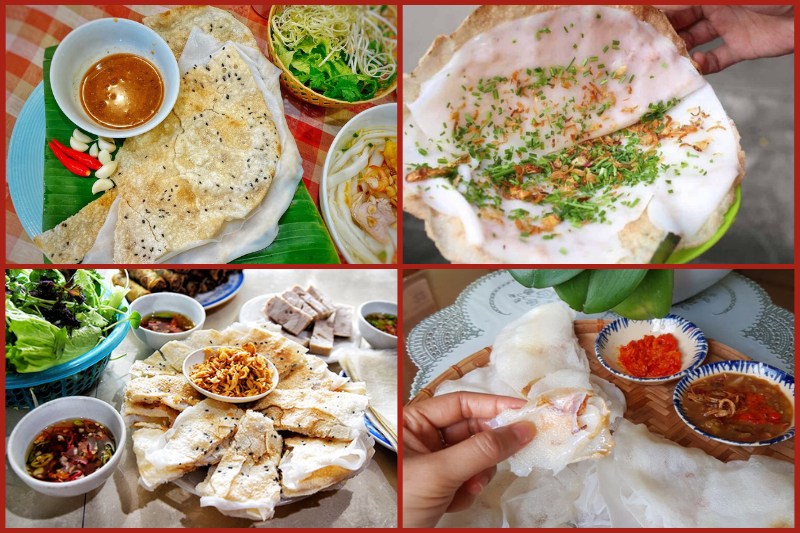 (Banh Trang Dap in Danang)


Banh Can (Vietnamese Mini Pancake)
Banh Can is a delicious dish in
Da Nang
from the sidewalks to the restaurants. The image of crispy, golden Banh Can being quickly
flipped on the oil pan
under the hands of the owner makes visitors extremely excited.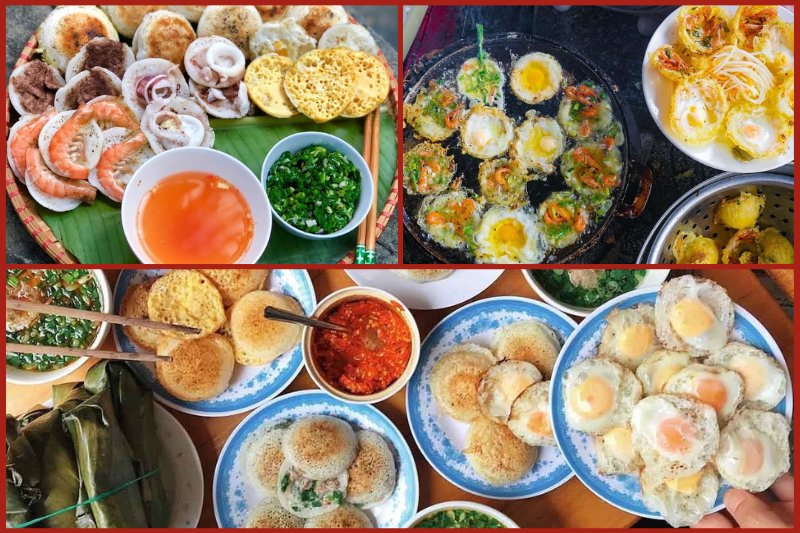 (Banh Can in Danang)
The cake is made from
rice flour,
so the outer shell will have a certain crispness but the inside still retains the aromatic plasticity. The filling is varied, which can be quail eggs, shrimp, pork, etc. The most important highlight of the deliciousness of
Banh Can is the rich sweet and sour fish sauce with pickles and raw vegetables
.
Seafood
Not only the above traditional specialties,
Da Nang
is also very famous for
fresh seafood and seafood dishes
. Due to the abundance of seafood, Da Nang has given visitors many choices of eating and drinking. From
fish, shrimp, crab, squid to snails,...
all are fresh and delicious in
Vietnam Private Holidays
.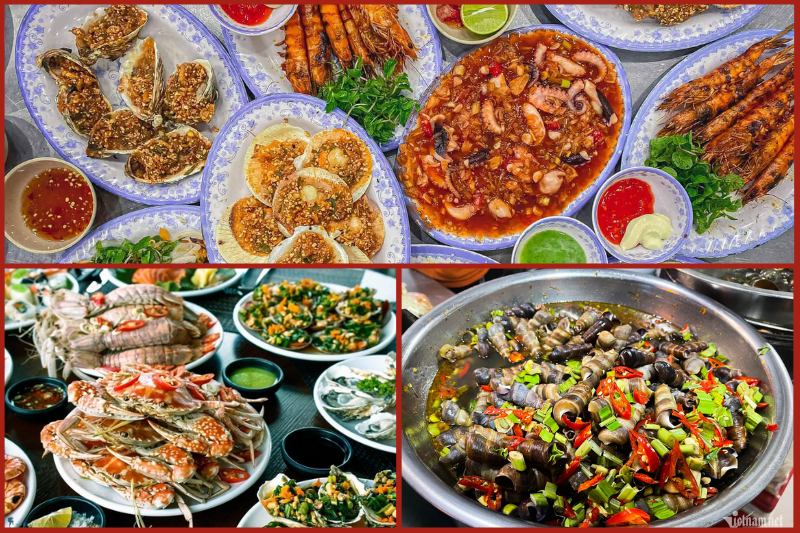 (Seafood in Danang)
What to eat in
Da Nang
is always a question that many people are interested in. Above is a list of
delicious Da Nang special dishes
that Nadova would like to introduce to visitors. We hope that visitors will have
an interesting and memorable experience
when participating in
Vietnam Private Tours
and fully enjoy the cuisine here.