Vietnam cuisine is considered to be one of the healthiest places in the world and the reason may derive from their food with typical diet predominantly including herbs and veggies. Plus, Vietnamese people also eat everything in moderation and try as much as they can to have all nutrients in their meals. Let's dive into top culinary delights in your Vietnam travel package which are not good for your health but also incredibly scrumptious.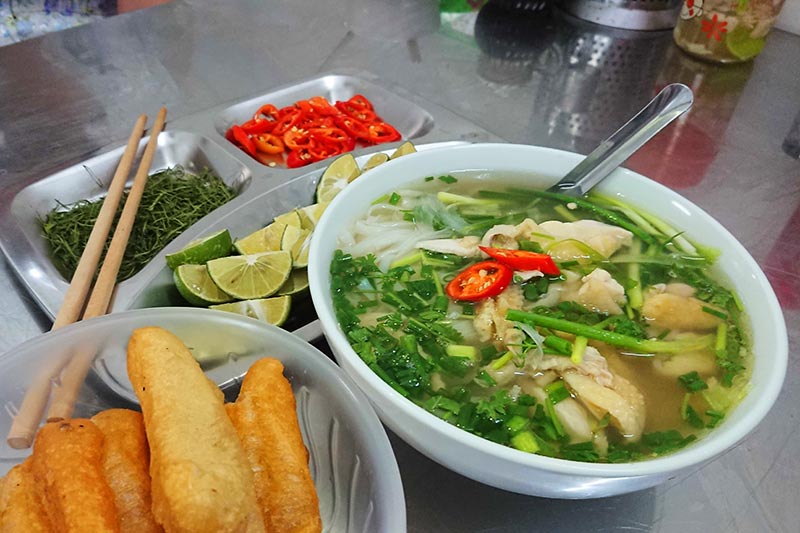 Spring Rolls
This dish is made up of a wide range of ingredients like shrimp or steamed meat, vermicelli noodles and a variety of herbs. All these ingredients are wrapped in rice paper. When you enjoy this cuisine, you have to dip a roll into a bowl of fish sauce and savor all taste in your mouth. The fish sauce is light and thin combining with peanut sauce and coconut oil. The fish sauce goes best with this meal. In fact, fresh spring rolls contain almost zero fat, so you do not have to worry about gaining weight no matter how many you eat. Trust me, once you relish this cuisine, you are likely to crave for another one. However, don't mistake spring roll with cha gio or nem ran (deep fried rolls), as those are deep fried in a tub of oil.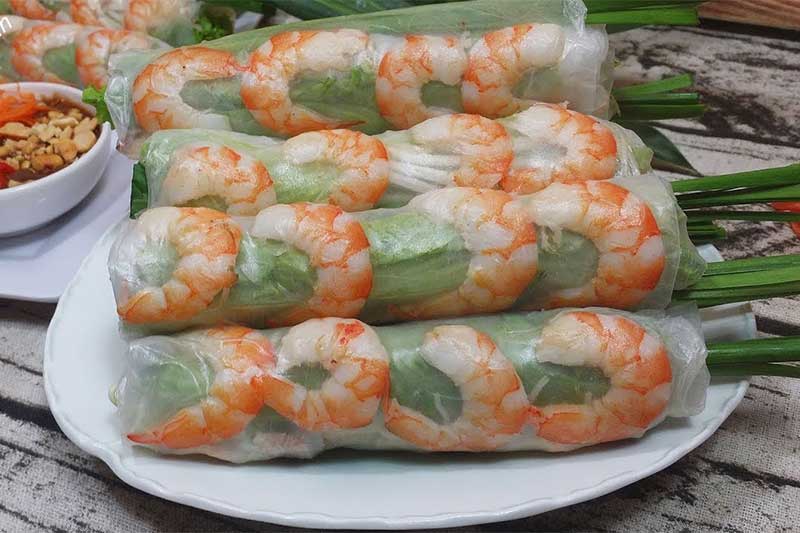 Read more: Things to be aware of when travelling in Vietnam
Pho (Noodles Soup)
It is easy to fall madly in love with Phở if you once savor this miracle dish. Without stating the obvious, Phở is a quintessential must- try dish for any visitor who has Vietnam private tour. In case you may not know, Phở is a noodle soup consisting Phở noodles itself, the broth, tender slices of beef and a variety of herbs. The most difficult step is the broth which is not only cooked from beef bones but also infused with various roasted spices. A hot bowl of Phở in a weekend afternoon definitely can provide you with a nutritious and scrumptious meal. Many people hesitate to make Phở because it looks like a restaurant staple, but it's actually not all that hard to make a quick version at home. True Phở broth is a long-simmered affair, combining chicken or beef bones with aromatics like onions and ginger to make a deeply rich, deeply savory broth. Making a great broth is a process that takes hours — sometimes days. While this kind of slow-cooked pho is top-notch, we can make a much quicker version using store-bought beef stock. We can also get close to the flavors of real pho broth by taking just a little time to infuse the broth with some aromatics. Simmered for 30 minutes with some onions, ginger, whole spices, soy sauce, and a dash of fish sauce — we can make a simple pho broth that tastes heavenly. Pho is filling and not loaded with calories. It is full of fiber, antioxidants, minerals, and vitamins. You can always reduce the amount of fat in your dish by asking the waiter to add less meat.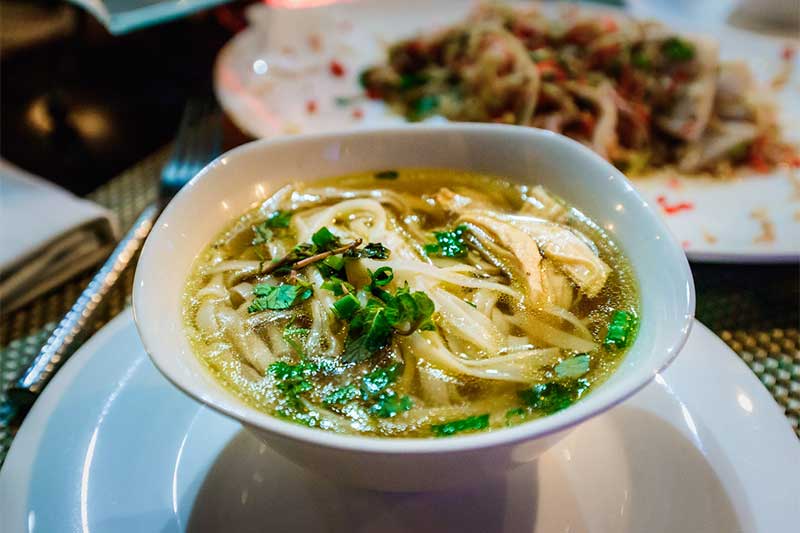 Read more: The Geography of Vietnamese Noodle
Chao Ga (Vietnamese Chicken Congee)
In many Asian countries, it is the norm that congee is a food for those who are sick since It is easy to eat, and digest. Plus, this dish is hot to the bone, so patients can detoxify. Vietnamese congee is made by the prolonged cooking of rice in water (or pig bone soup) during few hours in order to the grains disintegrate. Adding other components such as minced meat or shredded chicken, mushrooms, beans or medicinal herbs and you can have a bowl of congee, which is not only sublime but also extremely healthy. You can easily savor a bowl of congee in your Vietnam family tour.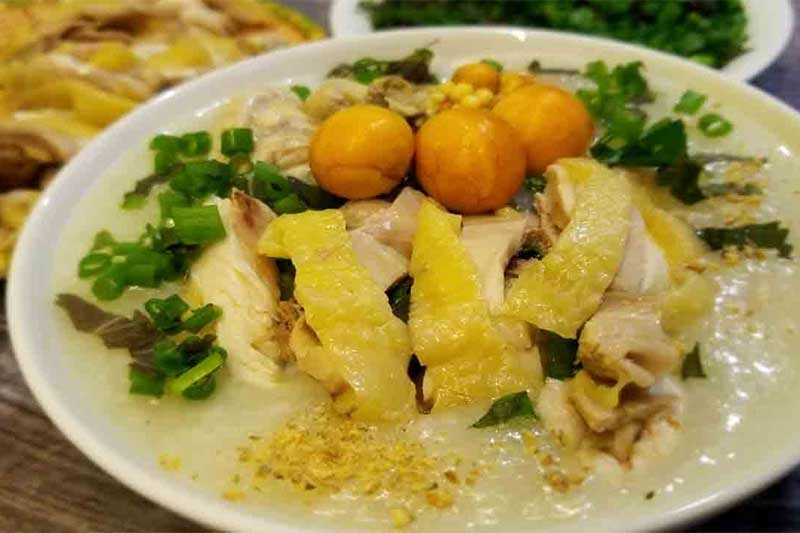 Read more: How do people live in Hanoi Old Quarter?
Fresh Fruit
Vietnam is home to a wide range of fresh and delicious fruits, especially in the vicinity of Mekong Delta. Registering a Vietnam customized tour and you can find many fruit orchards scattered within its provinces. Besides, you can wander around, pick them right off the trees, and taste them then and there. The sour and sweet taste combining harmoniously can quench your thirst immediately. These healthy fruits also do wonder to your body like oranges, mangosteen, dragon fruit, milk fruit, papaya, and mangoes, which can help you boost your immune system and reduce the risk of fatal diseases.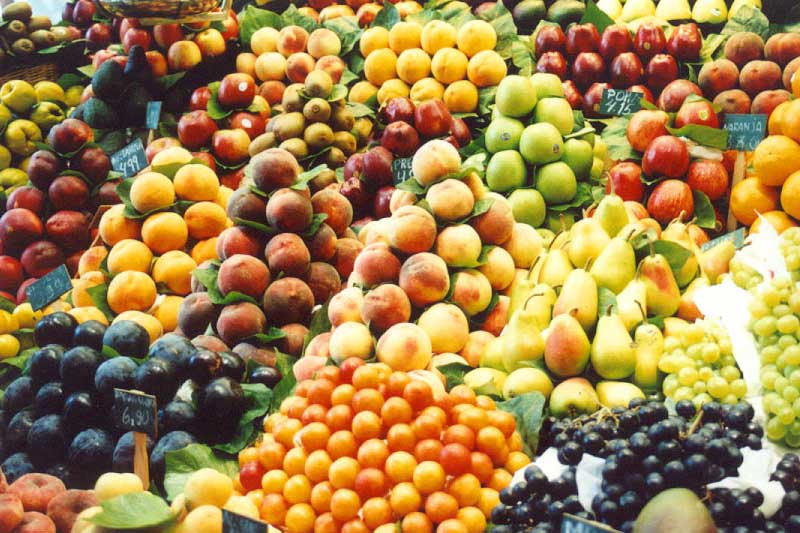 Goi Ngo Sen (Lotus Root Salad)
This kind of salad originated from lotus root- a typical component for food in Vietnam. It is no doubt that salad can do a world of good to our health and this kind of salad is no exception. Rich in minerals and vitamins, lotus root salad can keep your digestion system healthy or prevent the flatulence. When you mix this with prawns, herbs and proper seasoning like fish sauce or vinegar, you can a nice meal for your body. This dish is also known for having a lot of health benefits, such as lowering blood pressure, reducing the likelihood of obesity, and reducing cholesterol.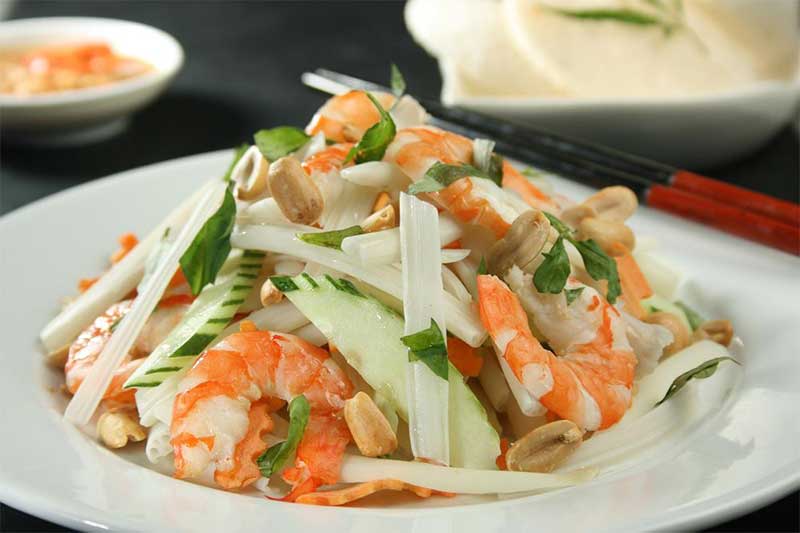 See tours:
Fantastic Vietnam - Myanmar Holiday 20 days
Absolute Vietnam Holidays 15 days