Vietnam is synonymous with various kinds of popular noodles different flavors. Of course, you cannot plan a Vietnam family tour in the outbreak of corona virus recently. But, why don't you spend a little amount of time reading our noodles dishes below? Maybe you can find a suitable cuisine and give it a try in the next time.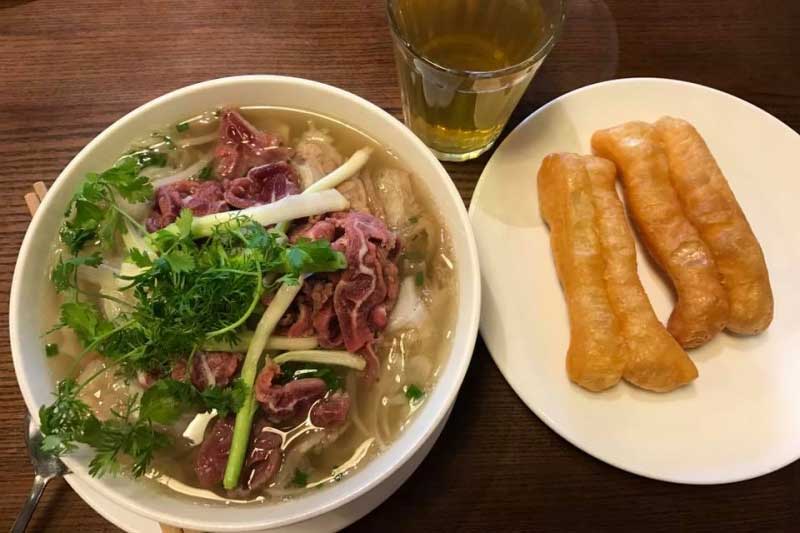 Phở
It is absolutely impossible to not to mention Phở. In fact, Phở is a quintessential must-try dish for any visitors having Vietnam private tour. Also, this dish is a staple breakfast dish for many Vietnamese people. In case you may not know. Phở is the harmonious combination of Phở noodle itself, the broth deriving from simmering bones (usually beef bones), different cuts of meat and a variety of herbs. Although each component has its own values, the heart and soul of a bowl of Phở lie in the broth. The reason is that this broth is not only cooked from bones but it is also infused with a variety of roasted spices, giving it a very subtle but charming spiciness and smokiness that adds to the flavor profile of the whole dish. Try it at least one in your life and it never lets you down.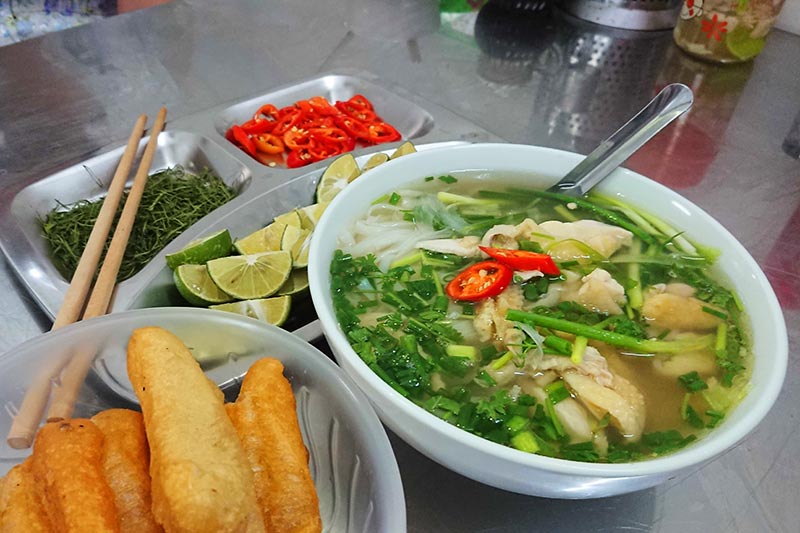 Bún Chả
Another cuisine in Hanoi is Bún Chả. Pho might be an internationally acclaimed dish, but Bún Chả is a lunchtime obsession. The main part of this dish is fish sauce combined with vinegar, lime, sugar and a pinch of pepper. To relish this speciality, you have to incorporate many distinct components into it like vermicelli noodles, a basket of herbs and veggies, and a separate dish of seasoned pork patties and slices of grilled pork which is still hot because of a charcoal fire. Mix everything and you can have a hearty lunch. In case you may not know, this dish became even more popular when President Obama stopped by during his state visit to Vietnam. Since then, thousands of global tourists have been craving for Bún Chả in their Vietnam customized tour.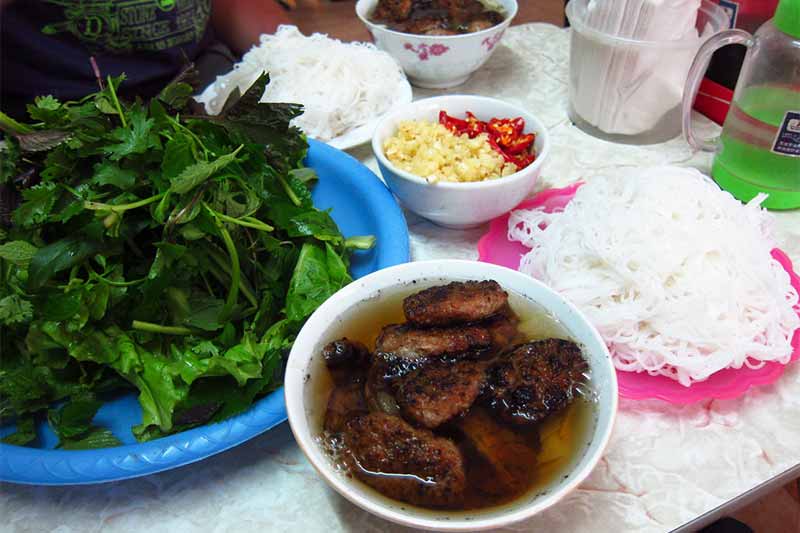 Read more: Top street drinks in Hanoi
Bún Bò Huế
Originated from Hue, Bún Bò Huế is synonymous with the hot spicy broth, rice noodles and a huge pile of beef and pork. Therefore, if you are a meat lover, you are definitely into Bún Bò Huế. This dish is also served with some bean sprouts, banana blossoms and a chop of different vegetables. Moreover. The noodles in this bowl seems to be thicker and more slipper than other kinds of noodles. Although this dish derives from Hue, you can easily find Bún Bò Huế in many regions like Hanoi, Ho Chi Minh City, you name it.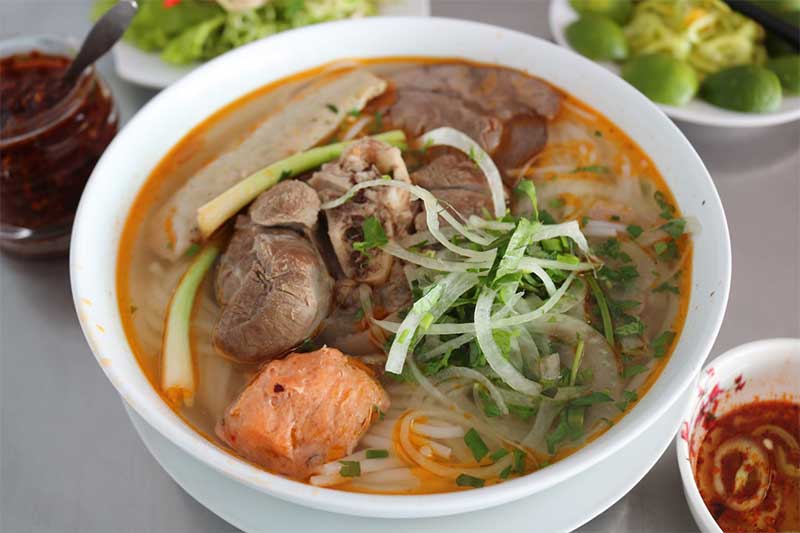 Cao Lầu
Cao Lầu is a must-try dish when you have a Vietnam travel package including Hoi An. As a speciality in Hoi An, it is hard to find Cao Lầu in anywhere else. What makes the authentic taste for Cao Lầu is the broth made from the water drawn from Ba Le Well nearby, so only Cao Lầu in Hoi An can have this mesmerizing smell. Unlike other noodles, Cao Lầu has yellow noodles, used with shrimp, pork and raw vegetables. The color of noodles is due to being mixed with cajeput wood ash, taken from the Cham island. Moreover, Cao Lầu is eaten with very little broth. In addition to giving the dish a high flavor, people also add crushed roasted peanuts on top of the bowl, add a little fish sauce or have char siu sprinkled over. Then bon appétit!!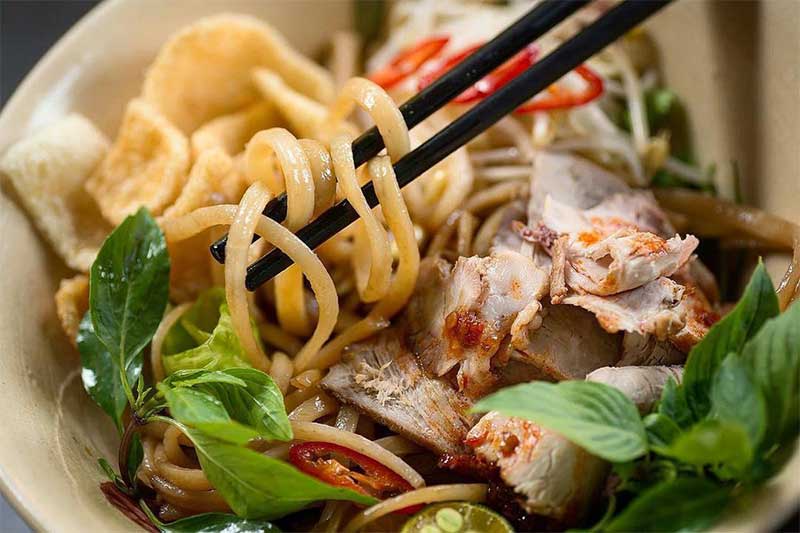 Read more: 7 awesome things to do in Hanoi
Bún Riêu
Bún Riêu is a true one-of- the- kind with vermicelli noodles. The star of this bowl must be the crabs caught from river- Cua Đồng (not sea crabs). The crabs are crushed, then squeezed and carefully filtered. After that, the crab meat can be simmered until it burns to pieces. This broth cannot be completed without the red color of tomatoes and fried onions. Tomatoes are usually stir-fried to get the natural red color for the bowl. When savoring "Bún Riêu", you can add some mild sour taste of vinegar suddenly and the rich taste of shrimp paste. And then, you can have a masterpiece with different kinds of tastes. However, they don't clash each other but blend perfectly. It is indispensable to enjoy this dish with some vegetables, which will often include: lettuce, perilla, gourd ... finely chopped with a few chopped spinach or sliced banana blossom. Just a spoon of broth and you can feel the subtle and well-balanced taste of the whole dish.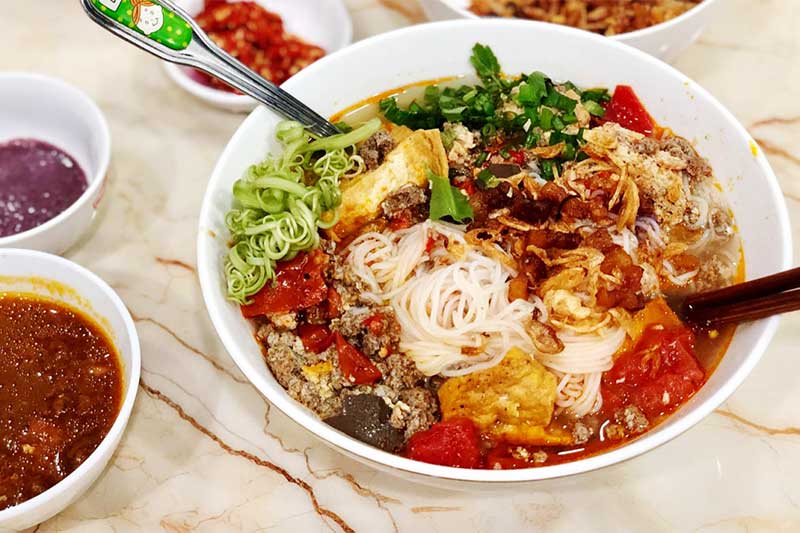 Read more: Best 8 non-touristy things to do in Hanoi
Bún đậu mắm tôm
And last but not least -Bún đậu mắm tôm. Don't you dare to eat this dish? The fact that, Bún đậu mắm tôm is a true challenge for many visitors. This dish has no soup and all the components are served separately in a plate, namely vermicelli noodles, fried tofu, steamed pork and of course, the superstar of the show- the smelly Mắm tôm sauce. Mắm tôm sauce is essentially fermented shrimp paste, so it is can be hard to taste. But trust me, when you grow accustomed to the smell, it can't stop eating it. Squeeze in some lime wedges into the sauce, stir and then use it to flavor tofu, pork and the noodles. You definitely never forget this scrumptious taste.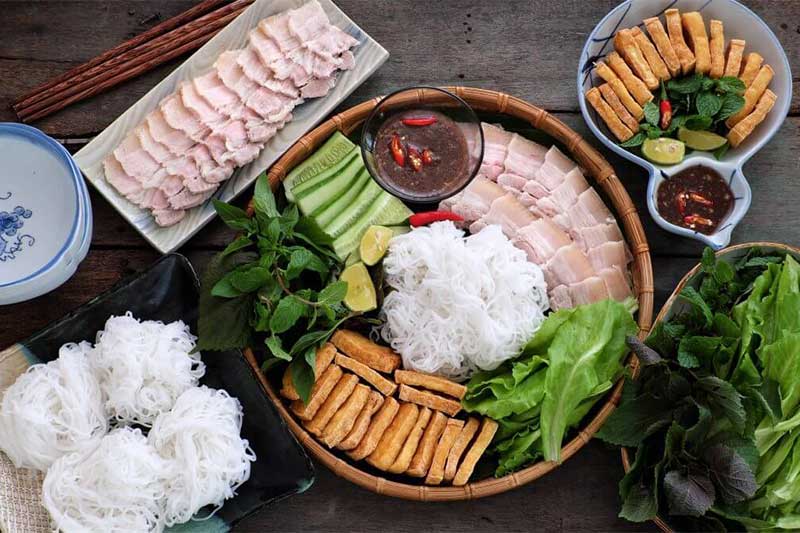 See tours:
Colorful Vietnam - Thailand Tour with Phuket 17 days