Considered as the Buddhist country, Laos is home to a wide range of religious festivals and ceremonies. In this spring, why don't you register a Laos private tour, try to experience these interesting celebrations first hand and immerse into the festive vibes here? It is also the perfect way to broaden your horizons and acquire a deep understanding of "land of thousand elephants".
Pi Mai (Songkran)
To commence with, we want to mention Pi Mai (or Songkran), which is one of the most important occasions in Laos. Pi Mai is celebrated from April 14th – 16th yearly. Officially, this festival only last three days but in fact, you can enjoy a full week with endless water fights in every corner of Laos' streets. In case you may not know, water fight is an exclusive custom where people get doused with water and flour in the road by strangers. Sounds great, right? All you have to do is bringing along some raincoats or umbrellas and burst with the fun. You can see a host of parades in big cities like Vientiane or Luang Prabang. They usually appear with traditional mask and retell the folk stories of Laos and Buddhism. In this occasion, most of temples or pagodas are tidied up for prayers come to bless.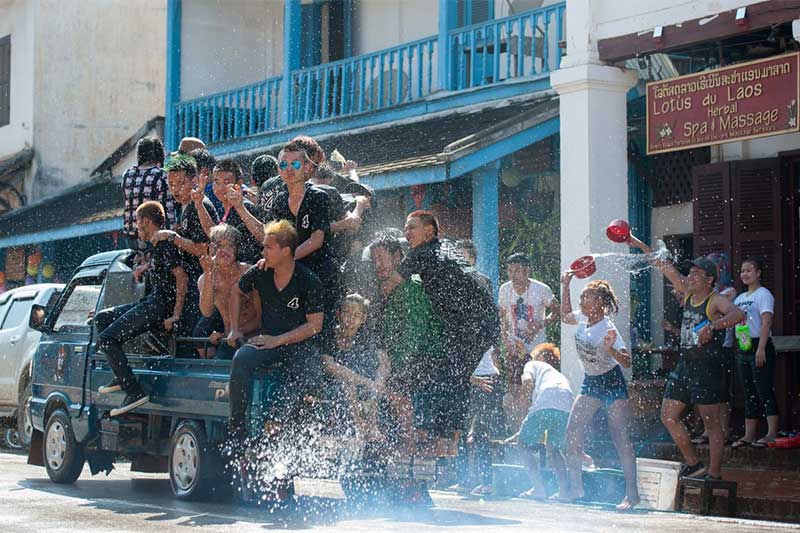 Read more: 9 attractions which prove that Laos is a "must-see" destination
Boun Bung Fai
Boun Bung Fai (Laos Rocket Festival) is taken place in May, June and July (up to locals in different regions). Happened at the end of the hot summers, the main aim of this festival is praying for rain by launching thousands of homemade rockets. In the middle of many noise cheers, Laotians across the country gather to create a giant rocket made of bamboo, decorations and painted them in bright colors. When fired into the sky, the audience will see which rocket reaches the highest height. Owners of the highest and brightest firing missiles will receive acclaim and status among villages while losers are thrown in the mud. Visitors who have Laos customized tour can watch the show and hear the referee remarks. There are also some snacks and drink for you to savour. Although this tradition has existed since ancient times, many spectators are still into admiring rockets in the sky every year.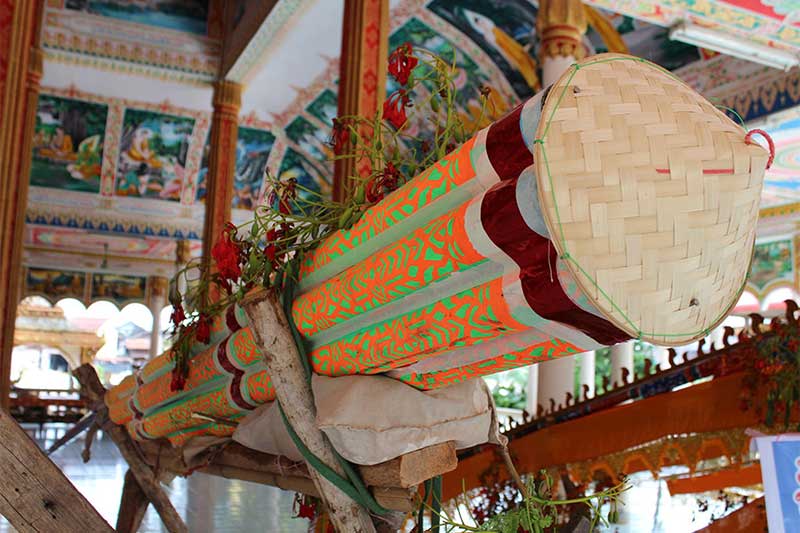 Read more: How to spend two weeks in Vietnam and Laos?
That Luong Festival
If you did have a Laos family holiday, you definitely have heard about Pha That Luang which is one of the prominent landscapes in Laos. Named after this outstanding structure, Boun That Luang festival is celebrated during a full moon week in the middle of the 12th month according to the lunar calendar. During the festive days, the roads leading to Pha That Luang are full of candles, lights and righteous Pha That Luang is also lighted, added flowers on the tower towers, combined with the dim moonlight to form a magical, sacred space. Although Boun That Luang takes place up to a week, the actual festival to pray for blessing and blessing for everyone only starts from the afternoon of December 13 with the procession of Phasat Pheung is continued until the end of December 15 with the ceremony of Taak Baat. In addition, there are various leisure activities in different forms for you to explore. This is also the time for an international exhibition with a variety of historical artefacts and remnants. In Boun That Luang festivals, you also easily find out plenty of pilgrims gathering to give offerings. Even if you don't make it for the festival, Pha That Luang is a breathtaking sight to pay a visit any time of year. You can join the faithful and place with full of flowers, candles and incenses at the alter or just quietly stroll around the massive enclosed yard.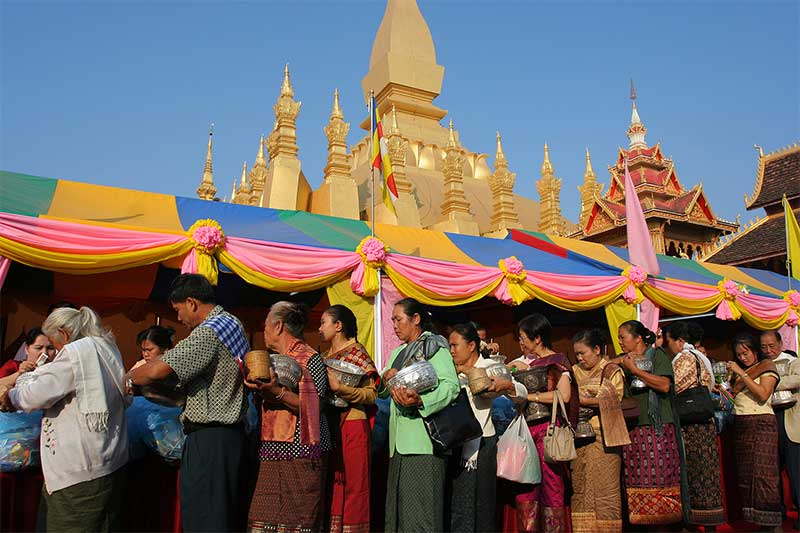 Hmong New Year
Hmong is an ethnic minority who live in Thailand, Vietnam and Northern Laos. In the middle of December every year, Hmong people usually celebrate the new year with colourful clothes and silver accessories. In your Laos travel package at this time, you can register to soak in festive vibe with a copious number of carnival activities like traditional games, singing and dancing with local girls. Moreover, you can be served with a lot of scrumptious cuisines that you cannot find in anywhere else. In particular, the intriguing part of this celebration is the Hmong courtship ritual. Single boys and girls can join in a game called pov pob and toss cloth balls back and forth to get to know one another and find suitable partners.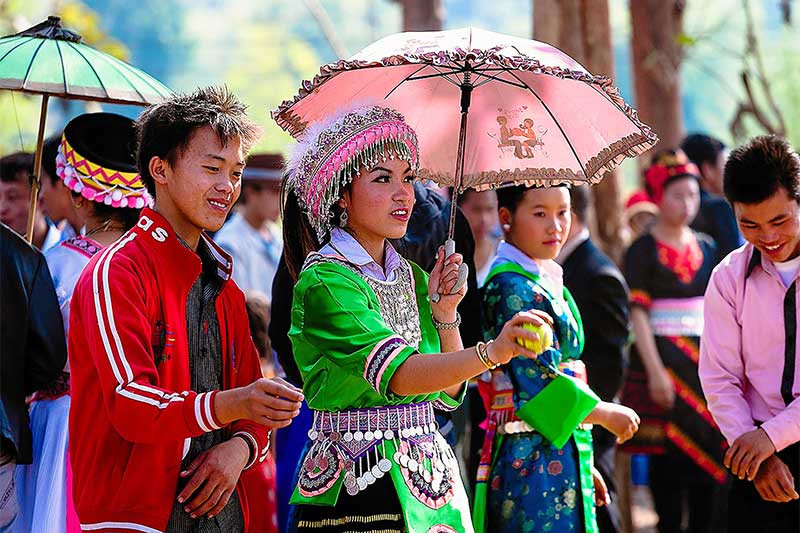 Read more: Best exhilarating experiences you can only have in Laos
Haw Khao Salaack
Another prominent festival in Laos is Haw Khao Salaack. During the full- moon week in September, locals may dress up and bring food, candles and incense to the temples in order to make offerings for their beloved ones who are dead. They also prepare fruits and burnable clothes for the dead having no relatives. Soothing these spirits is the way to make sure they can rest in peace and not cause trouble.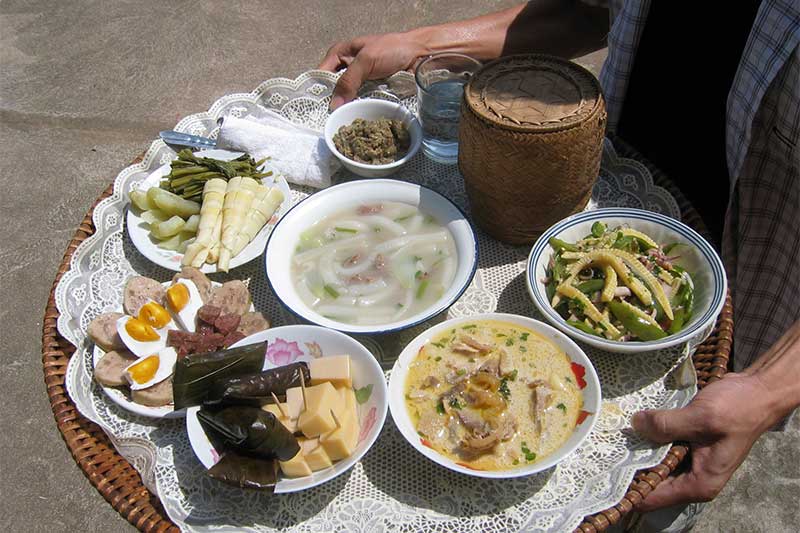 A tray of dishes for Haw Khao Salaack
See tours:
Excited Vientiane - Luang Prabang Tour 5 days
Vietnam - Laos Family Tour from Sai Gon 16 days
Luxury Indochina Holidays from Hanoi 18 days