You surely have heard about Pad Thai, which is one of the most renowned dishes in Thailand. However, this savory food not only seduces visitors by its exquisite taste and irresistible smell but also have many exciting stories behind. Having a Thailand customized tour is the best way to delve into the origin of Pad Thai as well as learn how to make them perfectly. But if you still hesitate, you can consult our article to get the hang of Pad Thai's history and where to find delicious ones. Just check it out!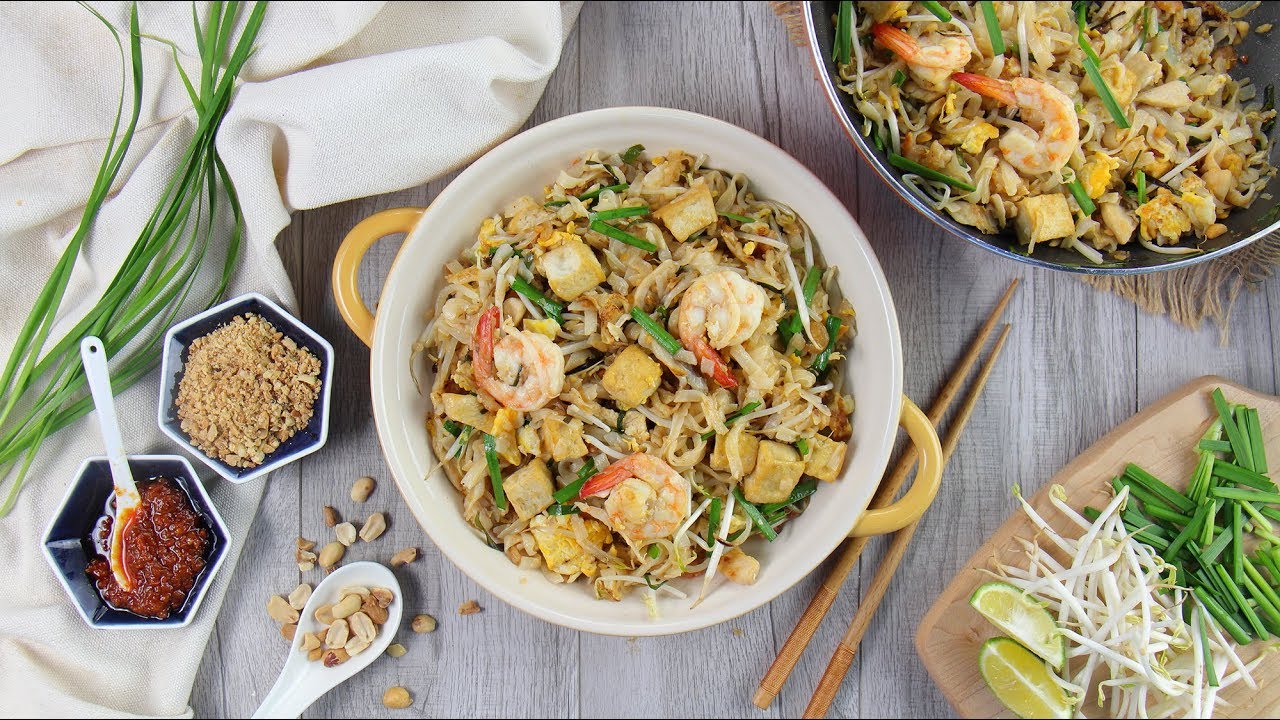 The long-lasting history of Pad Thai
Pad Thai was born after a cooking competition in Thailand. In the late 1930s, Plaek Phibunsongkhram (or King Phibun) acceded to the throne. He took a keen interest on Western countries so many changes were made, many regulations were adjusted to westernize the country like changing the national name from Siam to Thailand. Particularly, he had a desire to identify the distinctive culture of Thailand. Therefore, he held a culinary competition in order to find a new national dish of Thailand. And the winning viand is Pad Thai.
With the aim to modernize the way to cook and make Thailand be less reliant to Chinese culture, the dish is a harmonious combination of various components originated from many regions of Thailand. Through the meticulous hands of the cooks, all these ingredients have their own twists and can satisfy any stomach. Moreover, no flavor is left behind and a spoon of Pad Thai must contain 5 fundamental flavors including spicy, sour, sweet, salty and bitter. All of them are irreplaceable and made from natural resources. The greasy taste of noodles mixing with the oil. Palm sugar makes it sweet, the prominent Thai chilli offers the dish its spiciness and tamarind helps this dish sweeter and sourer.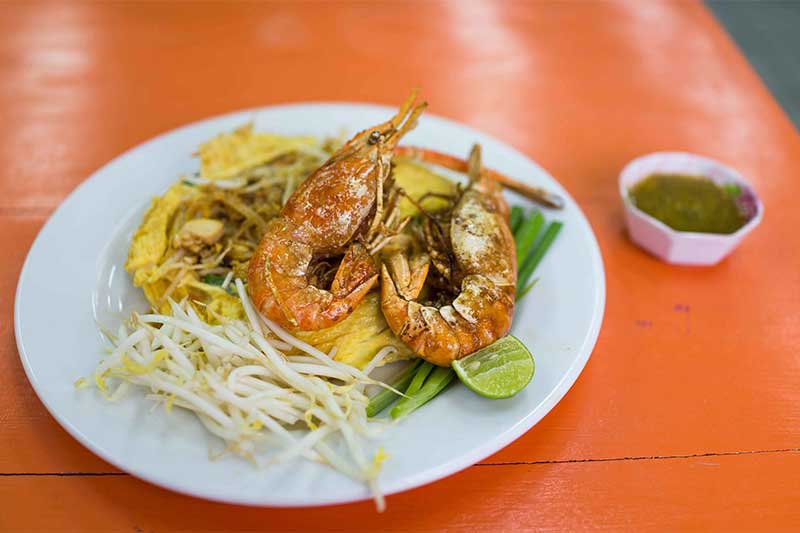 Read more: Bangkok street food - top dishes
How to cook Pad Thai?
Pad Thai literally translates to "fried Thai" because of its special frying process. To create Pad Thai, frying shrimp has to be dipped in oil before adding soaked dried rice noodles into the pan. Next, firm tofu and some scoops of tamarind paste to the stir- fry mix. After a few minutes, fish sauce, dried shrimp, eggs, green bean sprouts, shallots, red chilli peppers and palm sugar are also added to enhance the flavour profile. When all the components are mingled together and cooked, you can smell the particular subtle fragrance of the dish. This culinary delicacy is usually served with a lime wedge and some roasted peanuts on the top.
Besides the basic cooking process, Pad Thai can be varied depending on visitors' demands. The exquisite cuisine can be made with chicken, pork and even no meat. A perfect Pad Thai usually only has a little water, topped with fresh shrimps and a piece of tofu. In case you are a vegetarian, you can ask to replace the fish sauce with soy sauce and pick out the prawns.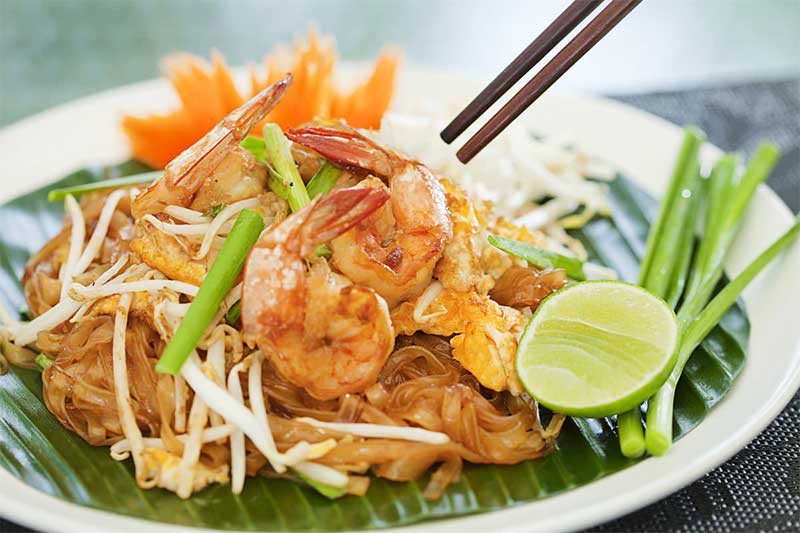 Read more: Top unusual things you can do in Bangkok
Where to find traditional Pad Thai?
As a national dish, Pad Thai can be found everywhere in Thailand. From the mountainous area to Bangkok's bustling streets, you can easily find this sublime dish and opt for your optimal one. Pad Thai is usually cooked with shrimp and tofu, but there is a wide range of variations. No matter what your preference is, be sure to have a sit- down dinner and eat this lip-smacking cuisine when having a Thailand private tour. In case you are still confused about where to go in your Thailand travel package, here are some Thai restaurants which acquire their reputations by Pad Thai:
1. Pad Thai Thip Samai
Referring to the famous Pad Thai restaurant in Bangkok, tourists cannot miss Pad Thai Thip Samai. The shop is known as the starting place of Pad Thai, with nearly 50 years of experience. Pad Thai here is characterized by eggs, often served with a thin layer of omelette wrapped around cooked noodles. A bowl of noodles costs about 60 baht to 200 baht depending on whether you order more shrimp or not. The shop has an easy-to-find location, you just need to go to Machaichai Street near Wat Saket and you will see many people queuing, there is Pad Thai Thip Samai.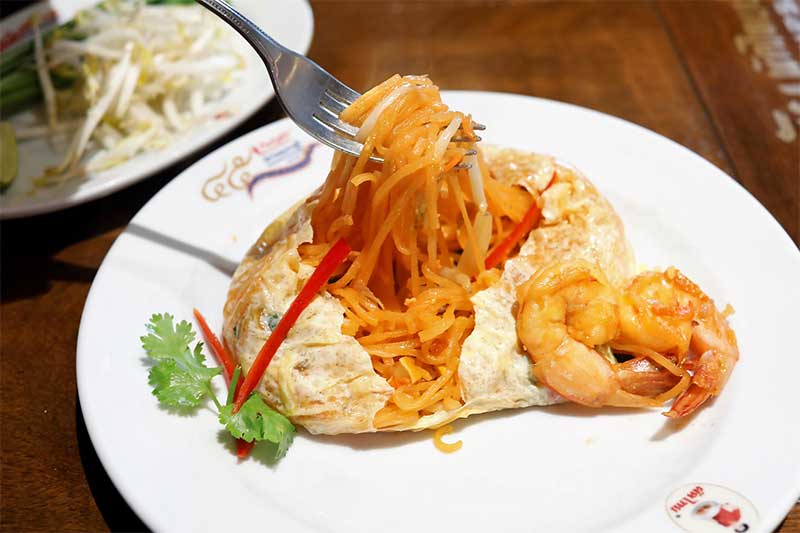 Read more: How to spend one week in Thailand?
2. Pad Thai Ekamai
Considered as one of the best restaurants serving Pad Thai in Bangkok. This restaurant is impressed with the rich ingredients that are fresh seafood with fried noodles. The price of a bowl of noodles at Pad Thai Ekamai is usually a bit higher than the other shops, about 250 baht, but this dish is full of fresh squid, large shrimp and freshly delicious muscle. If you want to save you can also call the basic Thai Pad for 45 baht and call for more pork with 65 baht.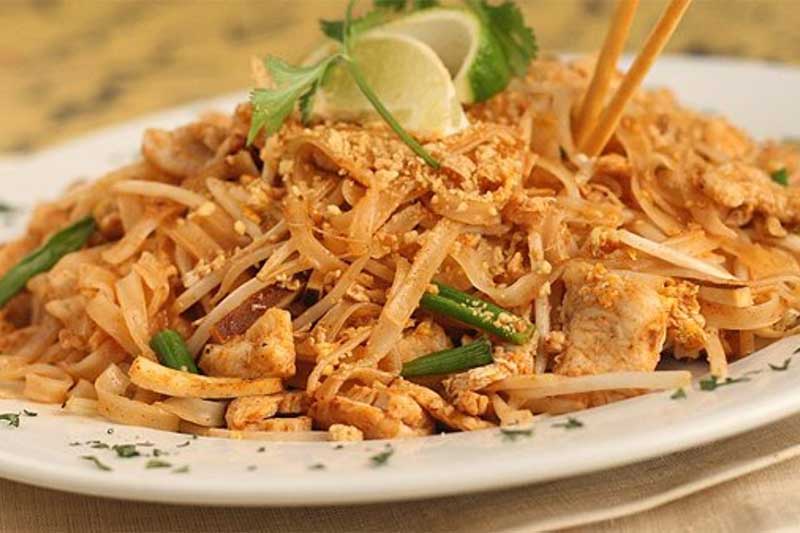 3. Nara
The restaurant specializes in serving Thai dishes for tourists who have a Thailand family tour. In Nara, there are two types of Pad Thai for you to choose: fried noodles with fried eggs and fried noodles with sweet-and-sour tamarind sauce cost 220 baht. Pad Thai in Nara is made to suit the tastes of foreign visitors. The restaurant has many different branches in Bangkok, but the place next to Grand Hyatt Erawan is considered the best.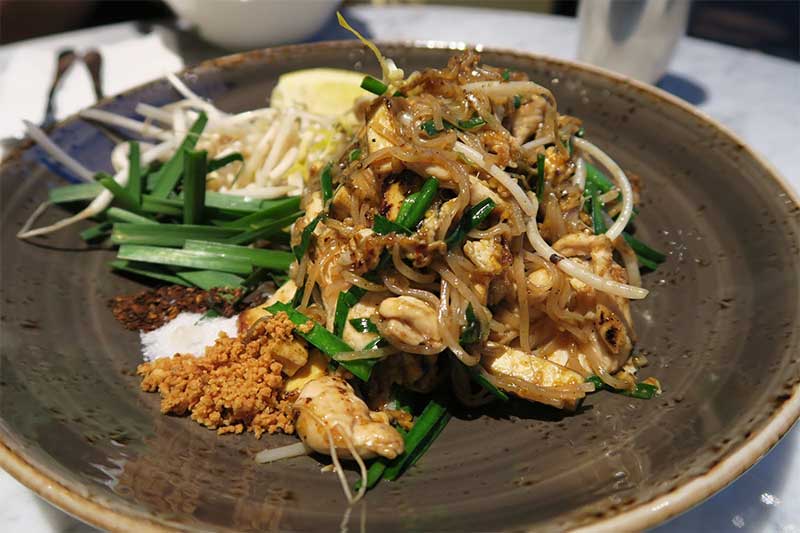 See tours:
Explore Myanmar - Thailand - Cambodia 14 days
Joyful Vietnam - Thailand Family Tour 19 days
Comprehensive Indochina Luxury Vacation 27 days