It has been undeniable that "Pho" is one of the marvelous traditional cuisines of Vietnam for a long time. Tourists who have Vietnam family tours are not only eager to relish this dish but also immediately seduced by the harmonious mixture between fresh meat and sweet broth in their mouths. But, among many restaurants in Vietnam, where is the best places to enjoy Pho? Don't worry because all you have to do is having a look at our list.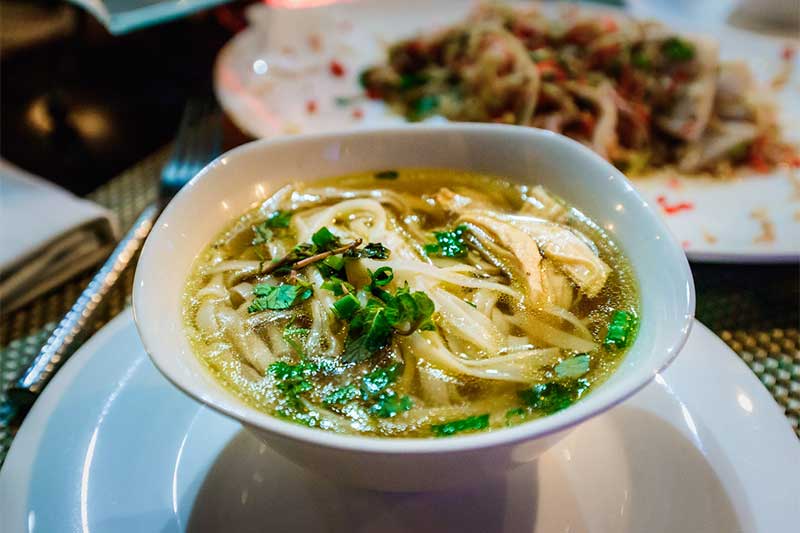 1. Pho Thin
Pho Thin is considered as one of the oldest restaurants serving Pho in Hanoi. With a distinctive savory stemming from secret recipes, a bowl of Pho Thin can awake your taste. Travelers are likely to be impressed by the broth which is redolent of smoky ginger and the noodles absorb its flavor without becoming mushy. Chef Thin, who founded this brand, once shared: "Some people think preparing Pho is simple. They start a business with a few kilos of beef, noodles, a small pot and gas stove, but they have no idea about the intricacies behind a tasty dish. In fact, a bowl of Pho requires much more. You need meat from at least five or six different parts of the cow: flank for tái (medium- done), haunch for chín (well-done), shoulder for tái gầu (a mixture of medium and well- done beef, where the well-done beef has veins of fat), thigh for tái nạm. You must cut and clean the meat the right way. If you want a tasty broth, you must use the correct proportion of different kinds of bones and then add salt and fish sauce at just the right time. Pho Thin opened in 1949 and always appears in the rankings of Pho restaurants. This gourmet is now run by the founder's eldest son, who closely guards the family recipe.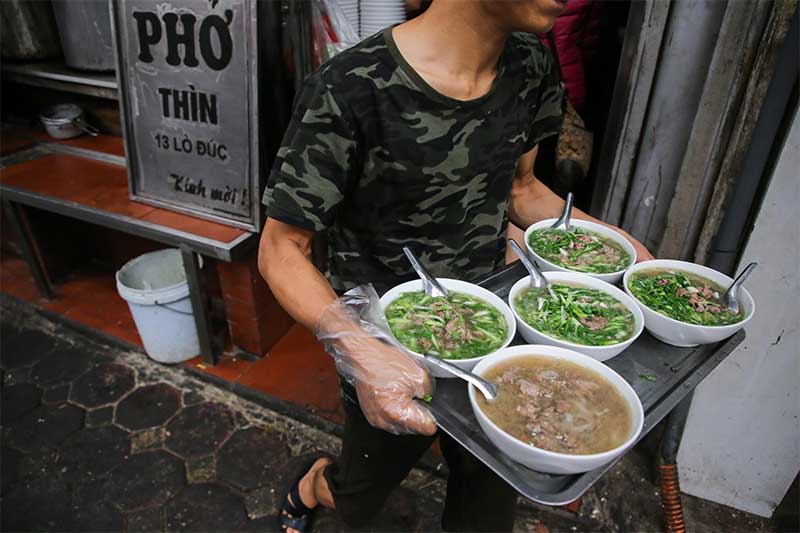 Read more: The Geography of Vietnamese Noodle
2. Pho Ly Quoc Su
This well- known restaurant now has three locations in Hanoi due to the demands of both locals and tourists having Vietnam travel package. The broth is exquisite with beef bones stewed and aromatic herbs which blends into the elegant taste of noodles and the tenderness of beef. You can enjoy Pho with beef in six different ways. One more plus, the waiters are fast and welcomed you anytime. Actually, you also may observe the process of making Pho behind glass doors. With a reasonable price, no wonder that Pho Ly Quoc Su is in our list.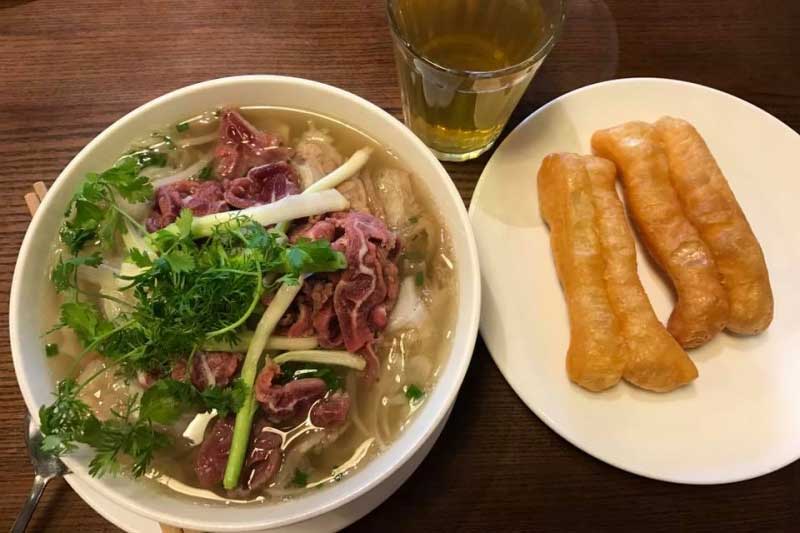 3. Pho Gia Truyen (Bat Dan)
Situated in the heart of Hanoi Old Quarter, Pho Gia Truyen is famous for the deep-colored broth, cooked in a fire pit. Although having basic stools and simple facilities, this place still appeals people by traditional flavor. Pho Gia Truyen was established since the 1960s but fortunately, the consistent recipe has remained unchanged. You can smell the sharp scent of beef right at the moment you visit this place. The only thing on the menu is beef noodles, particularly the broth here is clear and rich with a subtle blend of many flavors: cardamom, cinnamon, ginger, hot pepper and some slices of chili. The beef is the right amount of soft and bold with a glowing pink hue, which makes you want to eat all day long! Remember to come early as they usually sell out by 10 A.M.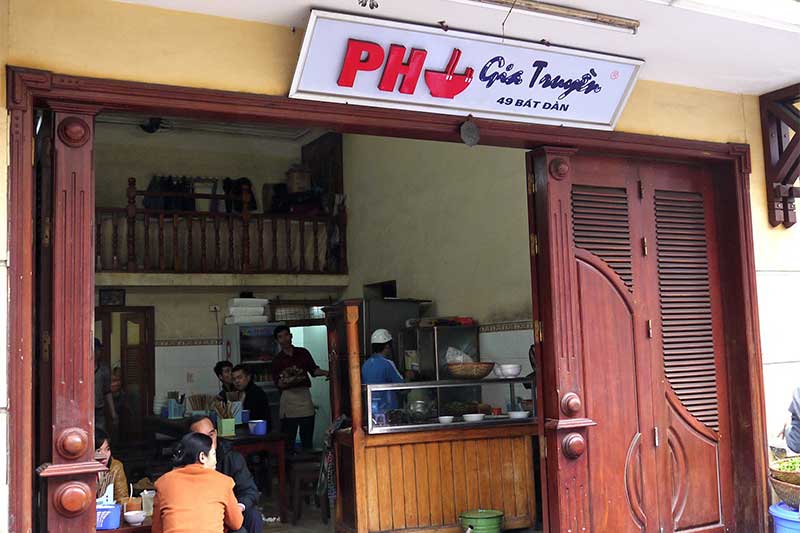 Read more: Vietnam Street Food: Top Essential Dishes
4. Pho Vui
In your Vietnam customized tour, Pho Vui is definitely an unforgettable destination for visitors who desire to explore Vietnamese dishes. The speciality of this place is beef noodles in numerous variations. You can get half-done steak, well-done steak and fillet beef, etc. The broth may be fattier than those served in other restaurants, so let the cook know if you want low- fat broth. Now, just sitting on one of the tables located on the sidewalk and get ready for an actual culinary journey.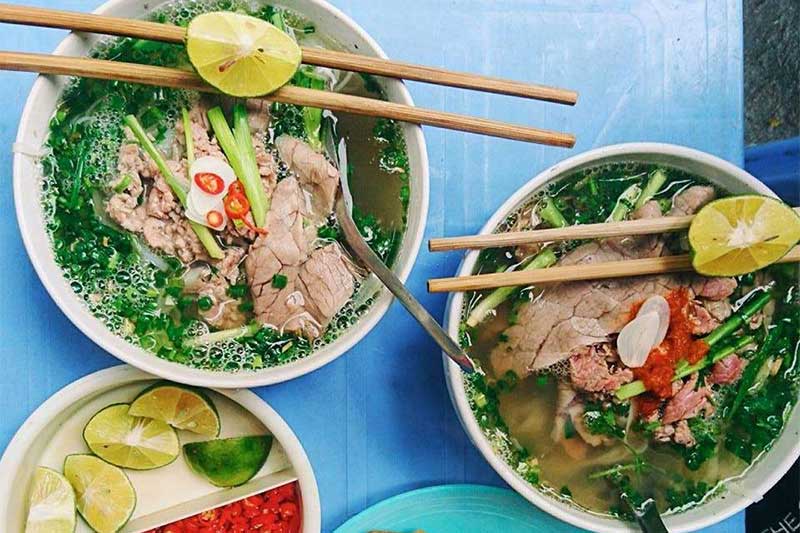 5. Pho 24
Started in 2003, Pho 24 has gradually become an irreplaceable brand among Pho restaurants. The most unique feature of Pho 24 is that this place brings the traditional noodles recipe in which is the perfect blend of 24 delicious ingredients. Although this brand was founded later than other restaurants, Pho 24 still leave an impression by serving national dish in a modern and comfortable space. With beef noodle soup, Pho 24 use cow bones and thoroughly stewed for 8 hours to extract the sweet, greasy, and nutrient-rich taste of bone marrow. During the cooking process, they add spices, herbs, buckets, herbs... (up to 24 specific ingredients) to create the famous heirloom recipe! They also focus on making fresh noodles by hand, do not use any preservatives; and prepare green vegetables serving with pho in order to offer customers the freshest taste.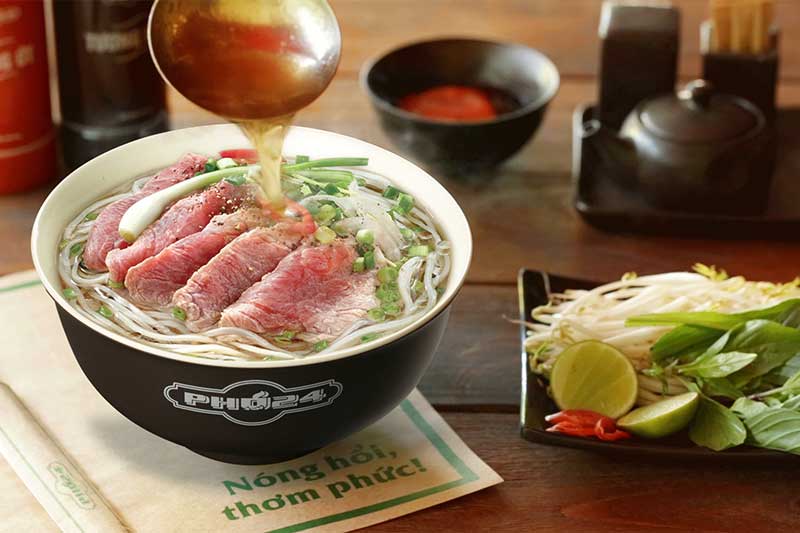 Read more: Top traditional cakes to try when travelling to Vietnam
6. Pho 2000
In 2000, President Bill Clinton tried his first bowl of pho in Vietnam during his state visit. To mark this milestone, the restaurant decided to name after this event. Nowadays, Pho 2000 attracts a great number of customers who falls in love with Vietnamese cuisines. You also can enjoy some fresh spring rolls at Pho 2000 and have a hearty meal in your Vietnam private tour.
Pho 2000 is very close to Ben Thanh Market, therefore tourists may stop by after shopping time in city malls. Besides that, the waiters who speak English fluently can help you order foods.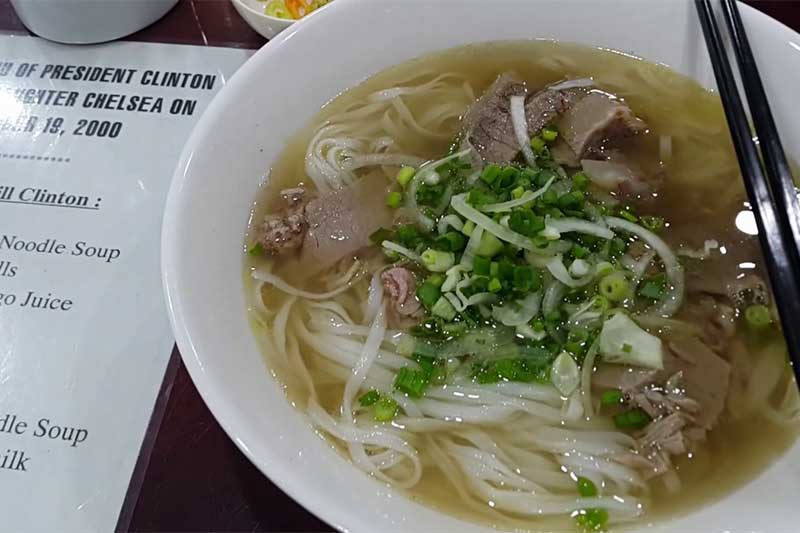 See tours:
Absolute Vietnam Holidays 15 days