5 street dishes listed in Bangkok street food – top dishes (1) are among the best ones you should try. But that's not all about Bangkok. In this city, you can enjoy delicious food from rice to noodles, from salad to cakes. Here are another 5 examples for how diverse and tasty street eats in the capital of Thailand can be.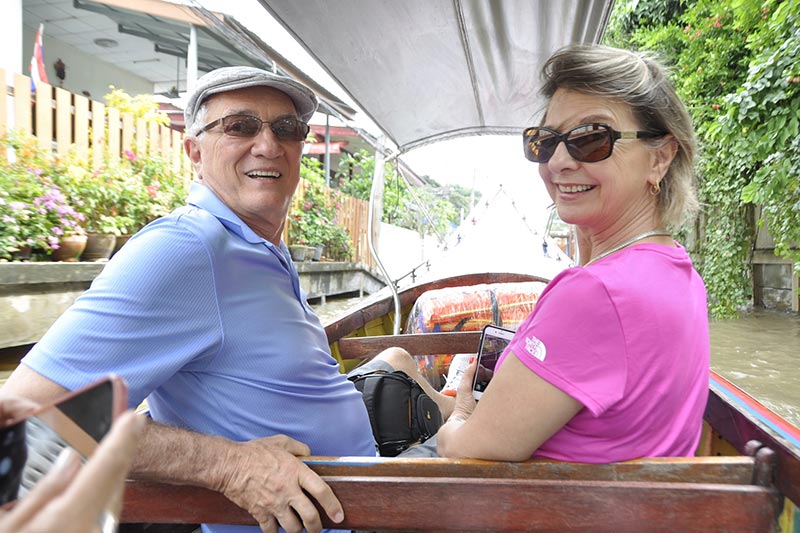 There are many things for you to enjoy on your Thailand private tour to Bangkok, and street food is absolutely one of it!
1. Kuay Teaw Neua (Stewed Beef Noodles)
Noodles is, undoubtedly, among the best street dishes in Bangkok. The beef is cooked until soft and the soup is amazingly delicious. It has an intense beef flavor due to the fact that the beef here is stewed for long periods with Chinese herbs and spices.
An interesting and surprising fact is that in Wattana Panich – a famous restaurant in Bangkok, the soup to stew the beef has been there for… around 60 years. You might think that it is unclean or disgusting but don't worry, it's an ancient Chinese technique. People there already have practiced the method to preserve the hygiene of the master stock.
Wattana Panich was opened 60 years ago and since then, they have saved their master stock instead of throwing them away every night. With the master stock saving up, the flavor gets more and more intense and it absorbs each poached meats – which adds an unforgettable flavor to Kuay Teaw Neua dishes there. On your Thailand customized tour, a taste of Kuay Teaw Neua at Wattana Panich is absolutely a must-do.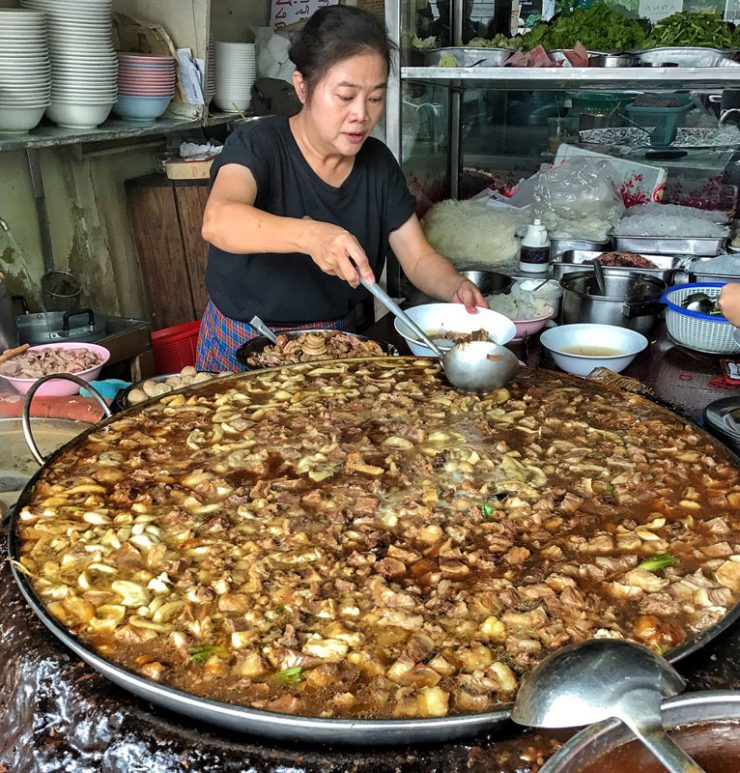 Kuay Teaw Neua - Stewed Beef Noodles (Photo Via Rudsooparb)
2. Ba Mee (Thai Wanton Noodles)
Another noodle dish which is a hit to both local and foreign tourists in Thailand is Ba Mee. It is egg noodles served with pork and wanton. What makes this dish special is the pork lard, the sauce and the topped condiments like Chili flakes.
Not only popular in Thailand, this dish is also well-known in the neighboring countries such as Singapore, Malaysia and Hongkong. In each country, Ba Mee already has its own rendition. If you ever tried a Ba Mee dish in Singapore or Malaysia, you should still taste the Thai version if you have a chance as this Thai version of Ba Mee has its own distinct flavor compared to other ones and it surely leave a remarkable impression on your Thailand private tour.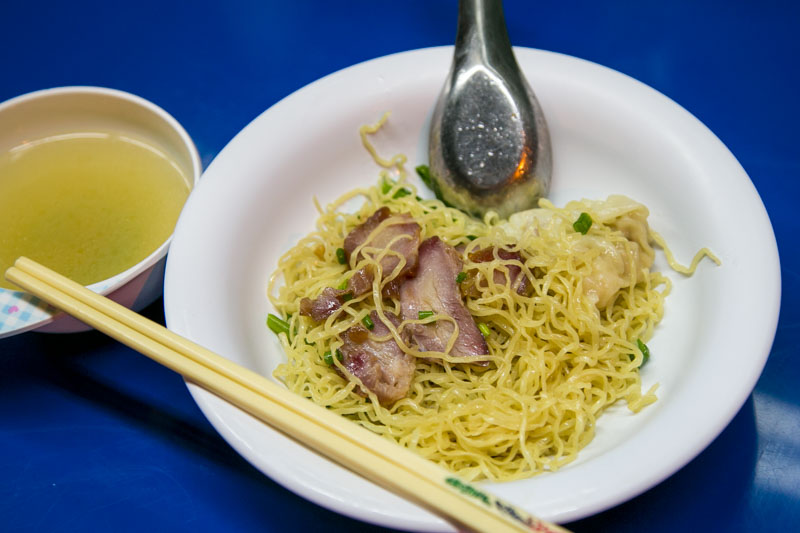 Ba Mee - Thai Wanton Noodles (photo credit: sethlui.com)
3. Som Tam (Green Papaya Salad)
Originating from the Northeastern Thailand, this dish is also very popular in neighboring countries including Laos, Cambodia and Vietnam. The dish in Laos is known as tam maak hung, and it is among many famous varieties of Som Tam which attracts a great number of tourists to get a bite.
Contrary to what people think of salad as the conventional greens, Thai salads are notable for the use of meat, especially seafood, as well as their unique blend of herbs. And of course, Son Tam is a perfect evidence of this distinctive feature.
This dish is popular everywhere in Bangkok for it only takes the cook a few minutes to prepare. You only need Thai chilies, fresh garlic, dried shrimp, fish sauce, sweet palm sugar, juicy limes, cherry tomatoes, green long beans, and green papaya to make this signature Thai dish. On your holidays in Thailand, this dish is a must try as it is a typical example of what Thai dishes are about – the perfect balance of sour, salty, spicy, and sweet in one dish.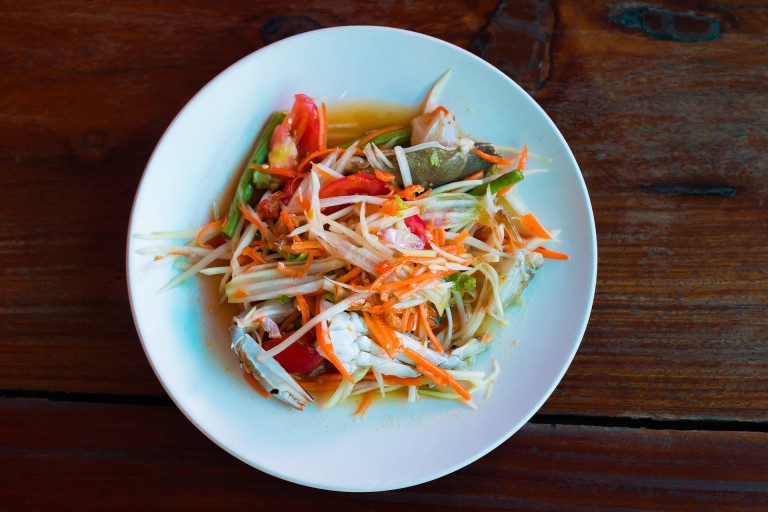 Som Tam - Green Papaya Salad (photo by xegxef via Pixabay)
4. Hoi Tod (Crispy Mussel Pancake)
You can find a Hoi Tod food stalls almost everywhere in Bangkok when the night falls. This dish is often associated with night markets and if there is a night market open from dusk till dawn, you are assured to find yourself a Hoi Tod stall that can cook and serve this dish through the night.
An interesting fact is that this dish is reinvented from the Chinese oyster omelette and now it can compete with Pad Thai as the hottest dish on the streets of Bangkok. Many locals prefer the starchy batter and egg mixture to the traditional noodle dish of its cousin, Pad Thai. And among foreign tourists, the comparison between the two dishes still goes on and on.
That is why if you have known and enjoyed Pad Thai before, you should also give Hoi Tod a try on your Thailand customized holiday to see for yourself the difference and decide which is better.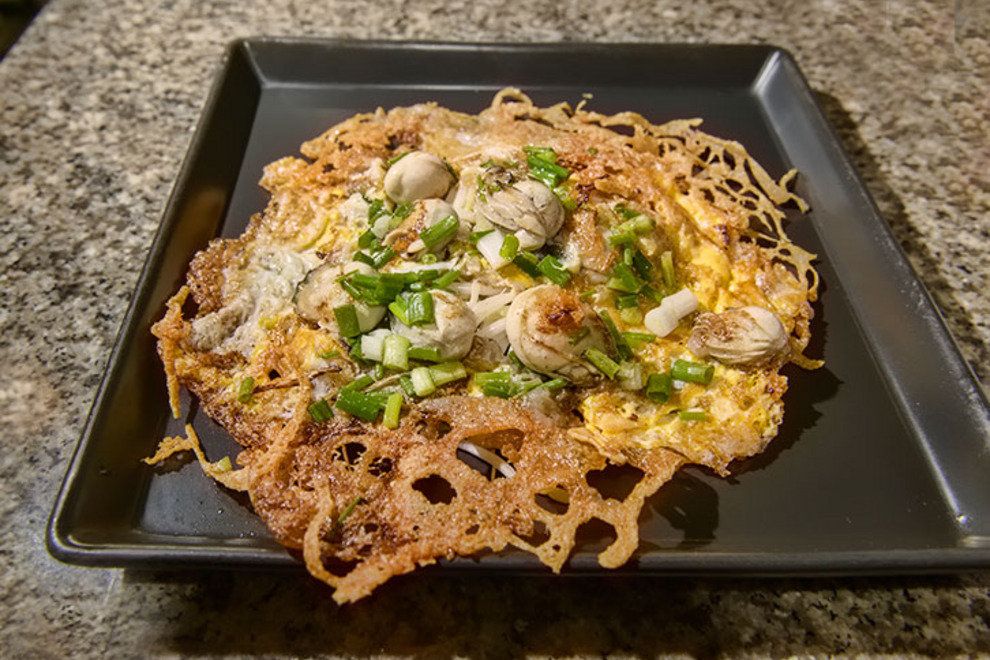 Hoi Tod - Crispy Mussel Pancake (Photo credit: 10best.com)
5. Khao Niao Mamuang (Mango Sticky Rice)
Your meal in Thailand could not be complete without an amazingly flavorful dessert and if you have to go for one dish - Khao Niao Mamuang (Mango Sticky Rice) is your perfect choice. You might not imagine how rice and mango could be combined in a dish but Thais have managed to marry these two ingredients into a perfect combination.
Glutinous rice is stacked with fresh mangoes and then smothered with rich coconut cream syrup is how this dish be simply made. Thai mangoes are famous for being among the sweetest mangoes in the world – which makes this dessert more desirable. You can easily find this dish everywhere in Bangkok and of course, it's worth seeking out this dish on Bangkok streets. A taste of Khao Niao Mamuang will become an unforgettable memory of your Thailand vacation.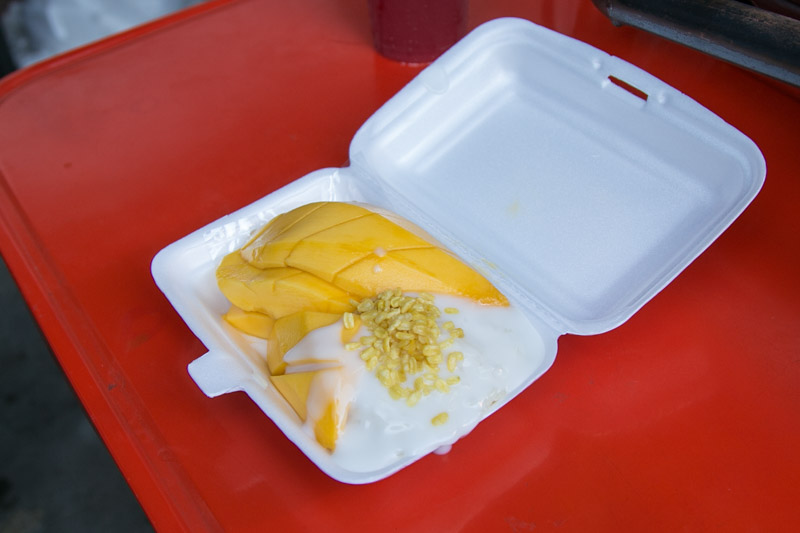 Khao Niao Mamuang - Mango Sticky Rice (photo credit: sethlui.com)
---
Read more:
Bangkok street food - Top dishes (1)
Travel to Thailand - Things you should know
10 best destinations to travel in Thailand
View tour: Best of Vietnam - Thailand Family Vacation 14 days