Some ever said "Your holidays to Vietnam wouldn't be complete without a boat tour cruising the spectacular limestone rocks of Halong Bay". As being an iconic image of Vietnam tourism, Halong Bay always remains the most visited destination in Vietnam. Although a peaceful and relaxing cruise is good enough to experience and enjoy the stunning views of this UNESCO Heritage Site, Halong Bay has so much more to offer than scenes and sights. Have you been there and taken an overnight cruise? Here are the top things that can keep you busy when visiting Halong Bay during your customized Vietnam tour: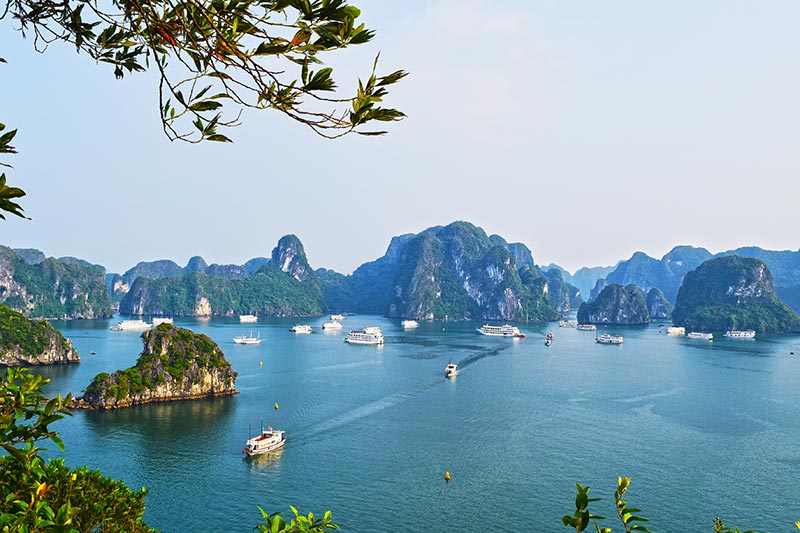 Kayaking
The emerald and calm waters of Halong Bay and the hidden caves make it an ideal place for kayaking. Paddle out to the less visited areas of the bay, though the low caves to explore tranquil lagoons can be a great adventure while you are on a Halong Bay tour. The best places for kayaking are Ba Trai Dao lagoon, Ba Ham Lake, Ba Hang fishing village, Cong Do area. Most of the offers for Halong Bay trip will make kayaking inclusive in the price.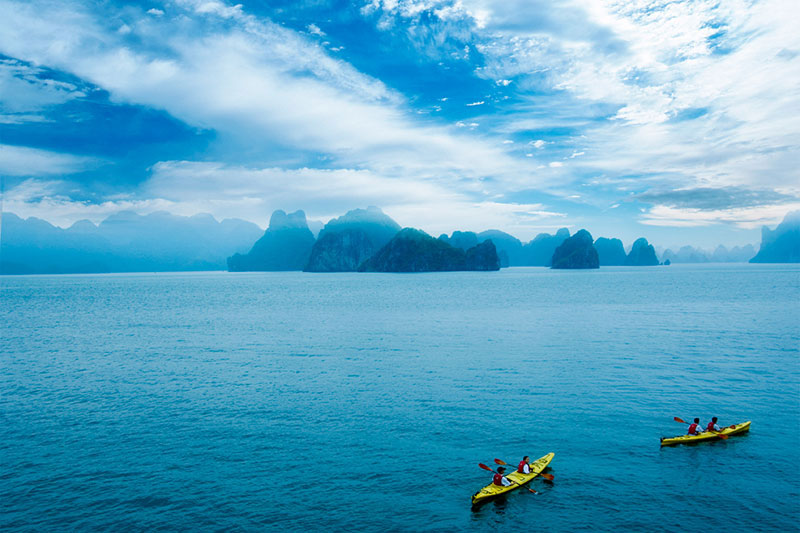 Visit fishing villages
For many travelers, cruising the spectacular Halong Bay in a 2-3 day trip is a life-time experience. How about living there, day by day surrounded by the amazing natural beauty? Halong Bay is not only known for the incredible landscape, but also for the beautiful floating fishing villages. Spend some time visiting one these villages, meeting the fishermen and learning their way of living and surviving on the water generation after generation is a fun and fascinating experience.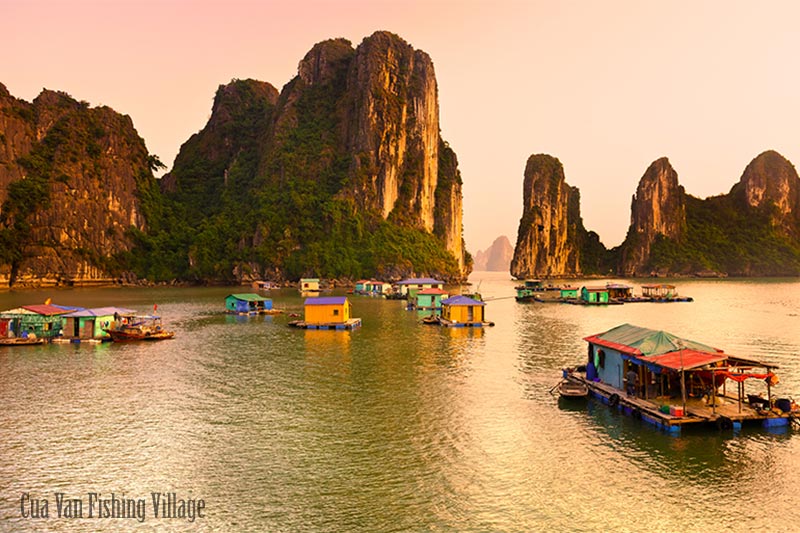 Discover caves and grottos
There are many caves and grottos of all shapes and sizes hidden among the jungle-covered limestone mountains of Halong Bay. The most famous and picturesque caves are Thien Cung (or Heavenly Palace) and Dau Go Caves, which are easily reached from the main harbor in Tuan Chau Island. For tourists take part in the day trip to Halong Bay, it can be very convenient to explore that two caves. Another cave that is also well known and worth visiting is Sung Sot Cave on Bo Hon Island. After climbing over 100 stairs and going through a narrow passage, you will be surprised by the enormous space of the cave, around 10,000 square meters.
Practice Tai-Chi on sundeck
What an amazing way to start your day by engaging in a Tai-Chi session in the early morning guided by an experienced master to learn how to control your mind and body, watching the sun rise and feeling the tranquility of the bay. This is an activity that we strongly recommend to participate while you are traveling to Halong Bay. The Tai Chi session is held between 6-7 A.M on sundeck (or the dining hall if the weather is bad).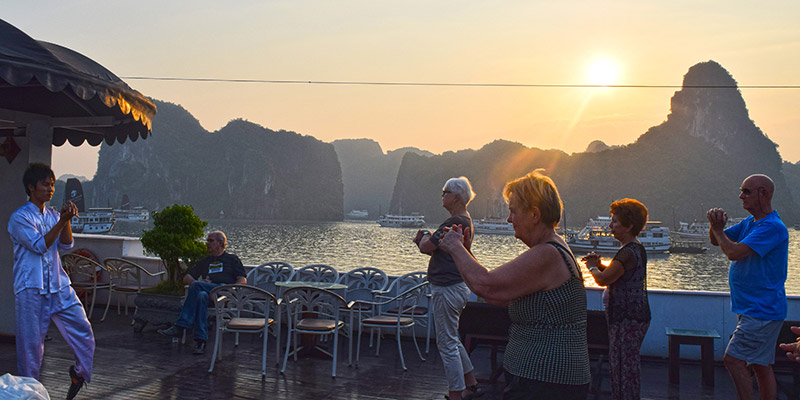 Explore Bai Tu Long Bay and Lan Ha Bay
For travelers who wish to go on a 3-day-2-night cruise trip during the tours in Vietnam, spend the second day on board to explore either Bai Tu Long Bay in the northwest or Lan Ha Bay in the southwest of Halong Bay will be a fascinating experience. Different to the well-known areas of Halong Bay, these locations are less-visited and truly the hidden corners of the bay. Get on the kayak for an off-boat excursion to explore the unspoiled islands, isolated lagoons and pristine beaches is a real adventure.
Cycling on Cat Ba Island
This is another activity for the 3-day-2-night itinerary. Cat Ba Island is the largest island in Halong Bay, so well-known the great diversity of natural habitats as well as impressive natural beauty. Cycling through the core of Cat Ba National Park to visit Viet Hai village, travelers will have plenty of opportunities to admire the sublime scenery, enjoy fresh and green forest and interacting with local villagers.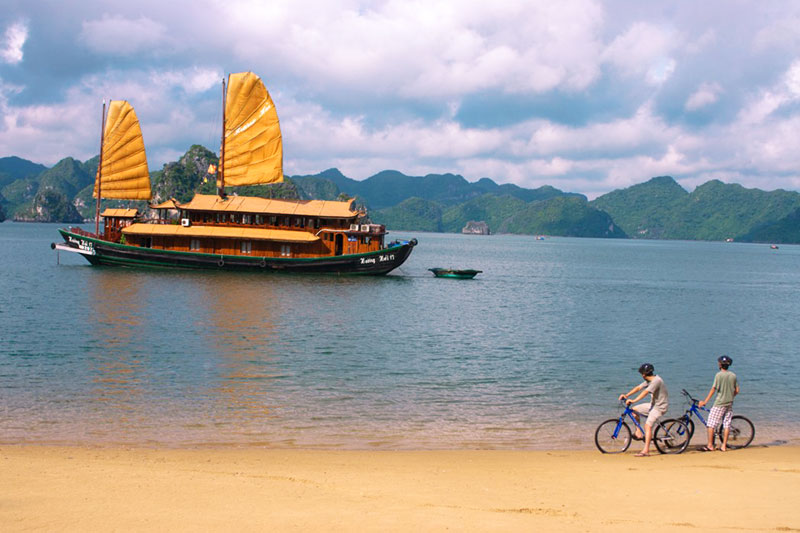 View Halong Bay from seaplane
In recent years, instead of spending few hours on road driving from Hanoi to Halong Bay, travelers can choose to fly seaplane. The flying journey is around 45 minutes plus a short tour to admire the spectacular scenery of Halong Bay from above. Though the cost for flying seaplane can be quite high especially when you are on a budget Vietnam tour, the experience is thrilling and truly amazing. You are rewarded the bird-eye view of Halong Bay entirely, rather than the normal view at sea level.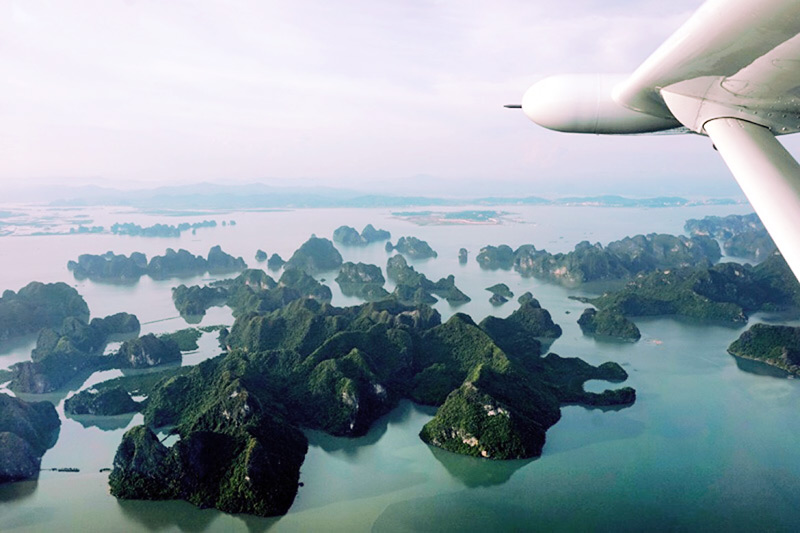 Related Articles:
How to plan Halong Bay trip?
The 9 easy steps to plan your Vietnam trip
When is the best time to travel to Vietnam?
View tours: Classic Vietnam Family Tour 14 days