As a foreign tourist, you must have heard of important holidays in Vietnam. Among them, the upcoming Vietnam Independence Day on September 2nd is the most crucial to the Vietnamese. Meaningful facts and figures below can demonstrate this point. Check it out!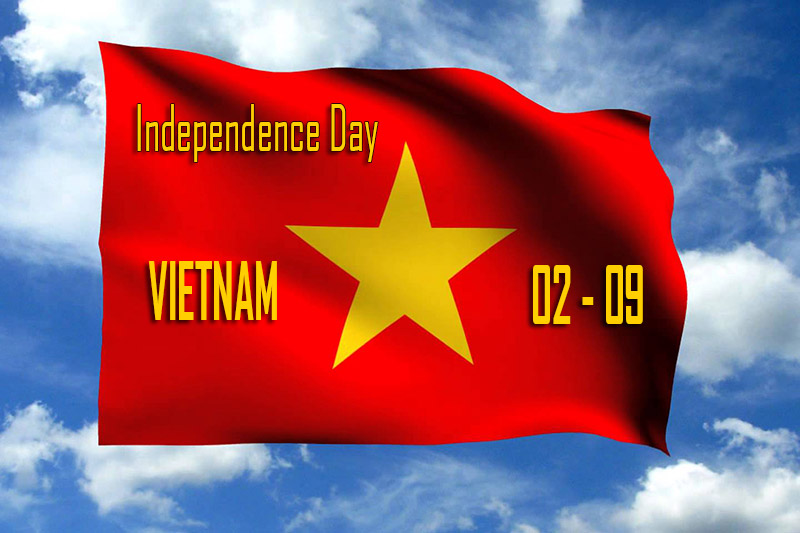 1. 2/9/1945 - the utmost important day in Vietnam history as it is when Ho Chi Minh read Declaration of Independence at Ba Dinh Square, officially claiming the independence of Vietnam from France and Japan. This day was the establishment day of the Democratic Republic of Vietnam and is also considered the National Independence Day of the current Socialist Republic of Vietnam.

2. August Revolution – the uprising of Vietnamese people to gain independence from France and Japan. The success of this revolution led to the declaration of independence of Vietnam on 2/9/1945. That is why these two events are usually mentioned alongside each other.

3. 80 years – the number of years Vietnam has been under French colonialism before 1945. To Vietnamese youngsters, September 2nd is still a remarkable day until now as it reminds them of how hard and how long their ancestors have fought to gain this independence.

4. More than 600.000 people have died from hunger under the rule of Japan from October 1944 to May 1945, according to the French estimates. However, the official Vietnamese number is from 1 million to 2 million deaths. No matter which figure is exact, the loss of Vietnam in 1945 famine remains disastrous. This occasion plays as a crucial factor contributing to the uprising of Vietnamese people and the success of August Revolution.

5. 3rd - The Proclamation of Independence read by Ho Chi Minh on 2/9/1945 was not the only independence declaration of Vietnam. It was the third. The first one was the poem "Nam quốc sơn hà" (Mountains and rivers of Southern country) in 1077 by Lý Thường Kiệt and the second one was "Bình Ngô đại cáo" (Great Proclamation upon the Pacification of the Wu) by Nguyễn Trãi in 1427.

6. 30 years – the number of years the war in Vietnam lasted after 1945. Although Vietnam declared its independence on 2/9/1945, the war did not stop then. Vietnamese people continued their fight against French and American army. During that period, the South and the North of Vietnam was separated.

7. 30/4/1975 – 30 years from the Declaration of Independence, the war was officially ended. The South of Vietnam was liberated for National Reunification. On July 2nd 1976, the North and South Vietnam were merged to form the Socialist Republic of Vietnam.

8. Vietnam national flag – a vital element in the annual celebration of Vietnam Independence day. On this day, the national flag is displayed everywhere. People put it on the top of their house and streets are merely covered with red and yellow.

9. Vietnam national flag consists of a golden star with five points to represent farmers, workers, intellectuals, youth and soldiers. The red background pays tribute to the bloodshed during the wars.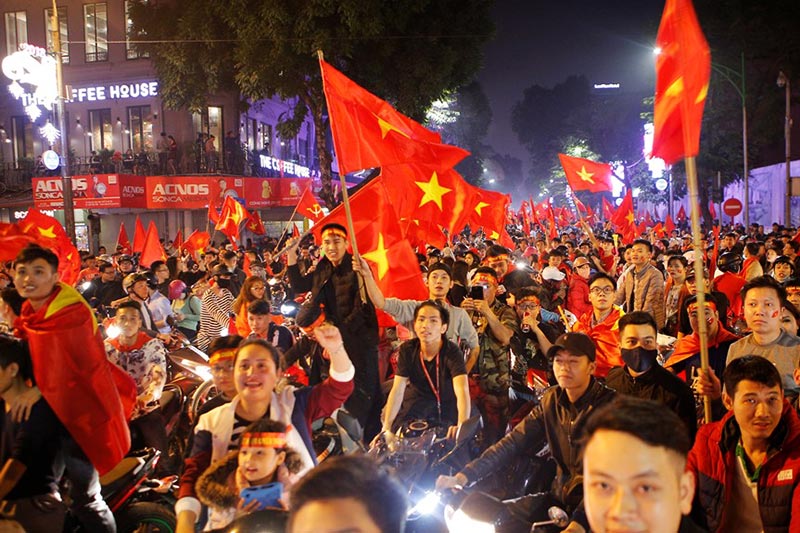 10. The Marching Song (Tiến Quân Ca) was adopted as Vietnamese National Anthem by Ho Chi Minh in 1945. This song was officially performed on 2/9/1945 - the day of the Declaration of Independence at Ba Đình Square. Until now, it is still the most popular song in Vietnam with its rhythm and lyrics embed deep in every Vietnamese people's heart. Its impact remains significant to the point that in many Vietnamese junior and high schools, all students are required to stand up and sing this song with respect. This song is also performed in important and formal events in Vietnam.

11. Fireworks, parades and marches are how Vietnamese people celebrate Vietnam Independence day. Vietnamese people often look forward to seeing colorful fireworks and large marches in Ba Dinh Square in September 2nd every year.

12. More than 30.000 people took part in a military parade through Hanoi on September 2nd 2017 to celebrate the 70th Anniversary of Independence – making this anniversary one of the most important and large-scaled events in Vietnam that time.
On your Vietnam customized tour, it is essential to acknowledge Vietnamese public holidays and crucial facts behind them. To Vietnamese people, September 2nd has a significant meaning – it signals the liberation of Vietnam from thousands of years of being ruled and invaded. If you look carefully into this country's history, you will understand why this day is so important to the people in Vietnam. Traveling to Hanoi on this day, you should pay a visit to Ba Dinh Square to see the flag raising ceremony and large marches. You might be overwhelmed with the solemn atmosphere there. It might be another refreshing experience on your Vietnam private tour.
Related Articles:
Is it safe to travel in Vietnam?
How much money do I need for travelling Vietnam?
5 reasons to book your holidays with a Vietnam travel company

View Tours:
Classic Vietnam Family Tour 14 days
Heritage Tour Vietnam - Cambodia 13 days
Vietnam Food Tour For Family 17 days