Vietnam constitutes the ideal destination for you to escape from the hustle and bustle and soak into the diverse culture. However, if you have a thing for adventurous activities or extreme sports, there are a wide range of locations can satisfy your needs. Having your Vietnam private tour, you can be offered some skateboarding, snorkelling, a few rock climbing or surfing. All the thrills and spills are packaged in this list below, just check it out whether you are young or young at heart.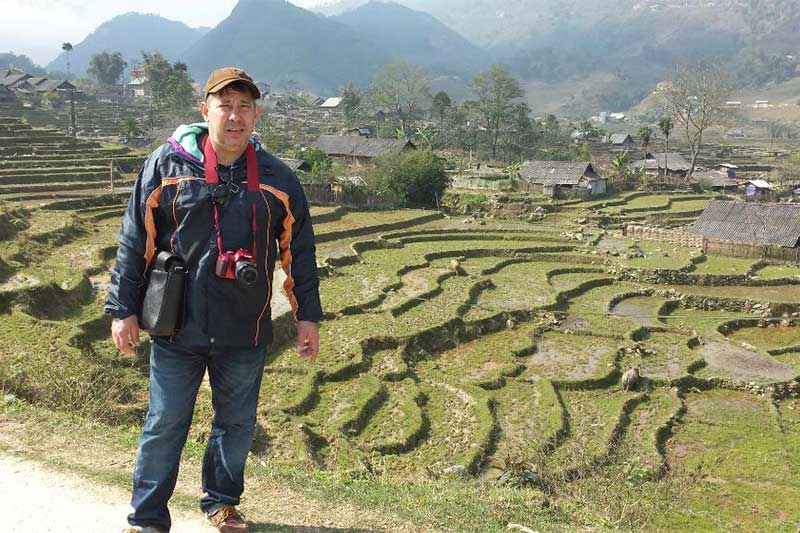 Drive across the country by high-way roads
In order to experience the beauty of Vietnam perfectly, forget about public transport like a plane or train and get yourself a rental motorbike. The winds flow through the hair when you are drifting on your own is one of the best feelings in your lifetime. Also, you can stop whenever and wherever you want without following any itineraries. If you want to have more sense of nature and local vibes, you can opt to stay in a homestay and then do some exploring the next day. The ideal region for your pure venture is the mountainous areas in the North of Vietnam or the midlands for lower levels. However, make sure to bring along with you a map (or mobile phone with Google maps), backup charger and some bottles of water.
Race on a motorbike track
You may meet some locals try to speed up on public streets. However, this kind of racing is illegal and dangerous because just a minute of distraction, you can kill yourself, especially with the traffic madness in big cities like Hanoi or Ho Chi Minh City. Instead, you can live with your own passion in Happyland Circuit- The first professional motor racing track in Vietnam. Pop wheelies, g- forces and brush knees with the tarmac can satisfy your interest and make you feel the heat. All you have to do is joining a Vietnam customized tour and heading to Ho Chi Minh City. The track is located 35 kilometres nearby.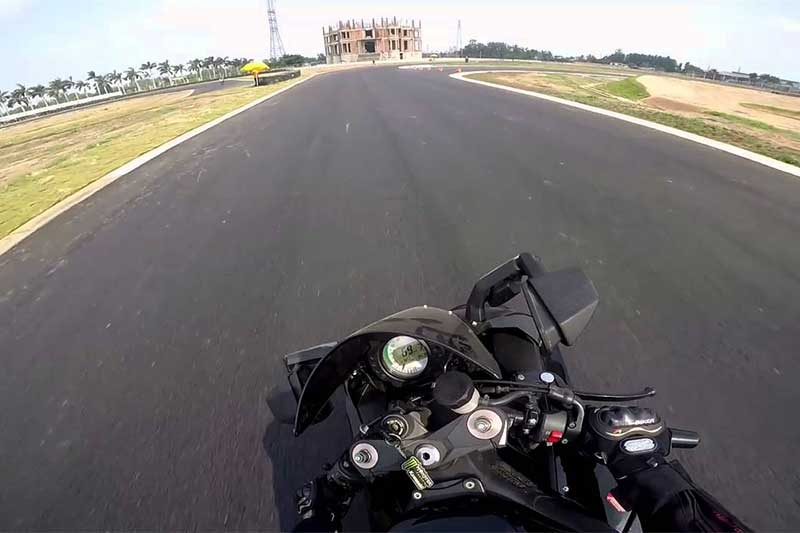 Read more: 8 fun things to do in Ho Chi Minh City
Take a shot of snake wine (or scorpion wine)
A host of giant bottles containing the intact, different- sized snakes can make you knock out of stocks when you are in local restaurants, particularly in the Northern areas. These snakes are surely dead, but you cannot avoid the creepy of looking at their open eyes and wide mouth. In fact, all the snake venom is removed before put them into the wine. Therefore, you can be the crazy one in your group, try a shot of this liquor and take some photos. It definitely one of the insane moments which blows your gangs away.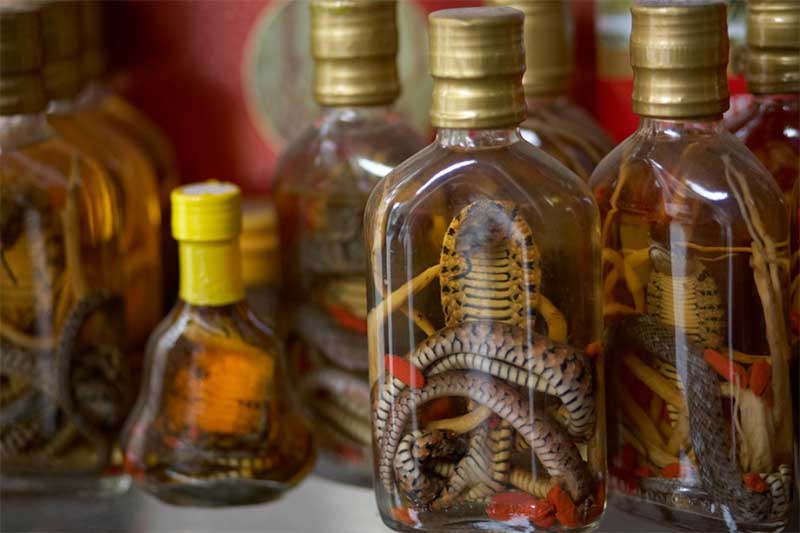 Climb to Fansipan (Sapa)- The tallest mountain in Indochina
Fansipan is the highest mountain in Indochina at 3,143 meters, so you can find it really tough to reach the peak. However, once you set your foot on the top of this mountain, it's once-in-a-lifetime feeling you never want to forget. Fansipan is surrounded by terraced rice paddies and Muong Hoa Valley where tourists can find a lot of Hmong women wearing colorful traditional dresses. Thus, when you conquer the peak, you can tower over all striking scenes below and breathe in the fresh atmosphere of Sapa. In recent years, there are cable cabs are available for visitors to ascend into the peak. But, if you are a risk- taker and you do not want normal ways, you totally can choose to head to the summit by trekking through forests.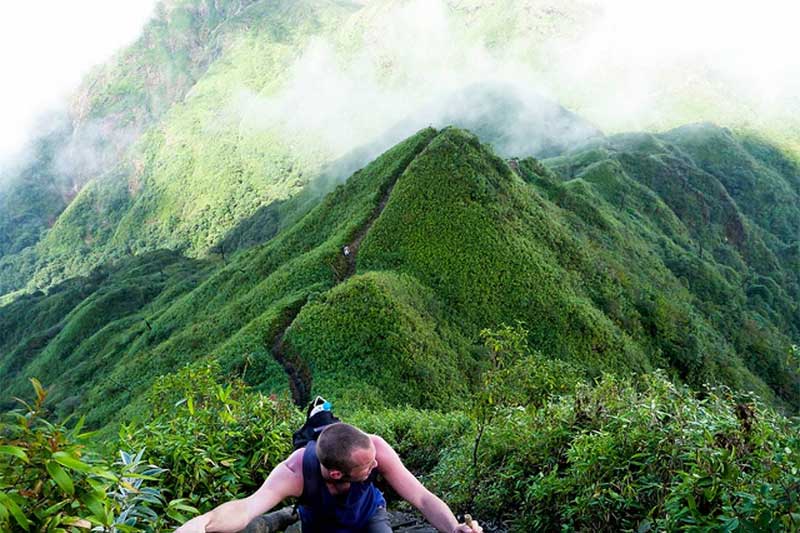 Read more: 5 amazing things to do in Sapa
Shoot a gun in Cu Chi Tunnel
It's rare to see the existence of gun or bomb in Vietnam, but if you want to challenge yourself a little bit or simply experience the emulator war, there is a destination where you can try to use gun machines as well as unload a torrent of firepower. Just a few kilometers from Ho Chi Minh City, the Cu Chi Tunnels are an underground complex with many narrow turns where residents lived and trained during the war. Today, Cu Chi welcomes plenty of tourists who want to know more about the Vietnam War in the past. Taking part in a Vietnam family tour including Cu Chi Tunnels, visitors can attempt to blast targets with an AK-47. This sounds exhilarating and crazy at the same time, isn't it?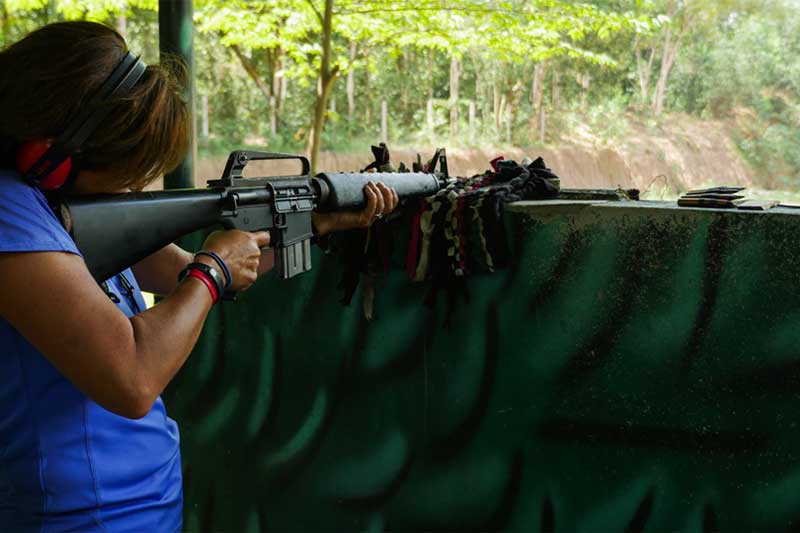 Surf with white-capped in Nha Trang
Vietnam is home to a multitude of breathtaking beaches and watersports, so why don't you challenge yourself with some pristine waves? There is no feeling on Earth can compare to cruising on the crystal clear water and you will be like a conqueror of the ocean. Soaring above the water also helps you relieve your depression and bask in the sunshine. Of course, it may quite hard for the first time but trust me, surfing is really worth a try. In case you want to explore more activities in your Vietnam vacation, you can try to dip yourself with snorkelling or wrenching a jetski's throttle until you are bursting with excitement.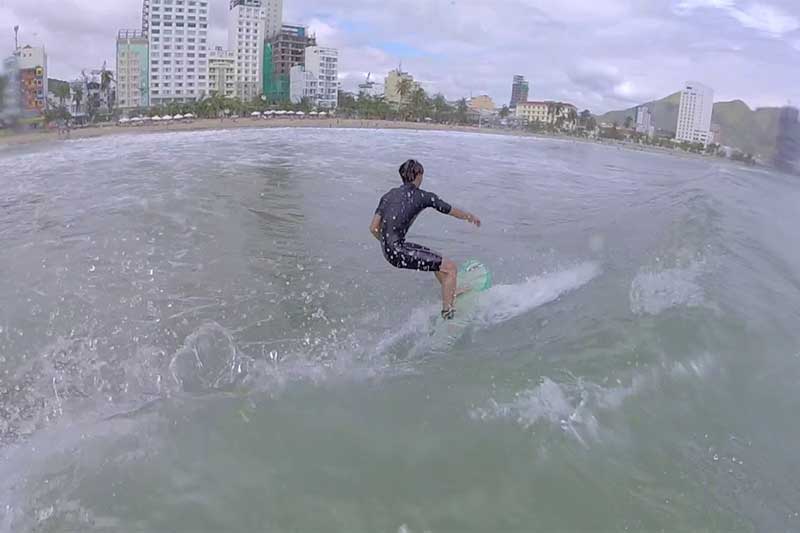 Read more: Best local food should not be missed in Nha Trang
See tours:
Vietnam Grand Prix and Exploring From North to South 10 Days
Ho Chi Minh Trail Motorcycle Tour 15 days from Hanoi
Vietnam - Thailand Happy Honeymoon 18 days