It is widely acknowledged that Southeast Asia is famous for tropical climate, striking beaches and laid- back lifestyle. Although these coastal cities have their temptation, why don't you try to find some cold sites which are a little bit off the beaten path in this winter? There are some certain parts of Southeast Asia which can offer you a host of chilly destinations. Just bring your coat and you are good to explore such marvellous locations below.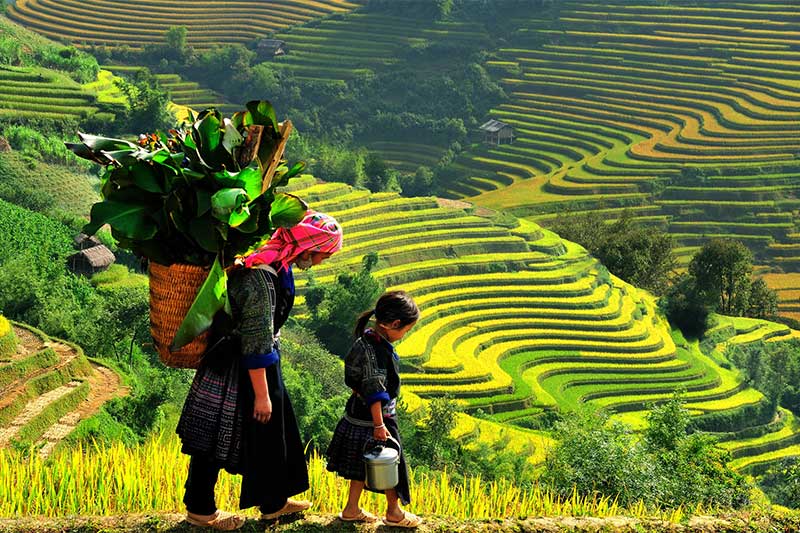 Sapa, Vietnam
Sapa is known as the odd city in Vietnam having the extraordinarily cold weather with soft snow in winter months. Those heading to the scenic mountainous town of Sapa can have speechless feelings. In the morning, tourists can trek around the Fansipan and tower over the surreal views of rolling hills and ripen rice terraces covered by cold mists. The yearly temperature is approximately 16°C and down to 10°C in January, so make sure to prepare a coat or blanket to keep you warm. Just joining in a Vietnam private tour and you can admire the majesty of winding lanes combining with magnificent natural sites like waterfalls. Also, Sapa is full of minority villages. You can soak into the exotic vibe in Sapa where local women wear colorful dresses and each folk has their own feature: The Red Dao usually wear scarlet headdresses festooned with woollen tassels and silver trinkets, Black Hmong are the most numerous group – over a third of the district's population – and the most commercially minded, peddling their embroidered indigo-blue waistcoats, bags, hats and heavy, silver jewellery at all hours. By contrast, the Red Dao, another common group here, are generally shy about being photographed.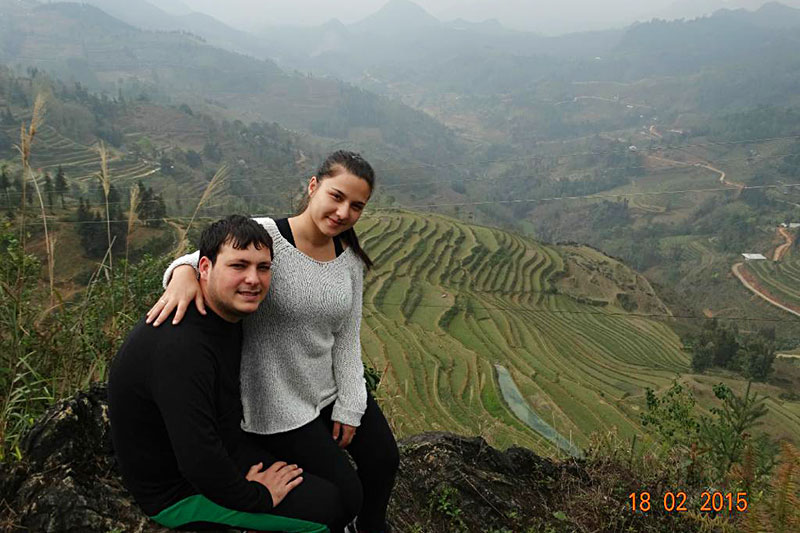 Read more: 5 amazing things to do in Sapa
Ha Giang, Vietnam
Ha Giang is other optimal choice for your getaway in winter. Also, it takes you six hours to drive from Hanoi. The foggy weather here can ease you a lot, especially when you want to blend into congenial atmosphere. In the cold climate of winter months, you can come by spectacular limestone areas with severe slopes. You may absolutely surprise when strolling around these rocky regions covered by many fossils of species were seen 400-600 million years ago. Situated in a mountainous region of Vietnam's far northeast, Dong Van Plateau has lots of specific characteristics in term of topography like splendid terraced rice paddies climb to the summits of the surrounding mountains and extending beyond the horizon. In addition, tourists can enjoy the fresh ambiance of this remote area or challenge yourselves at Southeast Asia's deepest canyon. In particular, Ha Giang city has many ethnic minorities who will offer you warm hospitality and help you know more about their unique culture.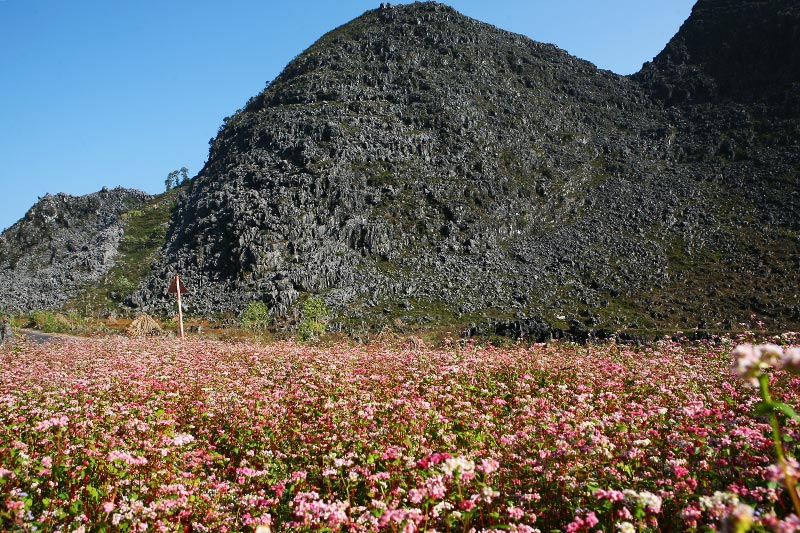 Hanoi, Vietnam
Coming to the capital city of Vietnam, you may want to discover a great deal of historical destinations and scrumptious food. Because of monsoon in winter, the temperature from December to February can go down to 10°C. While many tourists having Vietnam family holiday are into summer vacation with sunshine and blast wind, you can explore this city on your own way – in winter and you don't have to be bathed in sweat. In addition, there are more chances for you to wander through the Old Quarter and be surrounded by chilled climate. You also can take part in a fantastic city tour with visits to Ho Chi Minh's Mausoleum and his residence; the One Pillar Pagoda, the Temple of Literature and then continue to the Museum of Ethnology. Particular, your Vietnam vacation can be more fascinating when you spend more days joining a special street food tour in Hanoi. It's the ideal time to stop by a roadside café and sip a cup of hot egg coffee little by little and enjoy hearty street foods. Hanoi is famous for Pho and many hot dishes which can heat you to the bone. Such a great choice for a cold day, isn't it?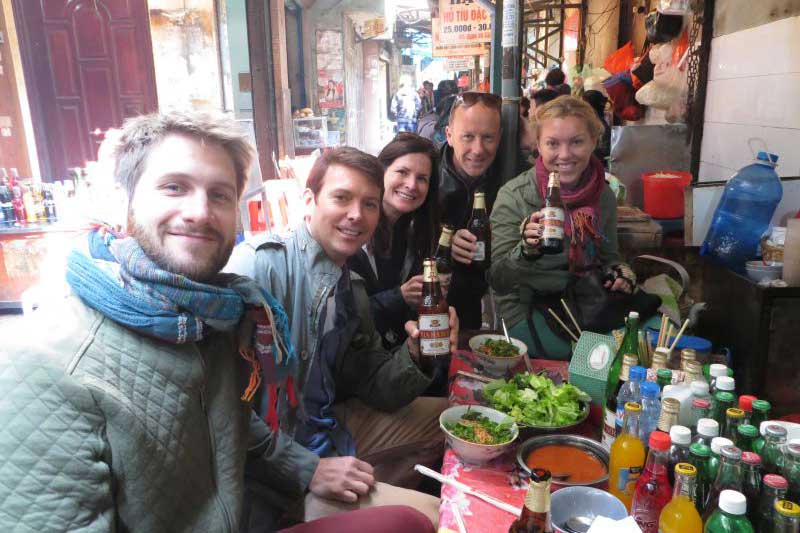 Read more: Autumn - The most seductive season in Hanoi
Chiang Mai, Thailand
Situated in the north of Thailand, Chiang Mai is a popular bustling town where you are seduced by indigenous culture, savory food and extraordinary leisure activities. On the contrary of high temperature in summer, the period between December and January is considerably cool for a tropical land like Thailand. Paying a visit to this time is one of the most exhilarating experiences when visitors can warm themselves up with adventurous activities like take a boat trip on the Mae Ping River, visit Doi Inthanon National Park or try to hike Chiang Mai's Very Own Grand Canyon. In the evening, the Chiang Mai Night Bazaar should be appeared on your itinerary due to its spicy dishes which not only satisfy your eyes but also fill your stomach and warm your soul. In case you want to pick up some souvenirs for your family and friends, be comfortable to opt for some items like scarves or handmade handcrafts.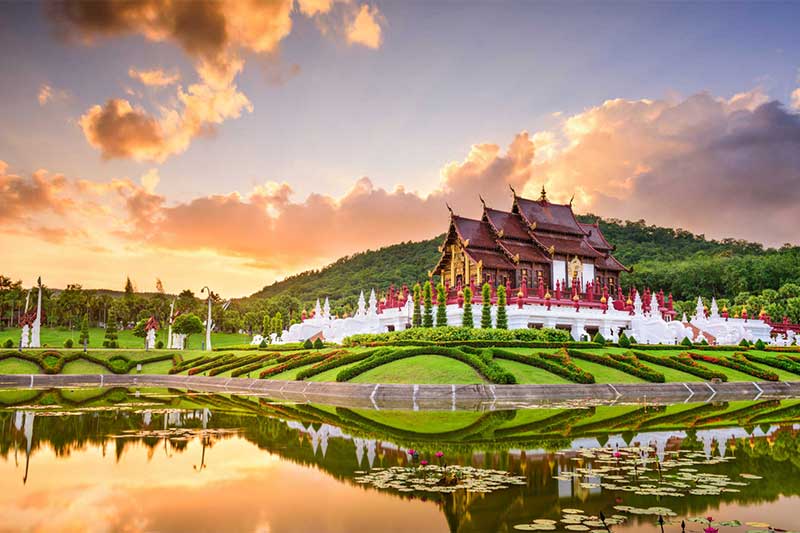 Read more: Top must- try activities in Chiang Mai
Chiang Rai, Thailand
Another recommended place in Thailand is Chiang Rai located around 200 km from Chiang Mai. The average temperature here is approximately 24°C, but it can drop into 10°C around the New Year Period. Having a Thailand customized tour and coming by Chiang Rai is a worth-considering option to cool you down. It is no doubt that you can visit anywhere you want without the concern about sweating your clothes off. The cold climate also makes you more energetic to admire Wat Rong Khun (or White Temple)- a must-go religious temple is home to elaborated sculptural carvings. Visitors should have to see it in person to fully appreciate the delicate architecture and diverse culture here. As well as stunning sacred temples, Chiang Rai also contains rolling paths, hiking routes or some kinds of natural feature for risk-takers. You can give it a try and be blown away by these jaw-droppingg things.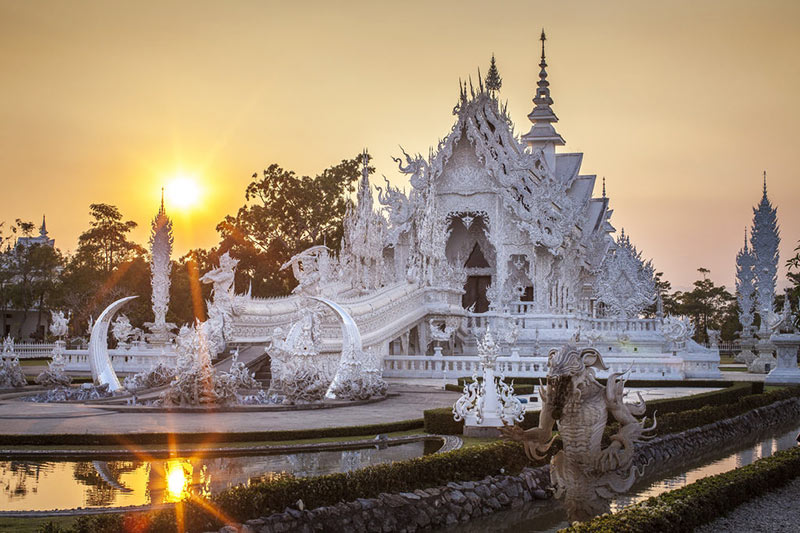 See tours:
Classic Vietnam Family Tour 14 days
Best of Vietnam - Thailand Family Vacation 14 days