Festivals in
Vietnam Customized Holidays
give visitors the best chance to
get up
close to the historical stories, customs and cheerful spirit of the Vietnamese people
. Although undergoing modern development steps, Vietnam still retains the traditional beauty that nowhere else can be found. Here are
6 typical festivals of Vietnam
that visitors should experience once in their life.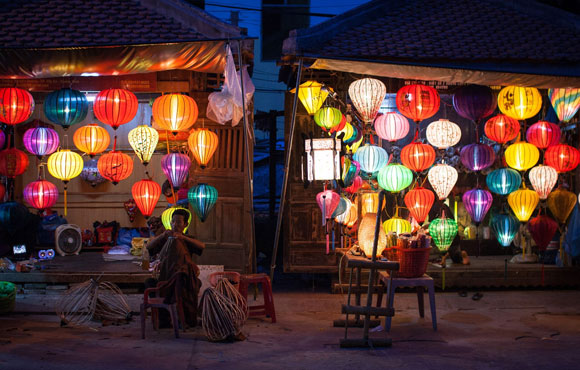 1. Lunar New Year (Tet Nguyen Dan)

Time
: The first days of the Lunar New Year
Place
: Vietnam nationwide
Tet Nguyen Dan
is an important holiday for the
Vietnamese people
, clearly showing the unique cultural beauty of the country that makes international tourists extremely excited. Typical activities of the
Lunar New Year
are
praying for a peaceful new year, having meals together and visiting among family members, friends and neighbors
. Children are very excited when adults
give red envelopes.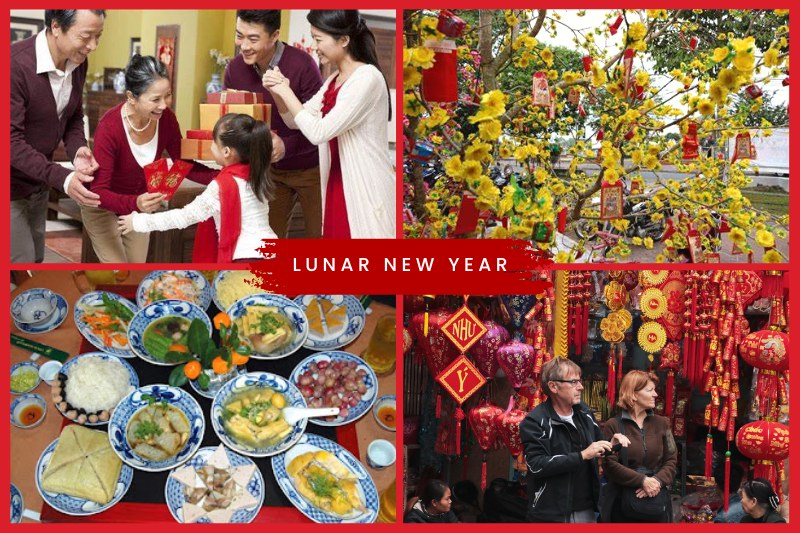 (Lunar new year in Vietnam)
Tet is also a great time to enjoy a variety of
traditional Vietnamese dishes
such as Banh Chung (Chung Cake), Gio Lua (Lean pork paste), Dua Hanh (Pickled onion), Thit Dong (Jellied meat),... House guests are also served tea and dried jam placed on the table in the living room.
2. Hung Kings Temple Festival

Time
: From the 1st to the 10th day of the 3rd lunar month every year.
Place
: Hung Temple, Viet Tri city, Phu Tho province, Vietnam.
Hung Kings Temple Festival is a traditional festival of
Vietnamese people
to
commemorate the merits of founding the country of Hung Vuong
. Hung Kings worship has been registered by the Ministry of Culture, Sports and Tourism of Vietnam on the National Intangible Cultural Heritage List (phase 1) and recognized by UNESCO as
an Intangible Cultural Heritage
.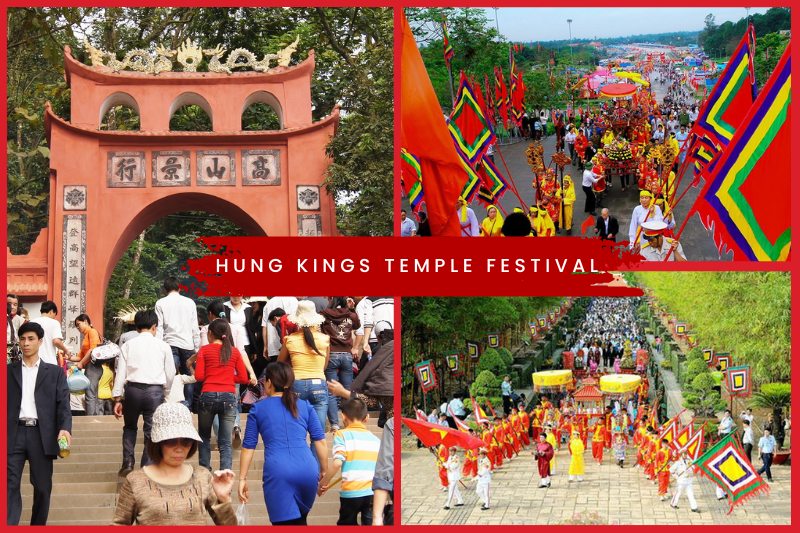 (Hung Kings Temple Festival in Vietnam)
Hung Kings Temple Festival is an occasion for generations of Vietnamese people to
express their love and admiration for their ancestors' homeland
. Besides, this festival also attracts international tourists who want to participate and explore activities towards
the roots of the Vietnamese people
in
Vietnam Private Tours
.
3. Perfume Pagoda Festival

Time
: From the 6th of January to the end of the 3rd lunar month every year.
Place
: My Duc- 69 km south of Hanoi.
The meaning of the Perfume Pagoda festival represents
the worshiping beliefs of Vietnamese religions
at present, including Buddhism, Confucianism and Taoism. Especially, it also represents
the connection and harmony between people and nature
, increasing the strength of national unity.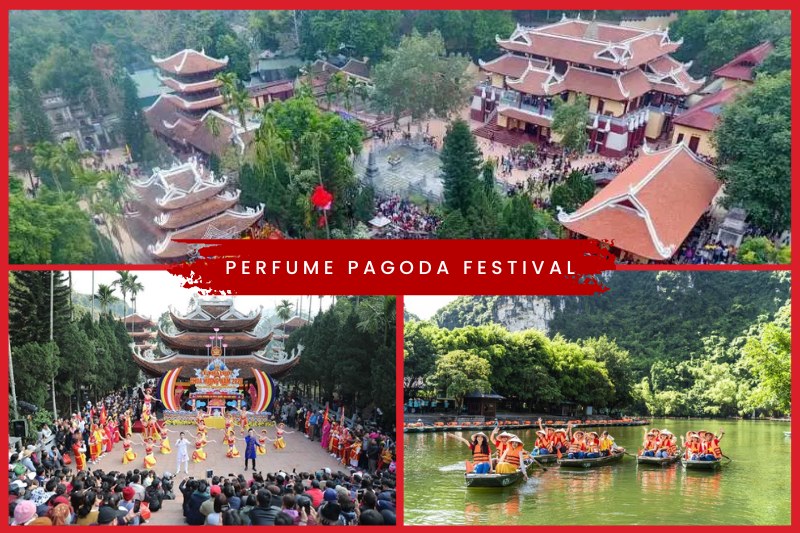 (Perfume Pagoda festival in Vietnam)


The unique feature of the Perfume Pagoda festival is to sit on a boat to go to Huong Tich cave and admire the magnificent natural beauty. When participating in the Perfume Pagoda festival, visitors can bring offerings to worship the national ancestors and participate in extremely attractive cultural and entertainment activities such as rowing, climbing, Chau Van singing- the art of Vietnamese traditional singing.

4. Hoi An Lantern Festival

Time: On the night of the full moon every month.
Place: Hoi An, Quang Nam, Vietnam.
During this festival, locals turn off all electric lights and hang colorful lanterns throughout the old quarter. The festival starts from 6pm to 10pm and takes place most bustling and crowded at the riverside between the Japanese bridge and Hoi An bridge.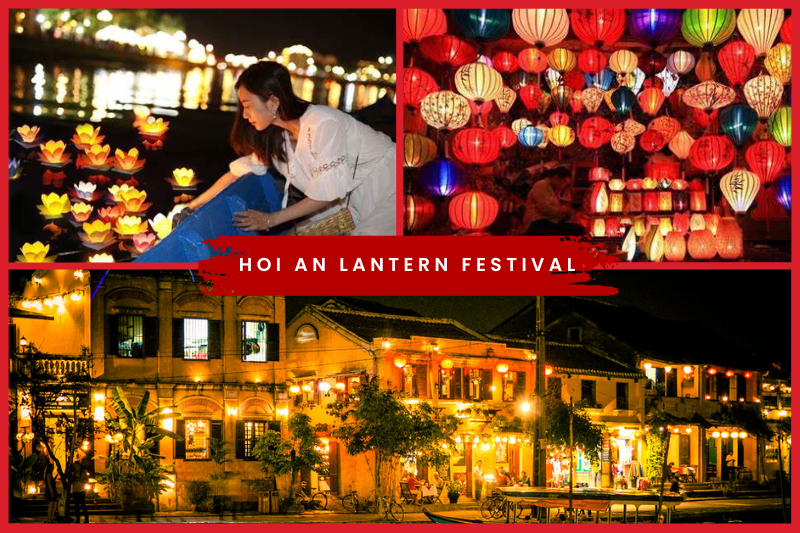 (Hoi An Lantern Festival in Vietnam)


Visitors can participate in activities such as
admiring colorful lanterns, enjoying typical local dishes
and participating in traditional cultural activities such as
lion dance, dragon dance, etc. dance music.
In particular, visitors have the opportunity to
release lanterns with their dreams
on the Hoi An River.
5. Hue Festival

Time
: April, May or June every two years.
Place
: Hue, Vietnam.
Hue Festival, formerly known as "Vietnamese - French Festival", was held in 1992 and renamed to "Hue Festival" as it is today in 2000. Since then, the festival has become a major cultural event for the purpose of remembrance of
Vietnam history and traditional values of Hue capital
, along with promoting those values to tourists around the world.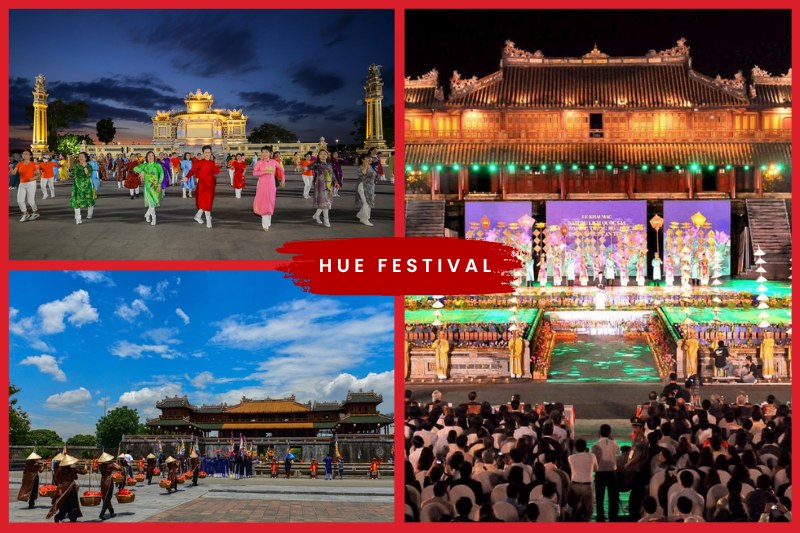 (Hue Festival in Vietnam)


Visitors can attend some events in
Vietnam Customized Tours
such as: Royal night, Nam Giao sacrifice ceremony, Ao Dai festival, sea festival, poetry performance, festival country market, human flag,... Since
Hue
was the capital of Vietnam in the 19th century, the festival is also
the venue for reenactment of royal ceremonies
such as the enthronement of King Nguyen Hue and the doctoral exam.
Street performances, film screenings and art exhibitions
are also held throughout the week of the festival.
6. Mid-Autumn Festival (Tet Trung Thu)

Time
: August 15th Lunar Calendar
Place
: Vietnam nationwide
The time of the
full moon and brightest of the year
with unique traditional activities. Family members have the opportunity to gather together happily to
prepare the Mid-Autumn Tray and worship ancestors
. Young children always love the
Mid-Autumn Festival
because they can join in the
lantern parade
with colorful lanterns of various sizes and shapes, such as stars, fish, butterflies, etc.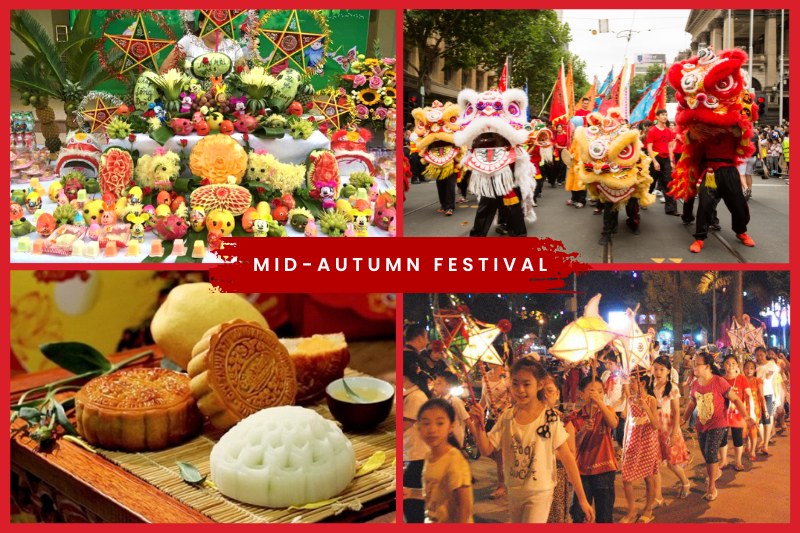 (Mid-autumn Festival in Vietnam)

An important event before and during the Vietnamese Mid-Autumn Festival is the Lion Dance. Even groups of children perform dances in the streets or houses very lively every night. In addition, Moon Cake is a symbol of traditional dishes during the Mid-Autumn Festival. Currently, Vietnamese mooncakes have many different flavors, but the most popular type is baked mooncake filled with ham, Chinese sausage, salted egg,... or snow skin moon filled with green beans or lotus seeds.



Vietnam is a country with many festivals throughout the year that are spread from the North and the South. Each festival of Vietnam Private Holidays has its own characteristic showing the long-standing culture of Vietnam. There are also plenty of other cultural events held throughout the year (or years), so visitors have the opportunity to join any festival you want at different times.