A Tourist's Guide to Love
is the first foreign film shot in
Vietnam
since the global pandemic. This is
a rare Hollywood film entirely set in Vietnam
with an international cast including producer cum star- Rachael Leigh Cook, Vietnamese-American actor Scott Ly, famous domestic star. Truc Tran and Meritorious Artist Le Thien.
The unique tourist destination of Vietnam
is shown in great detail through this international film.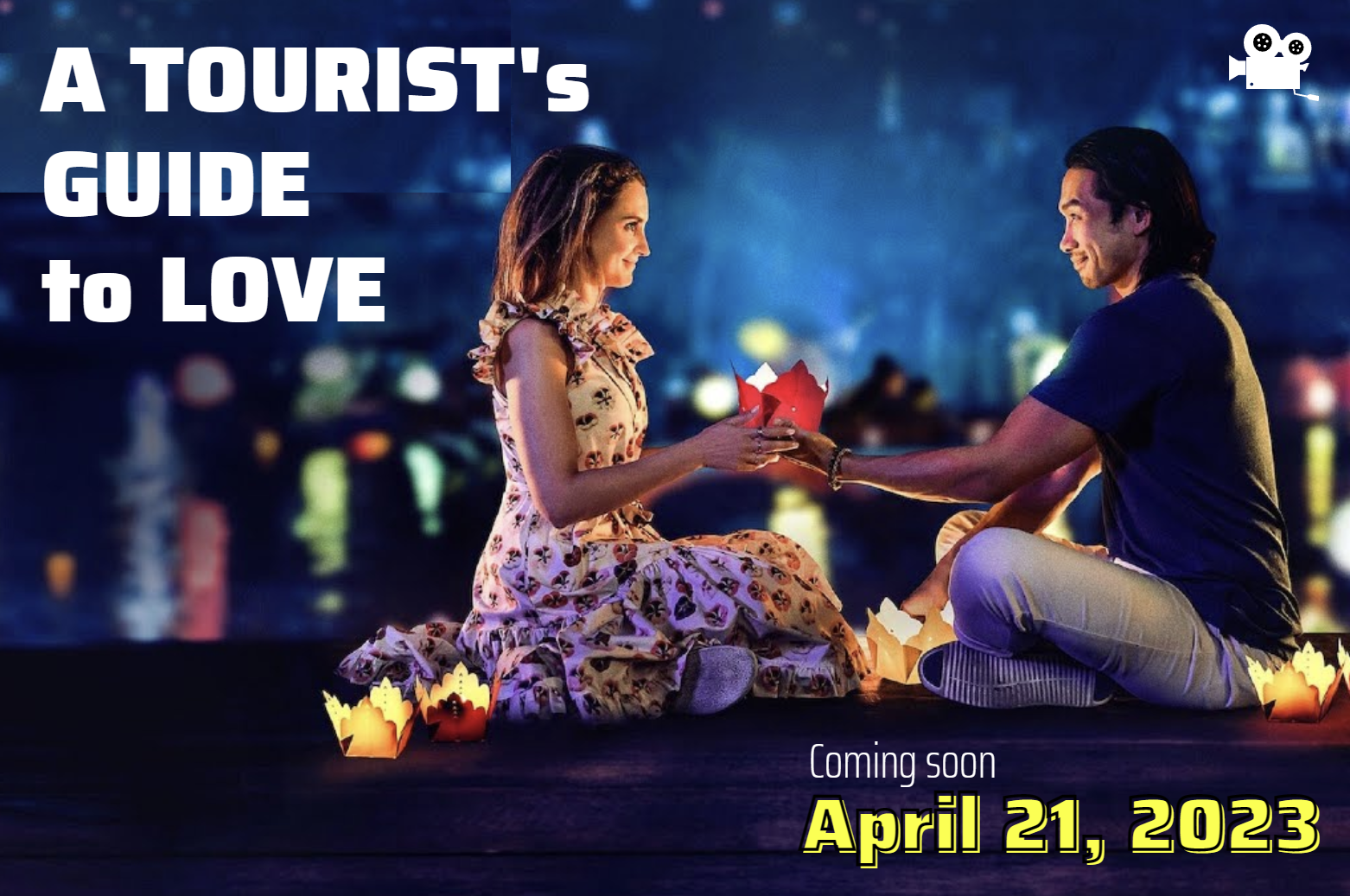 A Tourist's Guide to Love is the story of a female travel expert (Rachael Leigh Cook). After an abrupt breakup, she takes on a secret mission as a frequent traveler in Vietnam to join a journey of discovery about Vietnam's tourism industry. She meets a Vietnamese tour guide (Scott Ly) and the two create an interesting and romantic journey. They decided to break down all barriers to discover life and love.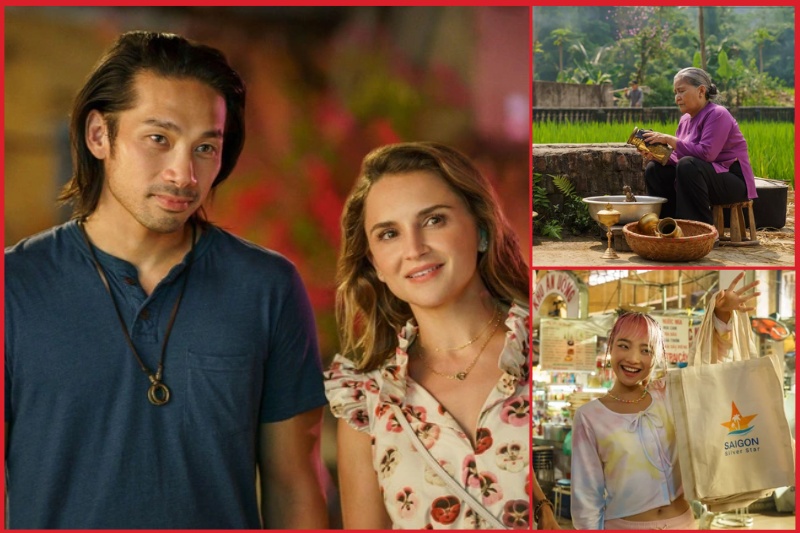 (Famous actors in A Tourist's Guide to Love Film)
On March 28th, a short trailer of about 2 minutes about the film revealed the beauty of Vietnamese tourism, promising to be
a desirable film about Vietnamese culture and scenery
. A Tourist's Guide to Love was filmed at 5 prominent landmarks of Vietnam including
Hanoi, Hoi An, Da Nang, Ho Chi Minh City, and Ha Giang
, helping to bring the beauty of local landscapes to international audiences.
The Temple of Literature (Ha Noi)

The ancient beauty of Hanoi capital has been recreated through the context at the Temple of Literature. This site was built in 1070 under Ly Thanh Tong King with
the typical architecture of Vietnamese culture
.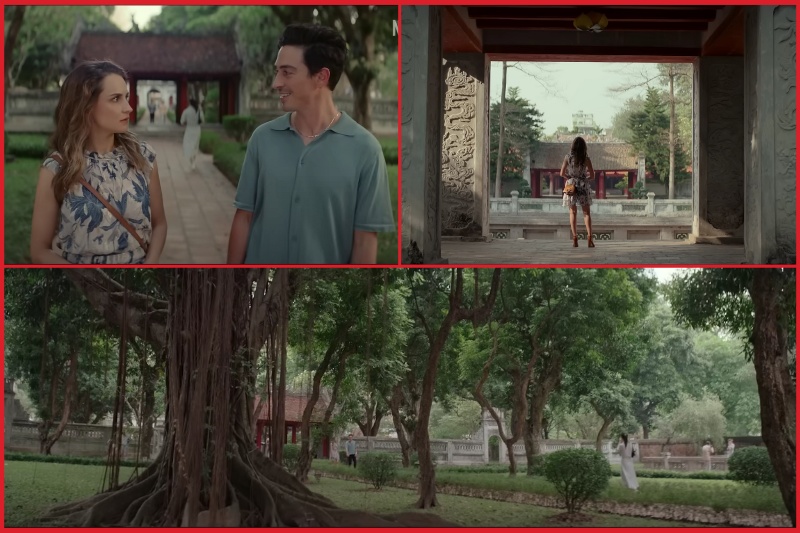 (Scenes at the Temple of Literature in the film)
The Temple of Literature (Van Mieu- Quoc Tu Giam) is not only
the first university
in our country, but also a place to preserve the cultural and historical imprints of Vietnam for thousands of years. This place also keeps many precious artifacts and documents, especially 82 doctoral steles recognized by UNESCO as "
World Documentary Heritage
".
Hoi An Ancient Town (Quang Nam)
The "A Tourist's Guide to Love" film reproduces extremely realistically and beautifully the typical scenes of
Hoi An ancient town
such as the
colorful lantern street
and the lanterns on the Hoi An river.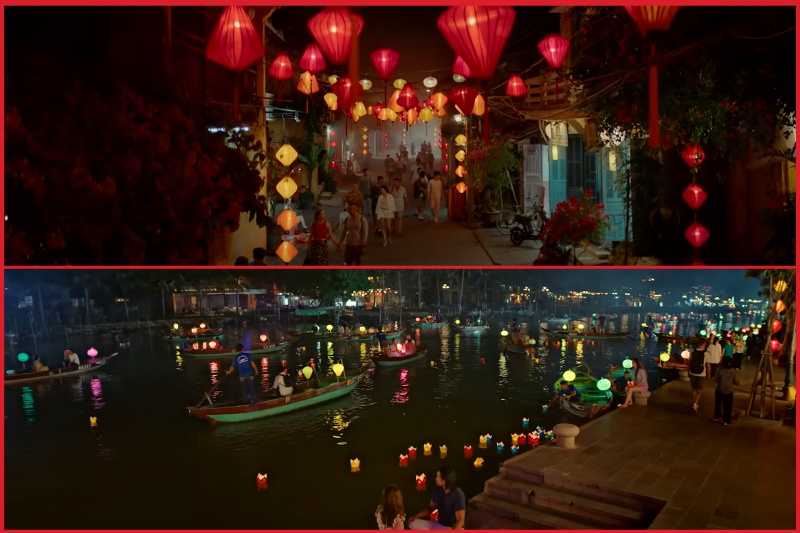 (Beautiful Hoi An in A Tourist's Guide to Love film)
Hoi An contains many valuable intangible values. The outstanding destinations of Hoi An can be mentioned as
Japanese Bridge; Assembly halls of the Chinese (Fujian assembly hall, Cantonese assembly hall)
. In addition, Hoi An also preserves
many ancient houses
dating back hundreds of years, typically Tan Ky ancient house built more than 200 years ago. With its very own customs and culture, Hoi An at night is always brightly lit, rustic but full of mystery.
My Son Sanctuary (Quang Nam)

In the first minutes of the trailer,
My Son Sanctuary
appears extremely wonderful. My Son Sanctuary is a historical and cultural relic site located in Quang Nam province, central Vietnam. This destination was built in the 4th century and was recognized by UNESCO as a
World Cultural Heritage
in 1999.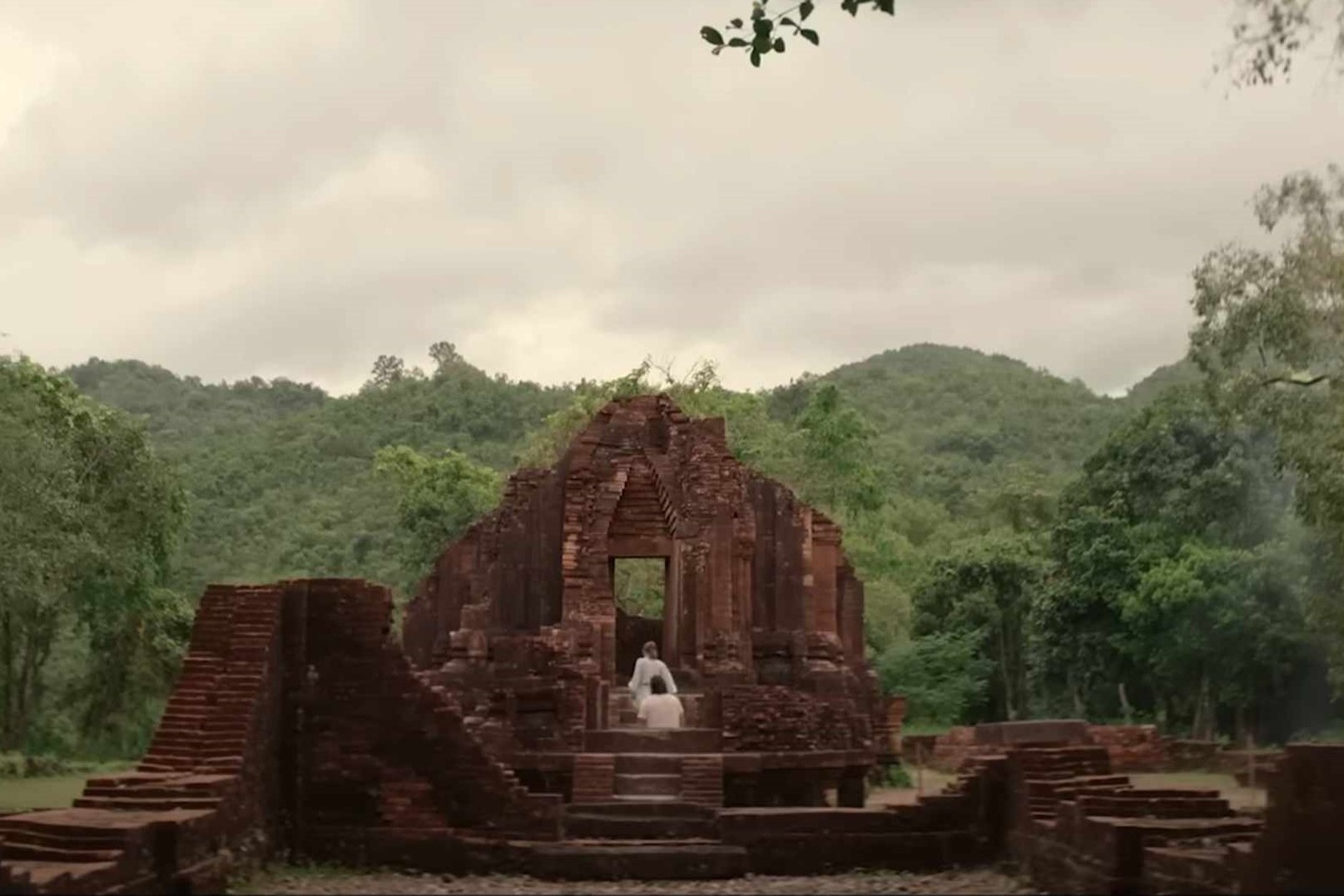 (My Son Sanctuary appears wonderful in this film)

My Son Sanctuary is
a village of the Cham people
- an ethnic minority living in central Vietnam. The relic is located on a hilly area and has
more than 70 unique limestone temples
. The temples are decorated with patterns, pictures and writing (Chinese and Khmer characters).
Ho Chi Minh City
The flycam scenes in the film make
Ho Chi Minh City
appear
extremely vibrant and bustling
. Considered the second capital of
Vietnam
, Ho Chi Minh City is a tourist destination that international tourists cannot miss.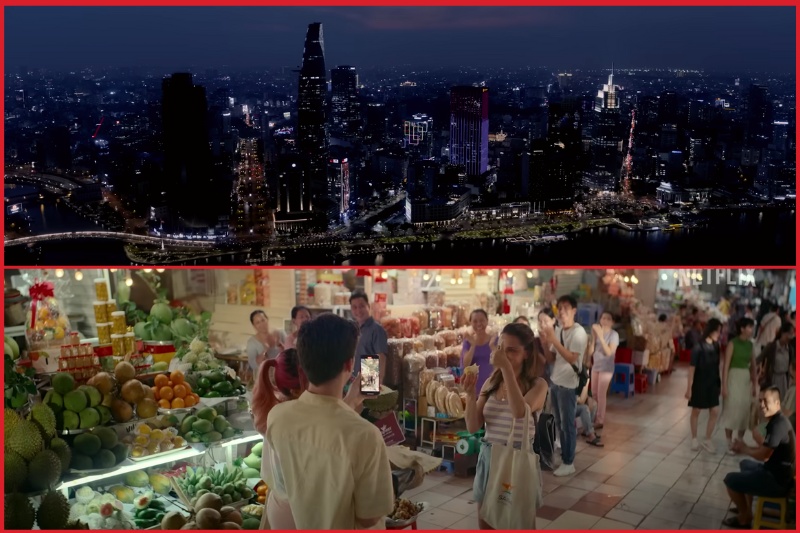 (Ho Chi Minh City in Vietnam)

The main actor can visit and eat durian (a fruit that has a strong smell but is loved in Vietnam) at Ben Thanh market. Ben Thanh Market is one of the symbols of the city and demonstrates the typical history in the subconscious of the people of Ho Chi Minh City. In the market, there are all kinds of items from traditional to modern such as food, clothing, household items, Vietnam specialties, etc.

Experience unique culture in Vietnam

Not only are tourist attractions, A Tourist's Guide to Love also honors Vietnamese culture through film footage. The main character has experienced many local pleasures such as visiting incense making places, watching water puppet shows, watching lion dances, riding a cyclo around Hanoi's old quarter, rowing baskets, etc.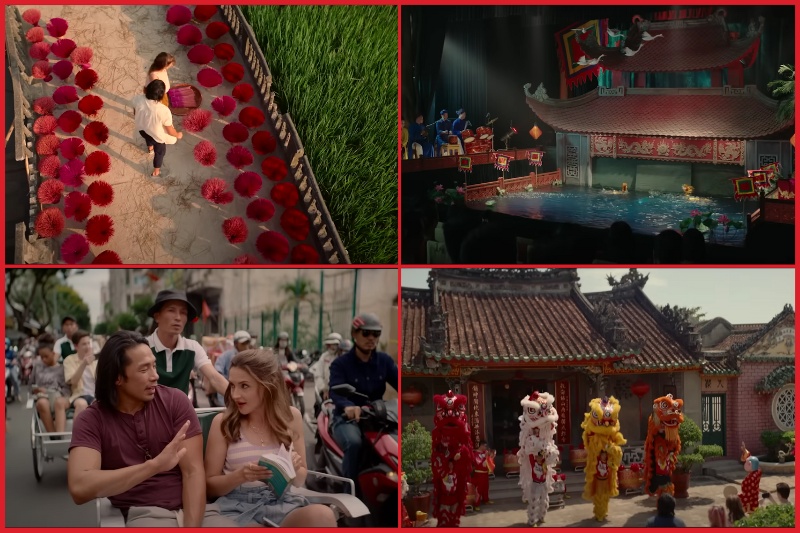 (Many cultures in Vietnam appeared in this film)
On
Tet Holiday
, the female lead actress- Rachael Leigh Cook wears
a traditional Ao Dai
, while Meritorious Artist Le Thien welcomes foreign guests in the old house, they dance happily in the festive atmosphere.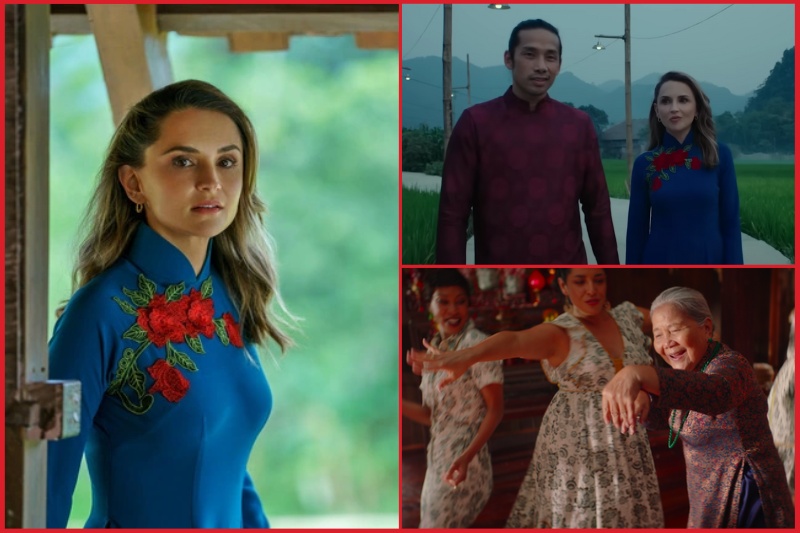 (The female lead wears Vietnamese traditional costumes- Ao Dai)
Vietnamese-American screenwriter
Eirene Tran Donohue
once told Netflix's Tudum, "For me, it's really important to tell a story about life now. A story filled with joy, love, and memories. I want to change the conversation about Vietnam, to
highlight Vietnam as a modern prosperous country
with stories worth telling".
A Tourist's Guide To Love
, directed by
Steven K. Tsuchida
and with
Dustin Nguyen
as a Production Consultant, will be released globally
on April 27, 2023
. Surely this film will create a great resonance not only in
Vietnam
but also in the world.