Dubbed the "cloud paradise" year-round covered with white clouds,
Ta Xua
is an address that is no longer strange to tourists who love to explore in
Vietnam Customized Tours
. Ta Xua is a highland commune in Bac Yen district, Son La province.
It borders two districts of Bac Yen (Son La) and Tram Tau (Yen Bai).
This place is still very wild, there has not been much impact of human hands, so it still
retains the inherent natural beauty
. In addition to
winding roads and majestic mountains
, the sea of
white clouds
floating is the outstanding feature of Ta Xua. The following are check-in places not to be missed when traveling to Ta Xua.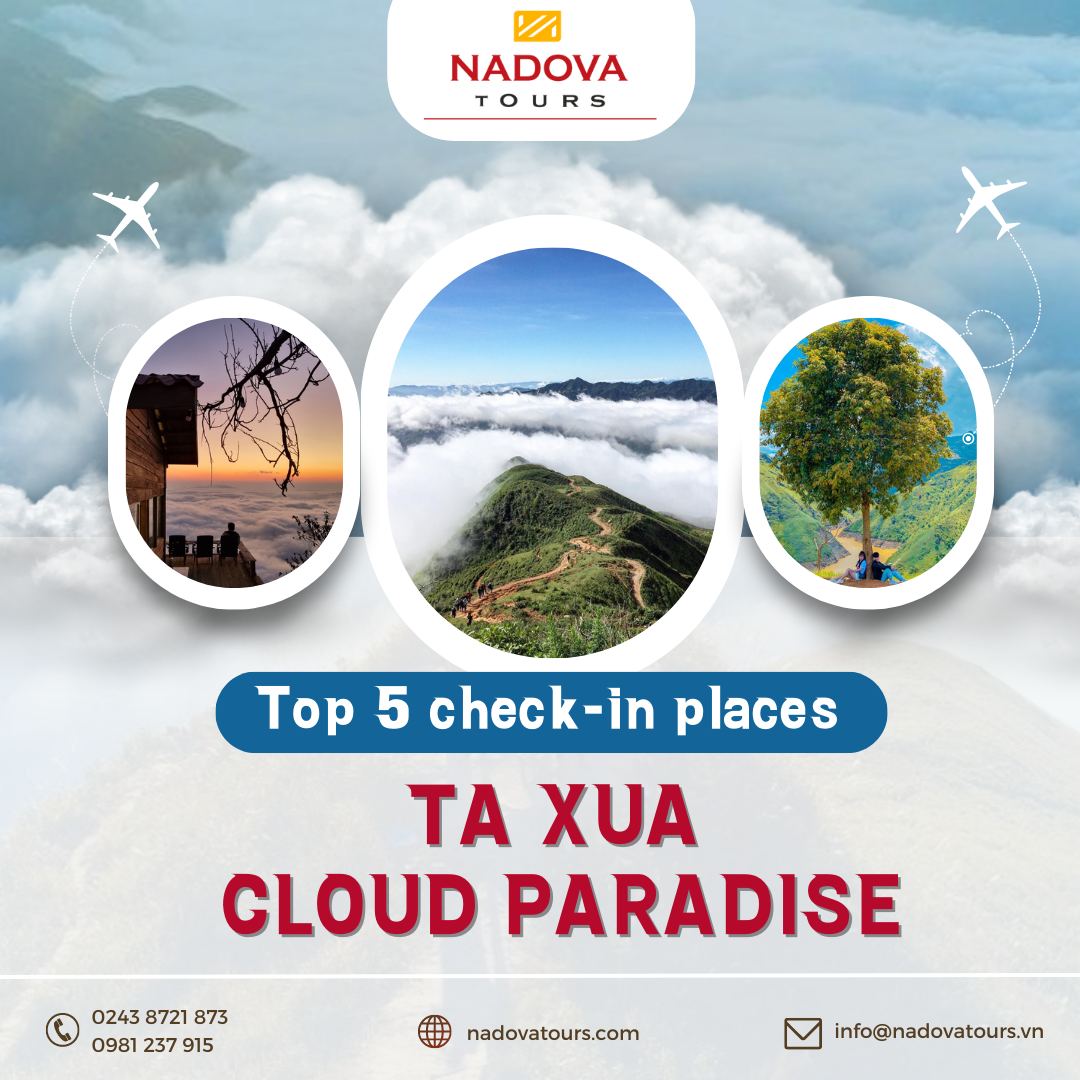 1. Dinosaur Backbone

Ta Xua Dinosaur Backbone is a stretch of road located on the top of Chong Tra mountain, if viewed from a distance, it will look very much like a dinosaur lying face down. January to March every year is the most beautiful time in Ta Xua, very suitable for experienced trekking activities. Ta Xua Dinosaur Backbone is located at an altitude of 1600m above sea level. When standing on it, you will see the whole natural scenery of mountains and hills in the middle of an immense sea of clouds. At the bottom, there are a few beautiful terraced fields and idyllic villages of the Mong ethnic group.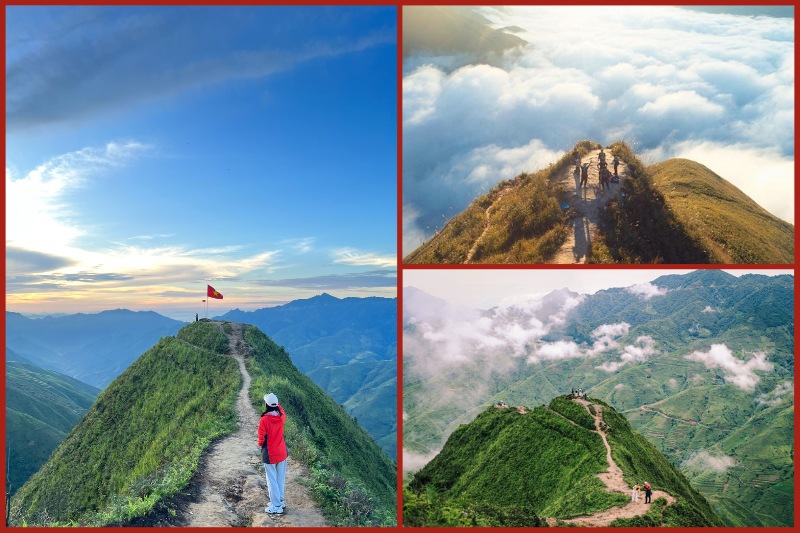 (Dinosaur Backbone in Ta Xua)
The distance to conquer "Dinosaur Backbone" on the top of Ta Xua is not long (
about 1.5 km
), so visitors can easily experience it. However,
the terrain is steep and narrow
, so you need to have good health and survival skills in difficult terrain conditions. However, nowadays,
the Mong people often ride motorbikes to carry tourists
afraid to walk. Each way costs 30,000 VND/person.
2. Dolphin Peak
Dolphin Peak is a check-in destination that is causing a fever for tourists because of
its prime location and unique shape.
The name "Dolphin Peak"
comes from the shape of the rock that looks exactly like the head of a dolphin protruding
. With a bottom-up angle, the cliff looks like a dolphin rising out of the water.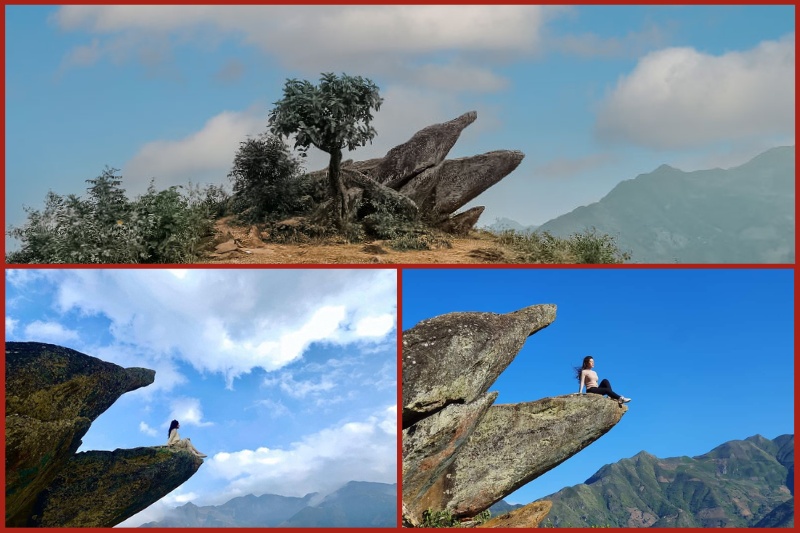 (Dolphin Peak in Ta Xua)
Because Dolphin Peak is located on high ground, visitors will have a
very majestic feeling
, the difference between heaven and earth. Therefore, as long as you sit on this cliff, you will definitely
bring back countless beautiful photos
as a souvenir. Most tourists choose to shoot from the bottom up to enhance the beauty of both the scene and the subject. In addition, Ta Xua Dolphin Point is also surrounded by
mossy patches on the rocks, creating wild and rustic beauty
.
In fact, accessing
this cliff is not too difficult
and checking in here is not as dangerous as other cliffs in
Vietnam
. However, to be safe, you should also
walk carefully
and pose appropriately to keep yourself safe during
Vietnam Private Tours
.
3. The Lonely Tree
The lonely tree is 11km from the center of Ta Xua commune. Currently, the above place is already on
"Google Maps" application
, so visitors can easily find it. However, the journey to conquer this tree is not simple when you have to overcome precarious roads,
one side is a deep abyss, the other side is a cliff
.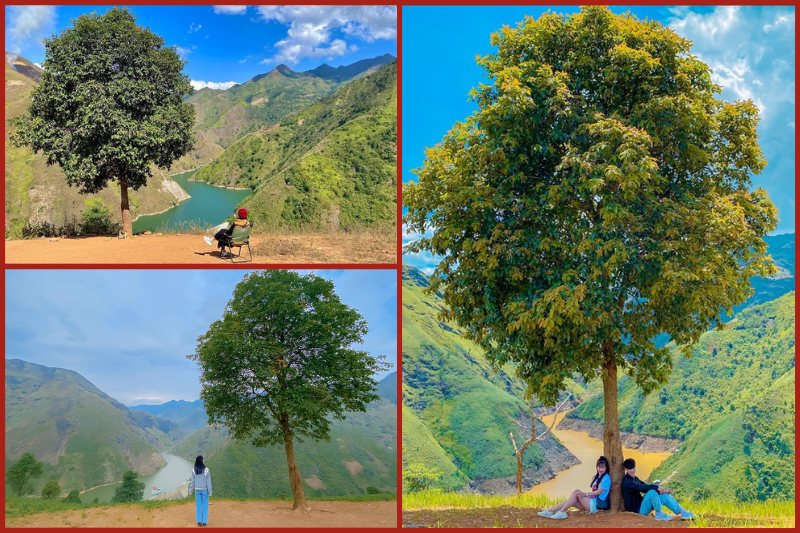 (The Lonely Tree in Ta Xua)
The image of a lonely tree on the top of the Wind between the clouds in the Northwest makes many people excited. From here, visitors can
enjoy a vast natural picture including mountains, stream and sky
. In particular, from the position of this tree, visitors will look directly at Sap stream winding through the green mountains. Regardless of whether it is a sunny spring or a sunny winter, this lonely tree setting is
ideal for leaving beautiful and romantic photos
for visitors.
4. Xim Vang
Xim Vang is only about 18km from Ta Xua, so it is very convenient for you to travel by motorbike to visit here. Xim Vang owns
the largest area of terraced fields
in Ta Xua district. Xim Vang has
a cool climate all year round
, the average summer temperature is from 15 - 23 degrees Celsius. Due to the rather difficult terrain with winding roads, high mountains, and streams flowing from thousands of mountains, it is recommended to stay here. Xim Vang is
wild, peaceful and very poetic
.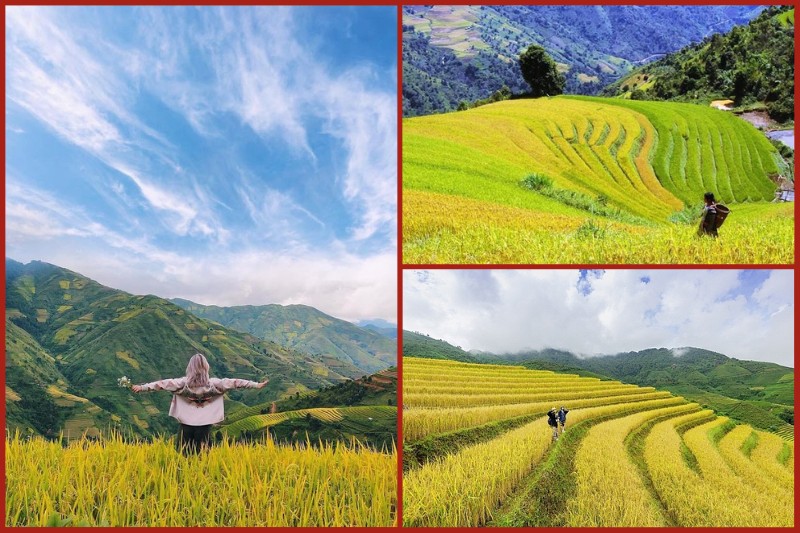 (Xim Vang in Ta Xua)
Xím Vang in
the ripe rice season (from September to October)
is the most beautiful time when the terraced fields turn brilliant yellow. Attending
Vietnam Customized Tours
, you can learn about the
working life of the highland people, explore the beautiful nature and have beautiful virtual check-in photos with terraced fields
. The road to Xim Vang also has many streams and waterfalls for you to stop or camp.
5. Cloud hunting cafes
Besides the
top cloud hunting places
such as Dinosaur Backbone or Dolphin Peak, cafes with prime locations with a sea of clouds around are extremely unique check-in places that no one can miss. Enjoying
a cup of tea in the cool, airy atmosphere with a bit of chill in the mountains
is definitely something everyone looks forward to. Among them are
My Oi Coffee Shop, Thao Coffee, Hien Coffee,...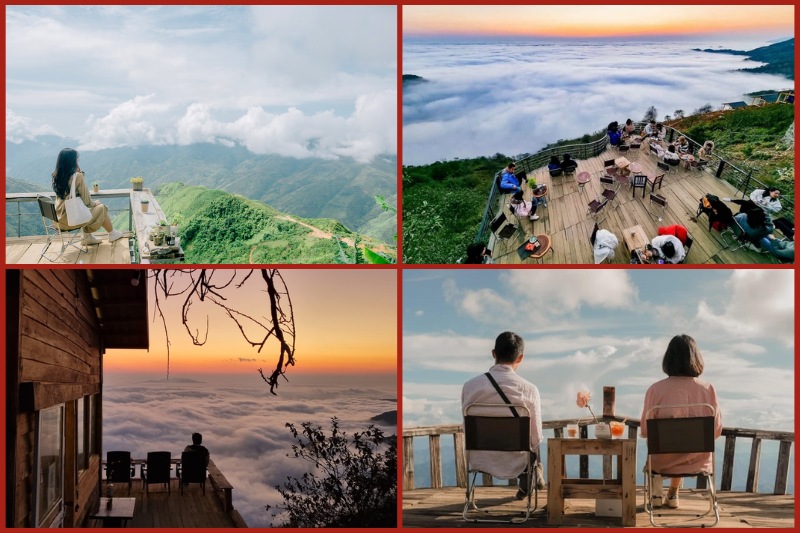 (Cloud hunting cafes in Ta Xua)
The coffee shops in Ta Xua have a
rustic and simple style
, from decoration to design that is not too prominent using wood as the main material to create a very cozy space. On cloudy days, visitors can
easily touch the white clouds floating
in front of their eyes and admire the majestic mountain scenery. In particular, visitors should come to these cafes at dawn or dusk to admire the rays of sunlight shining through the white clouds.
It can be seen that Ta Xua is not only a
"cloud paradise"
for those who like to conquer unique places, but the
climate here is also suitable
for those who want to rest and mingle with nature. Through this article, Nadova hopes that you have found out
the ideal check-in places in Ta Xua
to take beautiful photos.
Vietnam Private Tours
promises this will be an interesting and memorable experience that you should discover once in your life.