Mu Cang Chai
is not only famous for the unique cultural beauty of the ethnic people and majestic nature, but also contains
a culinary background with bold flavors of the mountains
. The dishes in Mu Cang Chai often use
simple ingredients, grown and produced by the people
themselves. Thanks to the unique processing method, it has brought unique and attractive flavors to visitors in
Vietnam Customized Tours
. Today, let's discover
8 delicious - unique - strange foods of Mu Cang Chai
with Nadova in this blog.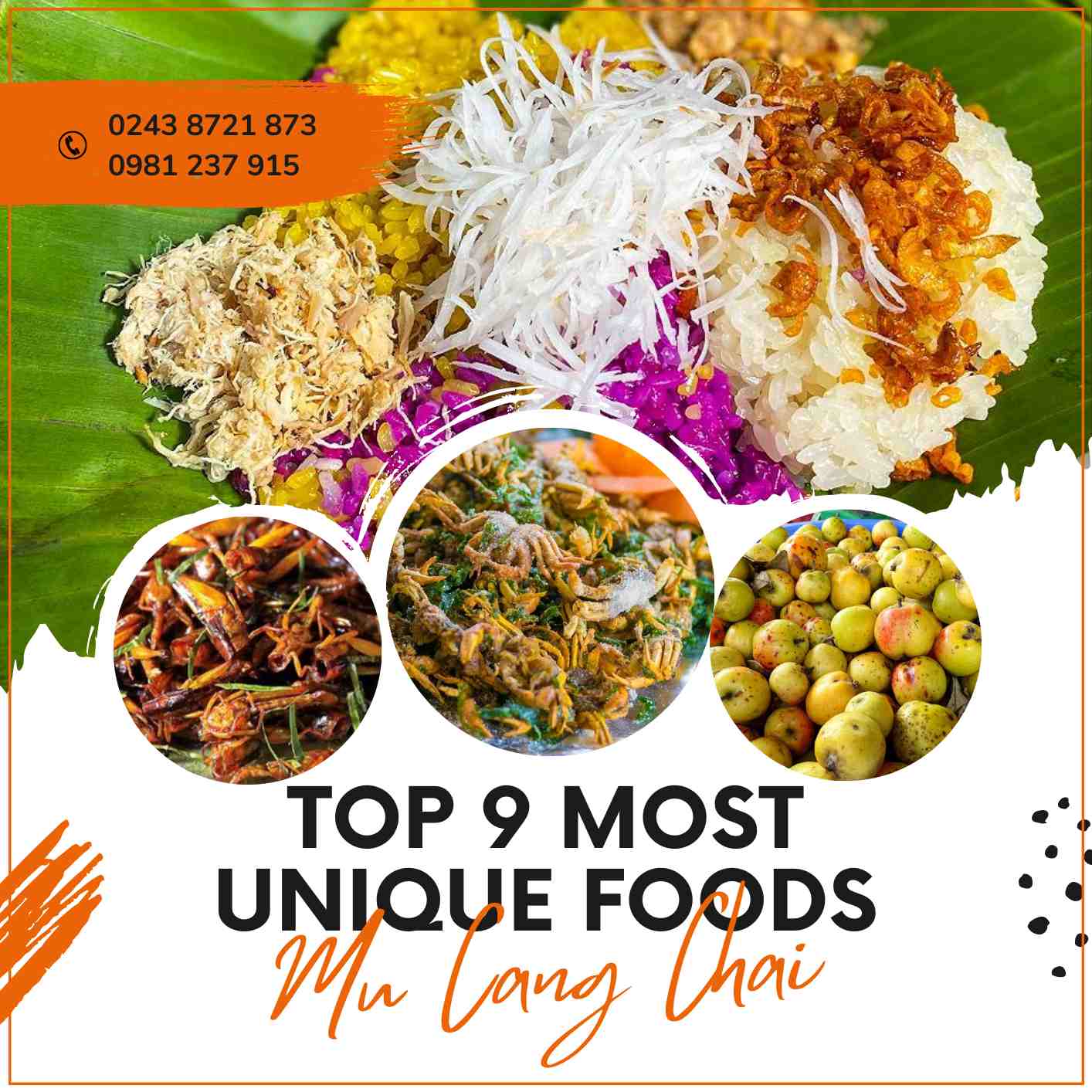 1. Grilled pork with forest trees

Unlike other common meat dishes, the pork here is much tastier and firmer. Pigs have black fur and are much smaller than other pigs. Because of jogging in the forest and looking for food, the pig takes a long time to grow, but the meat is very delicious.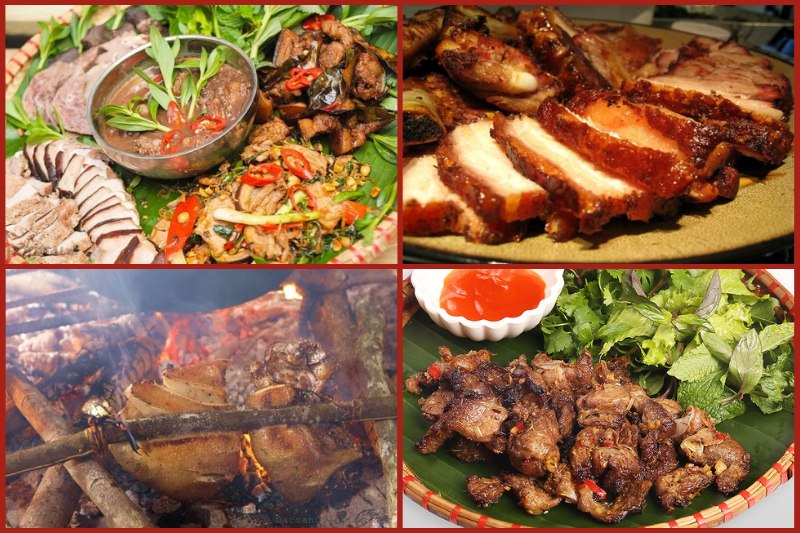 (Grilled pork with forest trees in Mu Cang Chai)
Pork is marinated with typical forest spices of the grasslands of Mu Cang Chai (Mac Khen seeds, fresh onions, …), wrapped in several layers of forest leaves and then grilled over red coals. This specialty of Mu Cang Chai requires the griller to be very skillful so that the meat is evenly cooked, golden brown and only scorches the outer skin.

2. Com Tu Le (Tu Le Green Rice)

Don't know what to eat in Mu Cang Chai or buy something as a gift, Com Tu Le are a good suggestion for you. Com Tu Le is made from young rice grains and is harvested early in the morning, covered with dew. That's why the nuggets here have a sweet, fragrant taste filled with the essence of heaven and earth.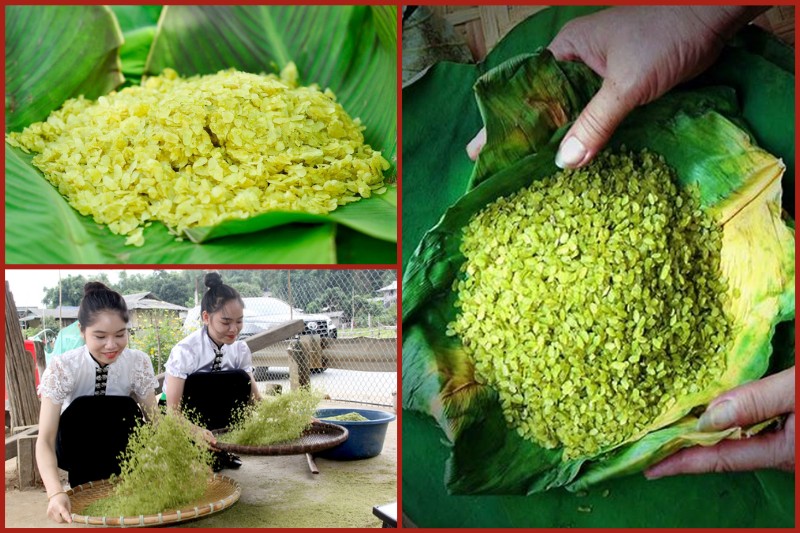 (Com Tu Le in Mu Cang Chai)
The frying pan is usually made of cast iron, so that each grain of nuggets when finished roasting will not be burned, but flexible and delicious. Com is roasted in low heat, stirring continuously so that it heats evenly. Com is often eaten with ripe bananas, ripe red persimmons or can also be used to cook duck porridge, sticky rice, tea, …




3. Tu Le Sticky Rice

Five-color sticky rice here is made from long, stretchy and clear glutinous rice grains. The flavor of sticky rice combined with peanut salt makes this specialty more rich but does not lose the natural sweetness of sticky rice. Making the "reputation" of Tu Le sticky rice must also include its fragrance - the faint smell of flowers, truffles, flowers, etc. It is the fragrance that leaves an unforgettable aftertaste in the hearts of visitors.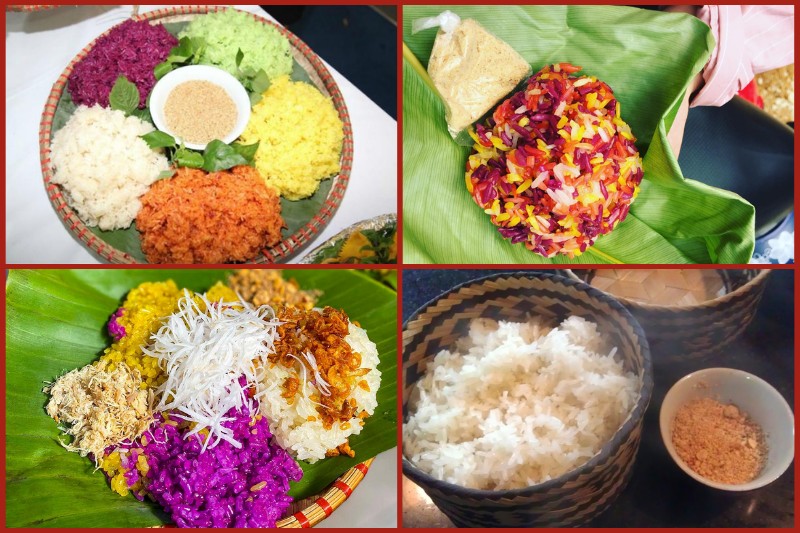 (Tu Le Sticky Rice in Mu Cang Chai)
Enjoying a handful of fragrant sticky rice, watching the immense green terraced fields in the chilly autumn weather on Mu Cang Chai will make you nostalgic for this place forever during Vietnam Private Tours.

4. Mu Cang Chai Wild Honey

Traveling to Mu Cang Chai, it is not difficult to see natural honey for sale at weekend markets. Mu Cang Chai honey has the effect of nourishing the body, supporting beauty, so many tourists choose to buy it and bring it back every time they travel to Yen Bai.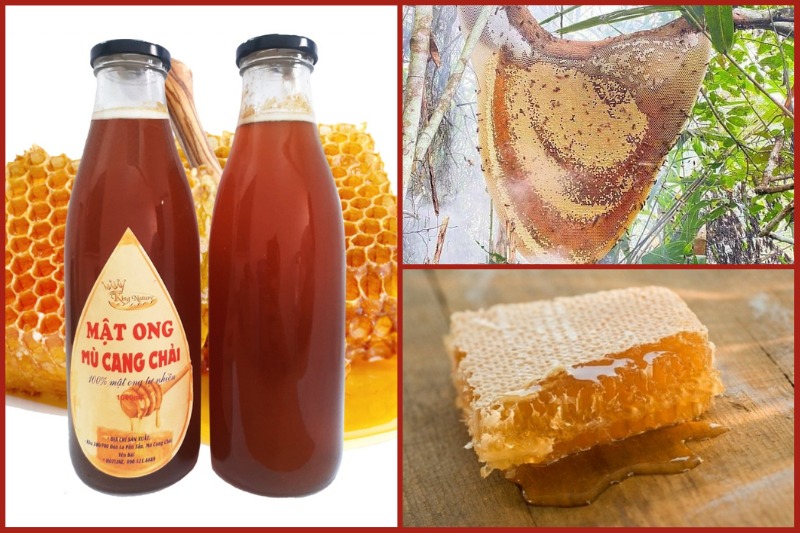 (Mu Cang Chai Wild Honey)
Mu Cang Chai forest honey is harvested entirely by hand, so it retains its natural sweet and aromatic flavor. This is the kind of honey that bees make nests in caves, tree hollows, bees search for and suck nectar from forest flowers, so it is completely pure, yellow, dense, and has a pure sweet taste.

5. Wild Bee Pupae

Considered a famous medicine in the mountains of Yen Bai, the wild bee pupa is cold with a characteristic fatty and sweet taste. This dish is taken from natural beehives by people while searching for wild honey. Wild bee pupae are not available in every season, it is only processed during the nesting and breeding season (from April to August). Therefore, for the people here, this dish is also considered a rare specialty of the mountains.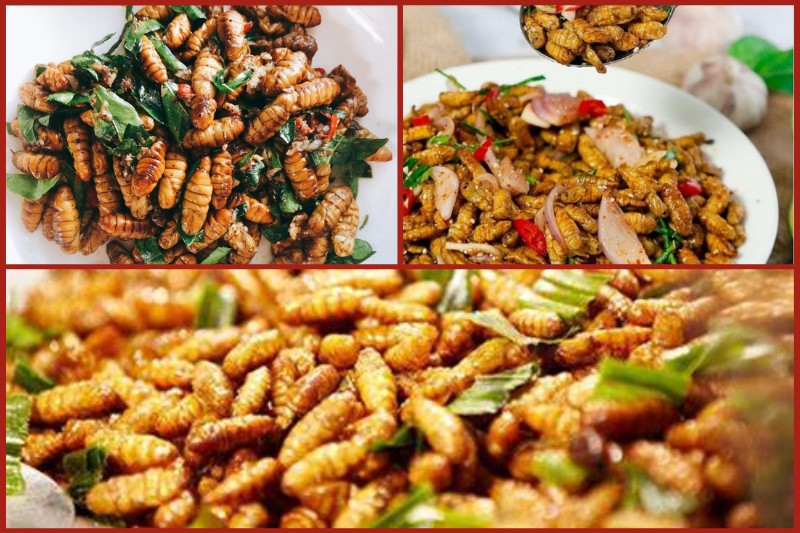 (Wild Bee Pupae in Mu Cang Chai)
Popular dishes made from wild bee pupae can be mentioned as stir-fried along the mosquito net, mixed with mannequins, etc., which are all very delicious. In addition, wild bee pupae have the use of beauty care, anti-aging, anti-inflammatory, fortifying tendons and bones, and improving physical strength for humans.




6. Roasted Grasshopper

Muong Lo Roasted Grasshopper is a specialty dish of Mu Cang Chai, but you will only often enjoy this unique dish in the Ripe rice season in Mu Cang Chai (from May to September every year). This can be a "scary" dish for tourists when participating in Vietnam Customized Tours.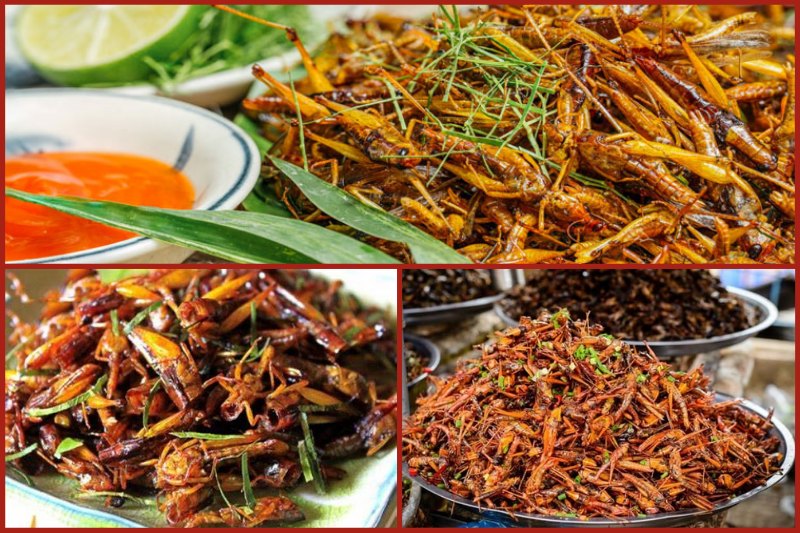 (Roasted Grasshopper in Mu Cang Chai)
The large, fat, golden grasshoppers are soaked with a little vinegar or roasted sour bamboo shoots with an irresistible aroma. Crispy ripe locusts, seasoned with salt and lemon leaves, sipping a cup of wine is really the best.

7. Sticky Rice with Ants Eggs

The special feature of the Sticky Rice with Ants Eggs is the black ant eggs and upland sticky rice of Mu Cang Chai. Around February or March of the lunar calendar every year, when the weather is warm in spring, ants in Mu Cang Chai multiply and thrive, which is why it is a golden time for people to collect ant eggs. about making sticky rice.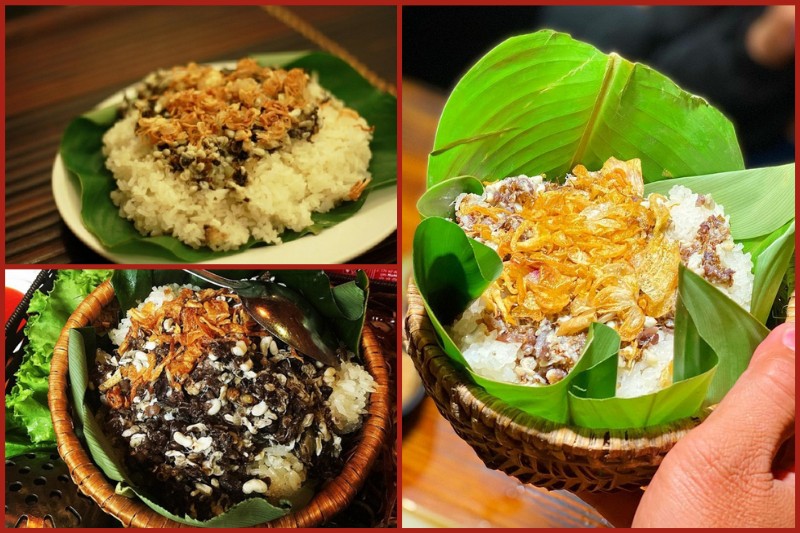 (Sticky Rice with Ants Eggs in Mu Cang Chai)
Enjoying Sticky Rice with Ants Eggs of Mu Cang Chai with the right taste is to take a piece with your hand and put it in your mouth. It all blends together incredibly perfectly. You will feel the fleshy and greasy taste in your mouth.

8. Salt-roasted Stream Crab

Unlike crabs in the sea or fields, stream crabs living inside rocky holes in the highlands have firmer and more delicious meat. People catch these crabs and process them into a famous specialty of Mu Cang Chai everywhere. After catching crabs, peel off the shells, wash them and let them drain. Add the crabs to the island to combine with the garlic, sprinkle with salt, and roast until the crabs are golden brown.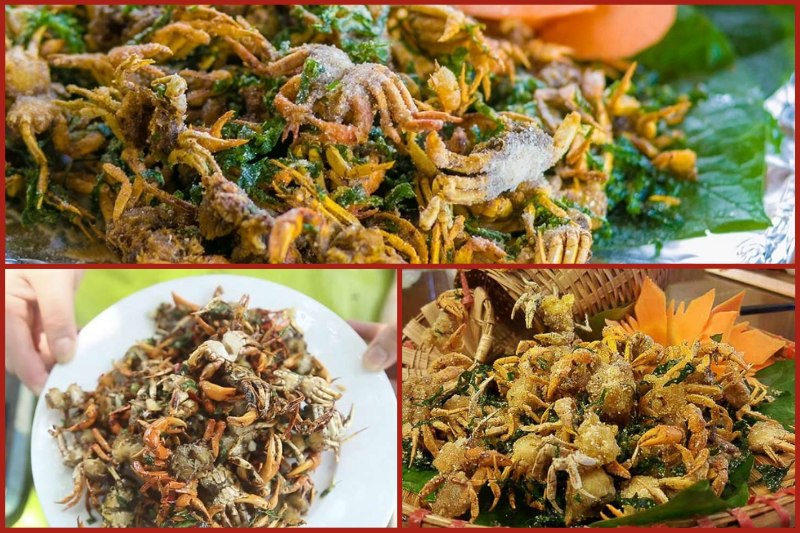 (Salt-roasted Stream Crab in Mu Cang Chai)
Stream crab meat has sweet meat combined with a delicious piece of sticky rice. Whenever it rains, there is nothing like enjoying this dish.

9. Tao Meo (Docynia)

When arriving in Mu Cang Chai- Yen Bai, visitors will encounter many places selling egg-shaped fruit, which is Tao Meo. Tao Meo is made from the scent of the forest, creating enough sweet and sour taste. This fruit is used as a medicine and cures diseases such as flatulence, indigestion, blood pressure, etc. Therefore, it is loved by many people.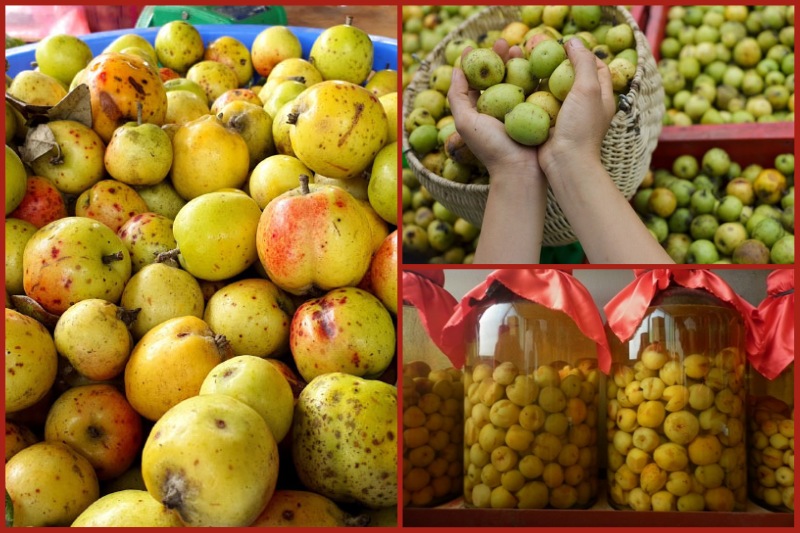 (Tao Meo in Mu Cang Chai)
Tao Meo are soaked and brewed very carefully and then distilled to
make alcohol
. At first, drinking Tao Meo wine, we thought that we were drinking a carbonated beverage, but the more we drank, the more ecstatic we became.
The dishes are not only attracted by
natural ingredients
but also by
the meticulous and delicate
processing of the Mu Cang Chai ethnic group. Perhaps, the aftertaste that lingers after each dish is
an expression of hospitality
. Above are the specialties of Mu Cang Chai you must enjoy once to fully feel the Northwest flavor. Save to not miss these dishes when traveling
Vietnam Customized Tours
!