Hue was the last imperial capital of Vietnam, well-known for the magnificent architecture, pagodas and royal tombs laid in small villages and surrounding hills, also one of the most popular cities for all the Vietnam Tours. Besides that, Hue's cuisine is another famous thing that attracts many tourists of this royal city. From the luxurious and sophisticated dishes of the noble class to the rustic and common street food, all are cooked with amazing skills of Hue people to create a special flavor that nowhere can compare. Hue food can simply please even the most fastidious customers. Below is our selected dishes of Hue cuisine that you must try when visiting Hue.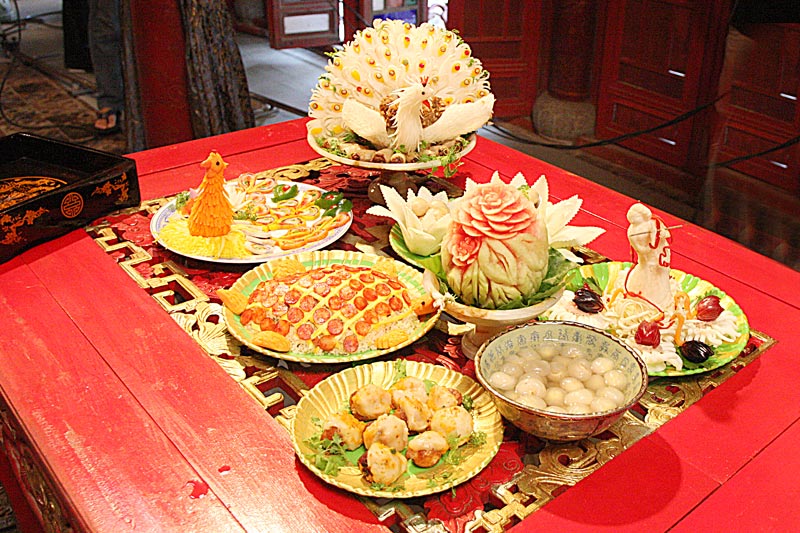 1. Cơm hến (Mussel Rice)
Cơm Hến (Mussel Rice) is a specialty enjoyed by both local people and tourist travel to Hue, especially for breakfast. The main ingredients of this popular dish are cold rice and small mussels, to which are added roasted peanuts, sesame, shrimp paste, roasted pigskin, chilli, onion and various raw vegetables. All these ingredients combine to create a unique sweet and spicy flavor.
Cồn Hến (Mussel Island) in the middle of the Huong River provides mussels for the entire city. Inhabitants of Ngoc Anh village in Phu Thuong Commune outside the city limits shuck the mussels and prepare the other ingredients. Early each morning, hundreds of peddlers from the village shoulder baskets of mussel rice and carry them into the city. Customers squat on the pavement around the seller, creating an intimate and home-like atmosphere. Restaurants such as Mrs Cam's in Truong Dinh street also specialize in serving mussel rice.
A bowl of mussel rice costs less than a dollar US and visitors are normally amazed that so little money buys such a tasty dish. Mussel-rice vendors remain dedicated to preserving this Hue specialty even though they must work hard to earn small money.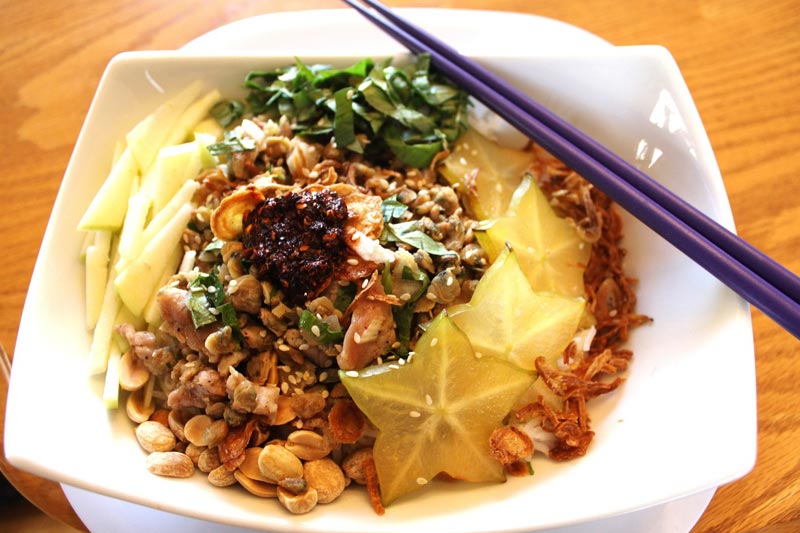 Cơm Hến - Mussel Rice
2. Bún bò Huế (Hue Noodle Soup)
If one had to pick a single food that is emblematic of Hue, it would be Bún Bò (Rice noodle soup with beef). Hue residents prefer to buy their Bun Bo from street vendors rather than in restaurants. Street vendors carry Bun (soft, thin white noodles) and slices of beef in two bamboo baskets hanging from poles balanced across their shoulders.
People eat noodles on the sidewalks, squatting on small stools next to a pot of boiling broth. The intense fragrance rising from the pot seems to beckon others to eat as well. Most Hue street vendors come from villages such as Thuy An, Phat Lat, and Van Van outside the city. Each household in these villages has one or two street vendors. Selling rice noodle soup is both a way of earning a living and of carrying on a family and village culinary tradition. Vendors sell to regular customers, usually in small side streets or alleys. When lunchtime is over, they stop selling and go shopping for the next day's ingredients.
Street vendors carry one pot of broth they can set on a portable charcoal stove. Another container holds additional ingredients such as stewed pork legs, grilled ground pork, beef and pork tendon, grilled crab, pig and duck blood, and thin slices of beef. On the other side of the bamboo pole is a pot of fresh rice noodles and seasonings such as onions, scallions, chilli peppers, fish sauce, bean sprout, banana flowers and diced lettuce. The baskets also contain bowls, spoons, chopsticks, a basin for washing, napkins, toothpicks, a pot of green ginger tea, and a few stools. Truly, this is moveable feast.
Bun Bo Hue is completely unpretentious. Its charm lies solely in its fragrance. According to the women who sell Bun Bo at Ben Ngu Market, the broth must be clear with a balance between the salty and sweet flavors that come from stewed beef, pork and chicken bones and not from any added MSG. Vendors tailor each bowl to the customer's desires. In the winter, customers sit next to the red hot stove and the boiling broth, warming their hands over their steaming bowl, slurping the broth, clipping the noodles with their chopsticks, and biting into pieces of meat. Even connoisseurs dedicated to the cuisines of Hanoi and Ho Chi Minh City admit to a love for Bun Bo Hue, which is sold all over the country. However, nowhere is this dish more popular or tastier than in Hue.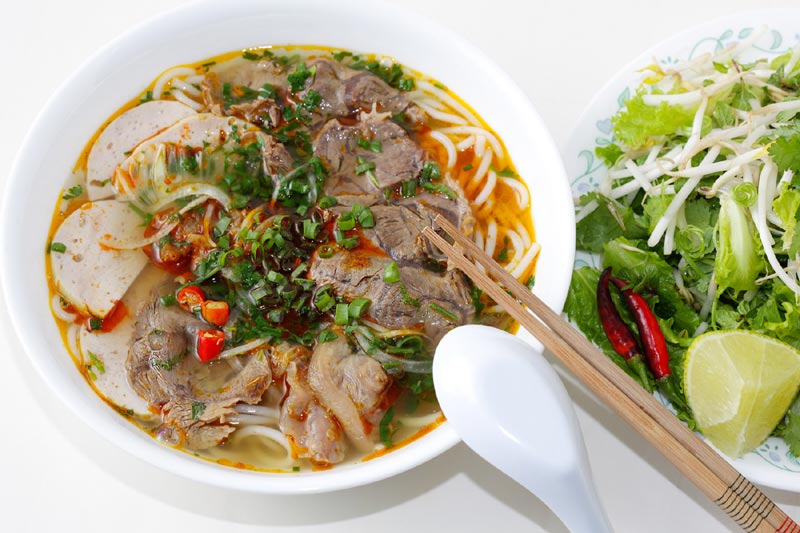 Bún Bò Huế - Hue Noodle Soup
3. Bánh Bột Lọc (Clear Dumpling with Shrimp and Pork)
These dumpling made of manioc powder, lean pork and shrimp are a popular dish available in all Hue markets. The attractive, transparent dumpling reveal a red shrimp and a slice of brown pork stuffed inside.
The preparation is neither expensive nor time-consuming but does require experience. Cooks choose high quality manioc powder and fresh shrimps; they pour the white powder into boiling water and knead the resulting dough until it becomes soft and flexible. Then they stir-fry the shrimps with spices and spring onions and slice boiled pork for the stuffing. Finally, they make the small half-moon shaped cakes and drop them in boiling water for several minutes.
Hue residents serve Banh Bot Loc with yellow bread crumbs, chilli sauce and the stock from boiled shrimp which they use for a specially prepared fish sauce.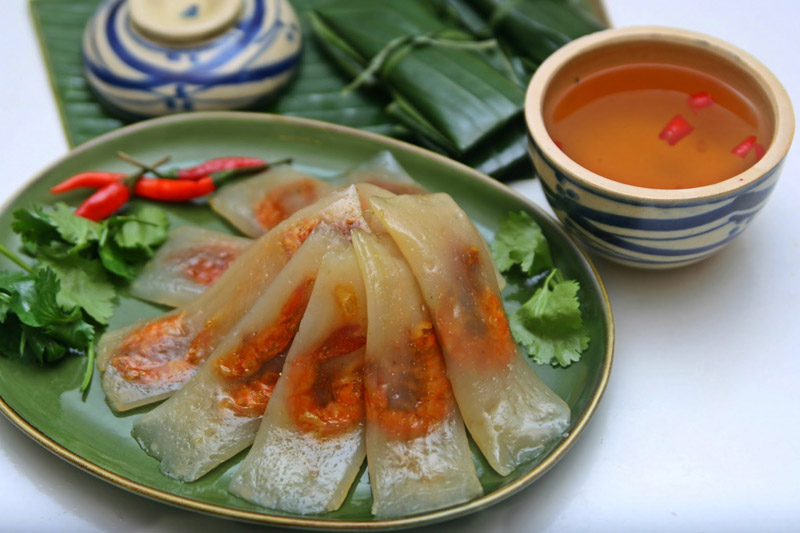 Bánh Bột Lọc - Clear Dumpling with Shrimp and Pork
4. Hue vegetarian food
No survey of Hue culinary culture would be complete without mentioning the deep influence of Buddhism and vegetarianism. Hue has over 400 pagodas plus nearly 230 Buddhist houses of prayer. These serve around the two-third of the city's population. According to Buddhist beliefs, followers should eat vegetarian meals to show respect for life and to nurture the mind and clear it from immortal thoughts and bad moods. Vegetarian foods are especially popular during Buddhist festivals and on the 1st and 15th days of the lunar month (the new and full moons, respectively). Nowadays, serious Buddhists, Hue residents and visitors travel to Hue enjoy the city's vegetarian meals, which are delicious and healthy.
Vegetarian foods first became popular in Hue under the Nguyen Lords during the 16th to 18th centuries. Lord Nguyen Phuc Chu (who ruled from 1691 to 1725) and his family became vegetarians. Cooks developed new dishes to satisfy the family's tastes. Preparing vegetarian food became an art, especially since the chefs needed more time and skill to make their dishes as attractive and delicious and non-vegetarian food.
Few markets in Hue sell meat or fish during the 1st or 15th day of the lunar month or on National Buddhism Day (the 8th day of the 4th lunar month, usually falling in mid-May). On those days, most residents eat only rice, noodles, rice cakes, soybeans, vegetables and fruit. Local residents also place vegetarian delicacies on their family altars in the belief that their ancestors will return from the other world and enjoy these foods with them. Pagodas all over Hue also serve vegetarian food to Buddhist followers and tourists.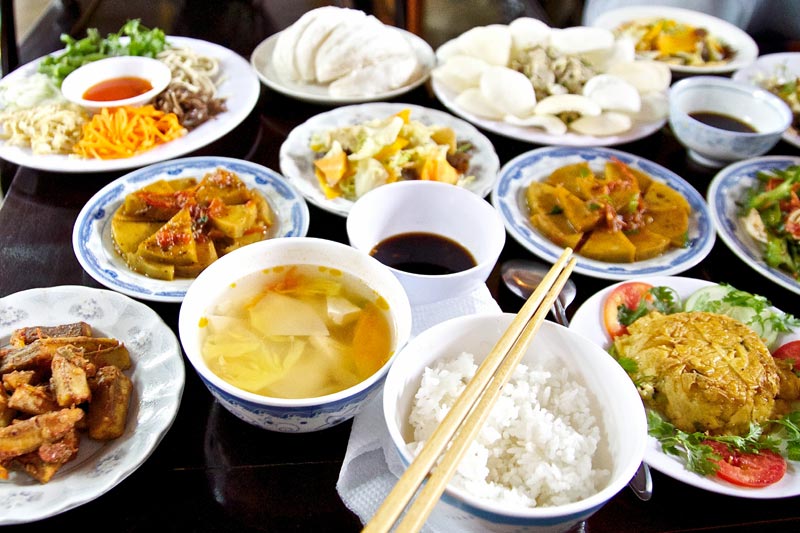 Hue Vegetarian Meal
5. Cơm Muối (Salted Rice)
A frugal meal of Com Muoi (salted rice) is the daily menu of impoverished families. However, the mandarins at the royal court in Hue regarded this dish as a specialty to reserve for distinguished guests. Today, many Hue residents still express their hospitality to close friends by serving them salted rice.
Com Muoi includes husked rice and refined salt served with chilli, lime, pepper and lemon grass. After harvesting,farmers husk the rice without removing the bran and make sure the grains do not break. Then they cook the rice in a small earthen pot. They roast, simmer or fry salt with the other ingredients and spices to create various dishes of salted rice with distinctive tastes. They usually serve the rice in antique-style bowls. Hosts and guests enjoy a meal of rice and salt in a refined manner, eating bit by bit to savour the different flavours.
Few people in present day Hue are accomplished in cooking salted rice. Hue restaurants want to restore this simple dish to its former place of honour, but that is not as easy as it seems.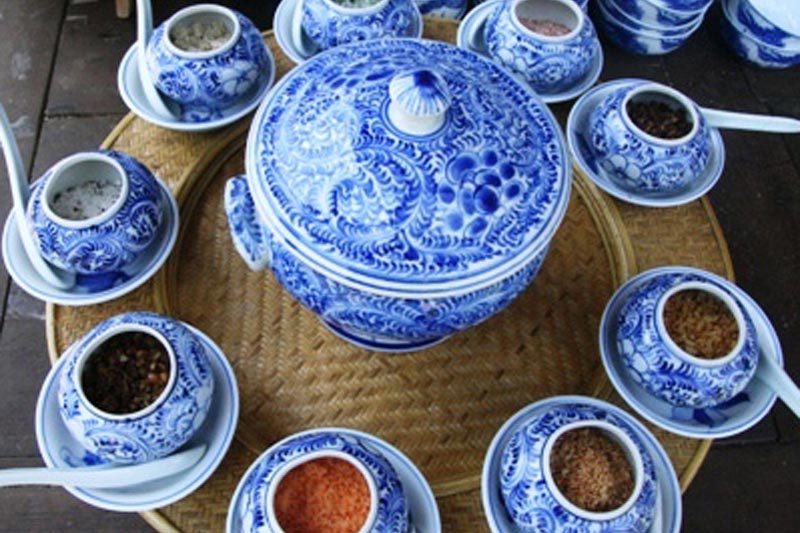 Cơm Muối - Salted Rice
6. Bánh lá chả tôm (Shrimp Leaves)
These dumpling made with red shrimps and white rice powder and wrapped dark green dong (arrowroot) leaves are simple and colorful. Cooks boil fresh water shrimps, remove the heads and shells, and grind the shrimps. They dry them over a fire until the meat turns bright red. Then they grind fresh onion to extract the juice, which they pour over the shrimps. The cooks then spread out the dong leaves and arrange on the leaves a thin layer of rice powder to which they have added a teaspoon of ground manioc plus water and salt. They added a layer of shrimps and wrap the mixture in the leaves, which they steam. A plate of unwrapped bánh lả chả tôm create a colorful picture. Hosts serve bánh lả chả tôm with grilled, chopped shrimps and high quality fish sauce.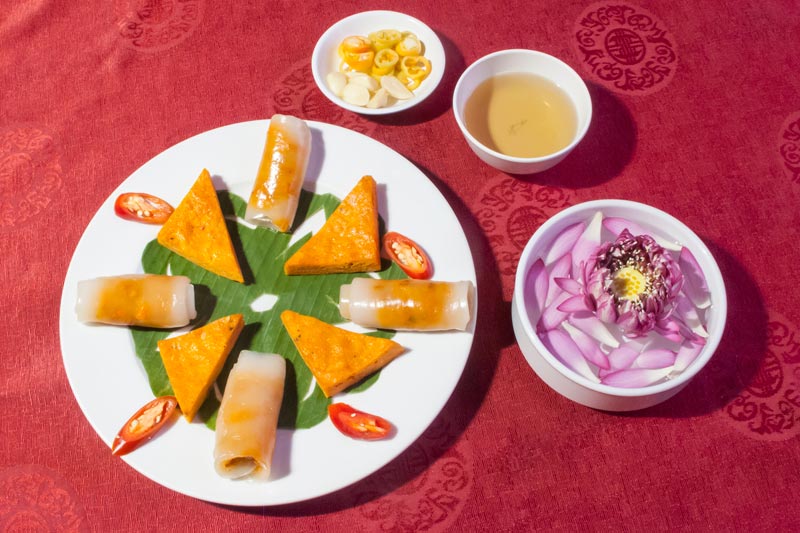 Bánh Lá Chả Tôm - Shrimp Leaves
7. Bánh bèo tôm chấy (Rice Cakes with Diced Shrimp)
Elderly women wearing casual clothes and carrying one or two bamboo baskets along the streets in the afternoon are common sight in Hue. Besides Bánh Bột Lọc, they also sell Bánh Bèo Tôm Chấy (Rice cake with diced shrimps), a light dish that Hue residents often enjoy in the afternoon.
The preaparation of Bánh Bèo Tôm Chấy is simple. The cooks soak rice powder in water for several minutes until it turns into fine paste. Then they mix it with melted lard and pour thin layers in small earthen bowls that are approximately seven to eight centimeters in diameter. After that, they steam the cakes in a pot. The finished Bánh (cakes) look like fern leaves (Bèo), hence their name. Vendors place Tôm Chấy (diced shrimps) on the cakes. Since the cakes are thin, people do not use chopsticks but instead take a paddle-shaped piece of bamboo to slice the cakes. They dip the pieces in a special sauce made with sugar, garlic, and chilli.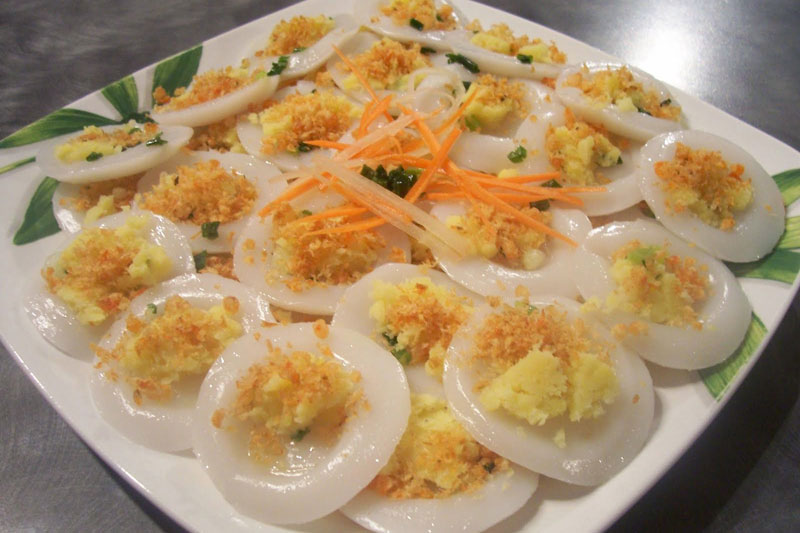 Bánh Bèo Tôm Chấy - Rice Cakes with Diced Shrimp
8. Bánh Khoái (Stuffed Rice Pancakes)
Two small restaurants – Lạc Thiện and Lạc Thạnh at Hue's Thuong Tu Gate since 1975 have become famous for serving rice pancakes stuffed with bean sprouts, shrimps and beef. In the Hue dialect, "Khoái" means "Smoke", referring to the fact that the pancakes are usually served hot.
The cook fills her pancakes with shelled shrimps, sliced beef, sliced lard and fresh bean sprouts. The pancake moulds made of cast iron are the size of a child's hand and a centimeter deep. As soon as a cutomer arrives, the cook ladles batter into a heated mould. When the pancake turns yellow, she adds to half of the pancake a slice of beef, a small piece of fat, some shrimps and bean sprouts. Then she flips the other half of the pancake over on top to form a half-moon shape. After that, the bright yellow half-moon-shaped pancakes are placed on the white ceramic plates. Then there are the bowls of thick dipping sauce dotted with sesame seeds and plates of fresh vegetables: lettuce, basil, bean sprouts, sliced green banana and sweet star-fruit.
More important than the cakes themselves, however is the dipping sauce (lèo), a thick mixture of dozens of different ingredients. The sauce is the decisive element differentiating each shop.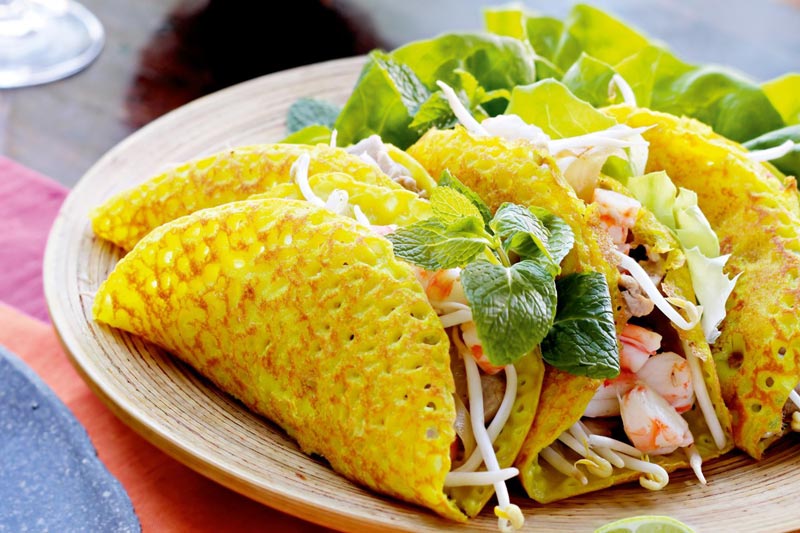 Bánh Khoái - Stuffed Rice Pancakes
9. Mè Xửng (Sesame Candy)
Hue people believe that the best companion for their famous lotus tea is Mè Xửng (Sesame Candy). They take a sip of tea and a bite of the candy so that the rich sweetness of sesame complements the scented bitterness of tea.
The ingredients of Mè Xửng includes sesame, peanuts, white cane sugar and rice powder. La Khe village in Huong Tra district outside Hue makes the finest rice powder. The Mè Xửng chefs boil sugar in a pot and add fried, half-broken peanuts and rice powder, then stir the mixture hard with two heavy sticks so that the candy does not stick to the pot. After some time, they pour the paste into moulds and cover the candy with a layer of sesame. They let the paste cool and then cut into it into square or rectangular pieces. The finished product is yellowish-brown, translucent, soft and flexible with a strong sesame flavor.
Nowadays, sesame candy makers diversify their products into varieties that crisp, decorated with black and white sesame, and with differing proportions of peanuts, sugar and rice powder.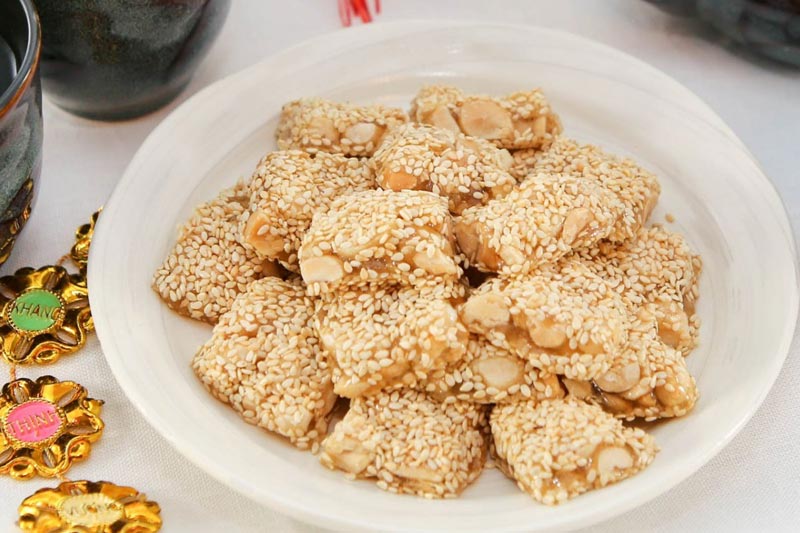 Mè Xửng - Sesame Candy
10. Chè Hue (Hue Sweet Pudding)
Chè (Sweet pudding) is one of the three typical images of Hue summer, along with flamboyant flowers and Huong River. After dark, residents converge on the river banks to enjoy fresh air and savour puddings made from maize, potatoes, green and red beans, lotus seeds, and other ingredients mixed with coconut milk and served over ice.
Hue is said to have thirty six kinds of Chè. However, the actual figure is much higher. No other city in Vietnam has many varieties. Hue people with their skill in food preparation, make hundreds of strange, delicious and nutritious Chè varieties.
In the past, chefs at the royal palace and at the homes of rich, aristocratic families usually cooked sophisticated and refined puddings, including Chè with lotus seeds, Chè with longans stuffed with lotus seeds, and Chè with roasted meat. Previously, ordinary people only enjoyed simple and cheap dishes made from grains and legumes. Today, however everyone can taste the different kinds of Chè. A glass of Chè now is affordable for rich or poor alike.
Hue boasts dozens of restaurants and hundreds of street vendors serving Chè. They concentrate in Hung Vuong, Tran Phu, Truong Dinh, and Cua Thuong Tu streets and along the banks of the Huong River.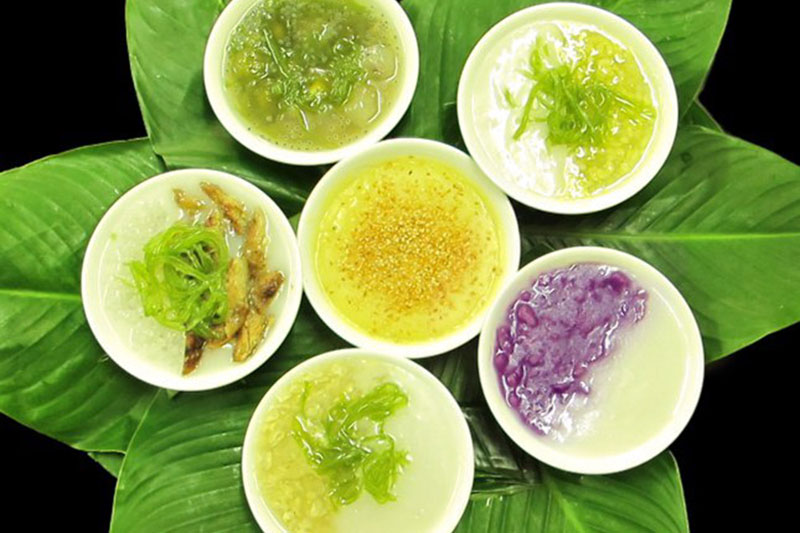 Chè Huế - Hue Sweet Pudding
By: Nadova Tours
View Tour: Vietnam Culinary Tour 13 Days