Located behind forests and surrounded by large mountains, Pu Luong valley is one of the destinations that has attracted tourists in recent years.
Pu Luong
has
a cool climate and peaceful scenery, suitable for nature lovers.
Being a natural reserve, all the wildness and magnificence here will be multiplied many times over. During the year,
this is the best time
to go to Pu Luong. Because the rice is in
its peak ripening season, covered with shiny gold
. It's a pity if you add Pu Luong to your
Vietnam Private Tours
this season.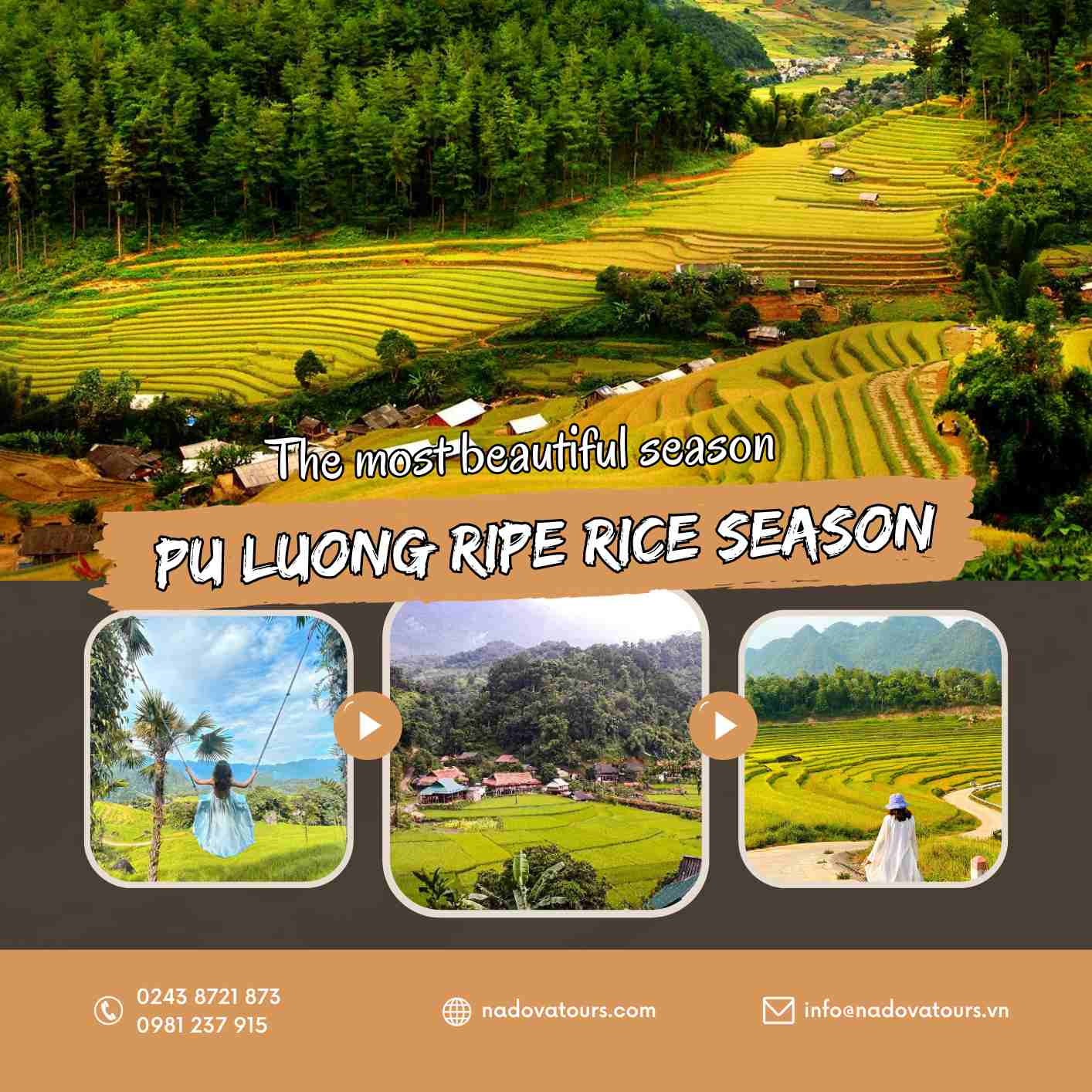 Where is Pu Luong?
Pu Luong in Thai is
the highest mountain peak
. Pu Luong Nature Reserve belongs to Ba Thuoc and Quan Hoa districts,
130 km northwest of Thanh Hoa city
in
Vietnam
.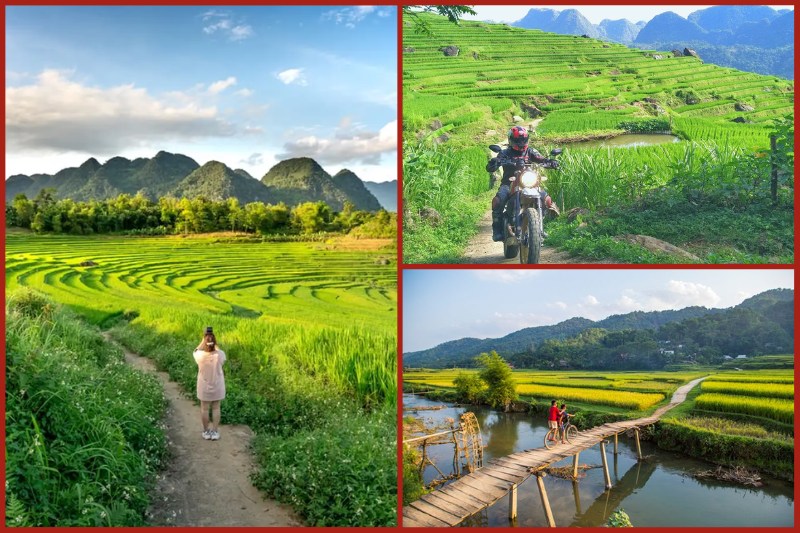 (Pu Luong in Vietnam)
Not only that, Pu Luong is also blessed by nature with seasonal green tropical primeval forests with an area of more than 17,600 hectares and a rich flora and fauna system. Pu Luong especially impresses visitors with the
wild beauty of terraced fields along with the peaceful life of mountainous ethnic people
. Therefore, although located nearly 130km from Thanh Hoa city, Pu Luong is still an attractive and crowded tourist destination every year.
Why should you go to Pu Luong during the ripe rice season?
Pu Luong is famous for
its majestic terraced fields
created by the Pu Luong ethnic community many centuries ago. Pu Luong seen from above,
the villages are located between hills and fields
, where tourists can freely check in "virtual life" without having to travel too far to the highlands of the Northwest.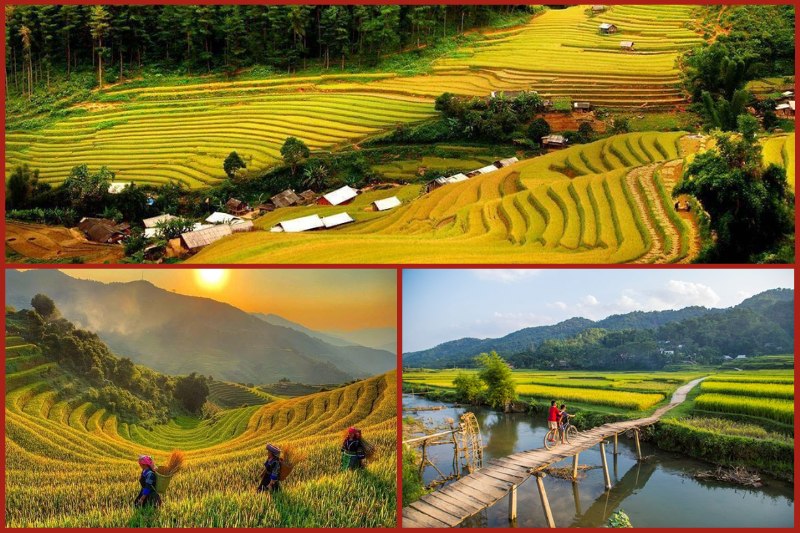 (Pu Luong during the ripe rice season)
Besides, Pu Luong is a place that still retains
the attractive beauty of nature, a suitable place to get away from the dust and noise of the city
. Even though the summer is hot, in Pu Luong you can still feel the cool, fresh air. The image of people harvesting rice manually and children following their mothers to
harvest rice peacefully makes anyone who witnesses it unable to help but be "fascinated"
creating a journey attractive in
Vietnam Customized Tours
.
When is the most beautiful time to see Pu Luong in ripe rice season?
The most ideal time to travel to Pu Luong is in
the fall (September - October)
. At this time, all the fields and terraced fields are
wearing a shiny yellow shirt
. Coming here, you will admire the rich natural picture of Pu Luong. The countryside atmosphere throughout the
peaceful villages
is very suitable for you to admire and record impressive scenes for yourself.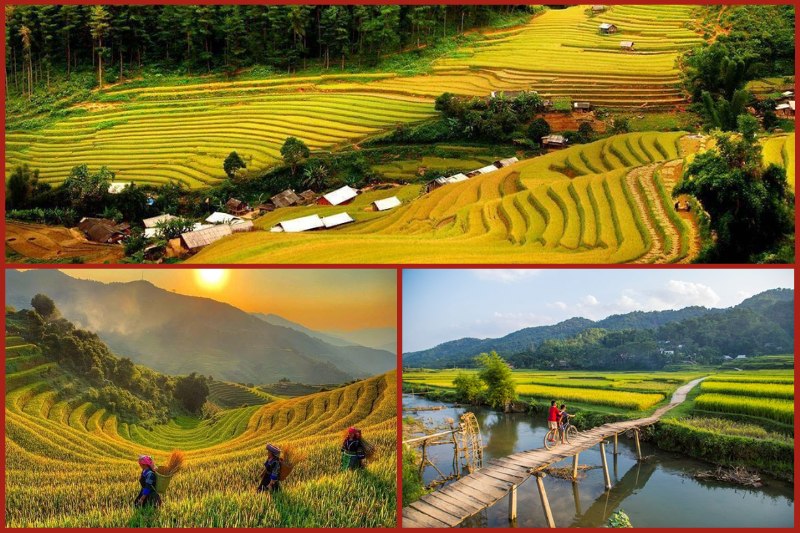 (Pu Luong during the ripe rice season)
In addition, Pu Luong during the summer transition period in
May and June
is also worth experiencing. This is the time when the fields in Pu Luong enter the new crop season, so everywhere will be covered with
the gentle and fresh green color of new rice
. If you don't come to Pu Luong during the "golden times" as above, you can come here in any season of the year to enjoy the airy and fresh air all year round.
Where to check-in with ripe rice in Pu Luong?
Going to Pu Luong during the ripe rice season, you should
visit the following famous destinations
in
Vietnam Private Tours
so you don't have to regret it when you return.
Pu Luong peak
With an altitude of 1,700m
, Pu Luong peak will make visitors feel majestic when standing on the top of the mountain looking down. In particular,
the view of the valleys of ripe rice terraces from above is extremely beautiful and wonderful
.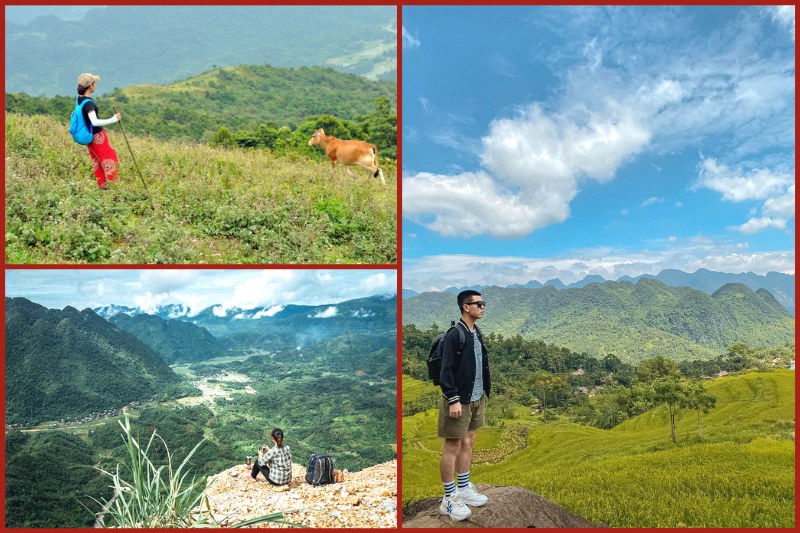 (Pu Luong peak)

Ban Don

Located in the center of Pu Luong Nature Reserve, Thanh Lam commune, Ba Thuoc district. Don Pu Luong village is one of the few villages that retains the traditional stilt house style, cultural identity and customs of the Thai and Muong ethnic people living in the west of Thanh Hoa.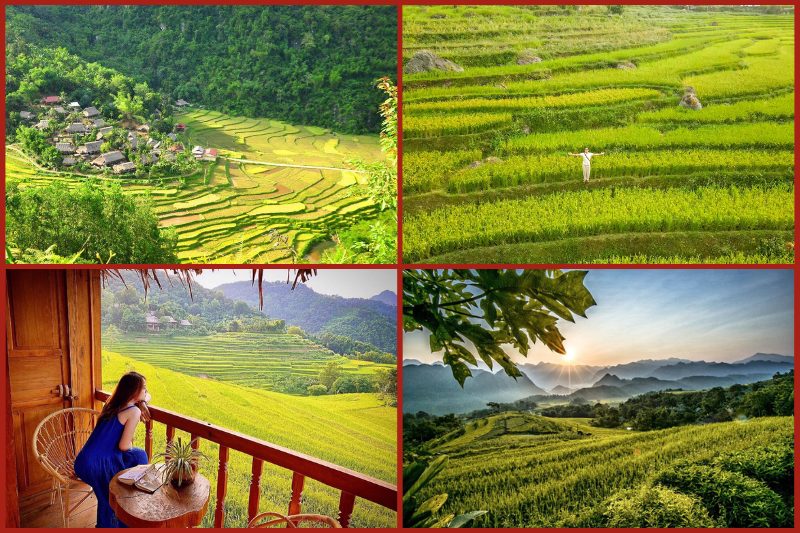 (Ban Don in Pu Luong)

Don village is surrounded by terraced fields, which is what makes this place so unique. Many people come to the village just because they want to see the picturesque fields.

Kho Muong Village

This is one of the most difficult and highland villages of Thanh Son commune, Ba Thuoc district but has great potential in terms of natural conditions and cultural traditions to develop community tourism.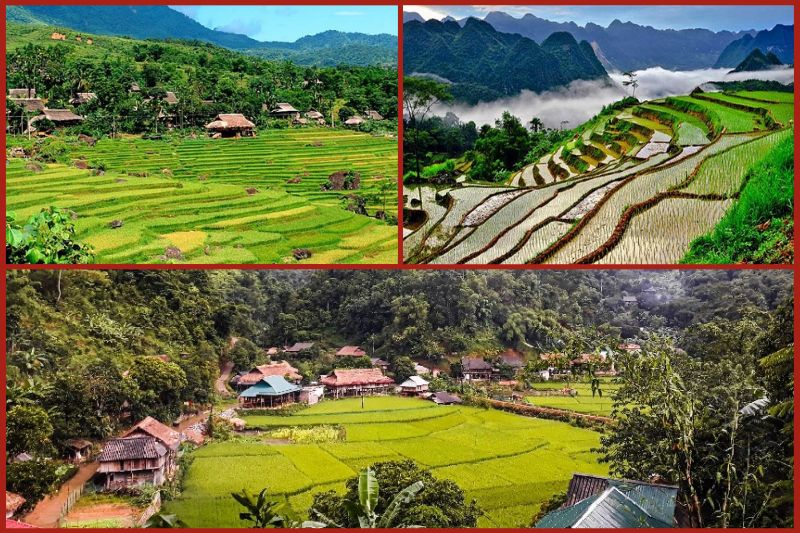 (Kho Muong Village in Pu Luong)

The road to Kho Muong is winding: One side is a cliff, the other is a deep abyss with golden terraced fields. This is home to 60 households, mainly White Thai people. People in the village make a living mainly by growing rice, corn, cassava... Coming to Kho Muong, visitors can admire the natural scenery, experience and learn about the culture and customs of the Thai people. Immerse yourself in rustic life.

Hieu villages

This is one of the most beautiful villages in Pu Luong that you should come to see the ripe rice season. Located at an altitude of 1,000m, Hieu village still retains its characteristic peacefulness. You can combine watching ripe rice with visiting ancient villages, visiting paddy farms or climbing waterfalls to cool off.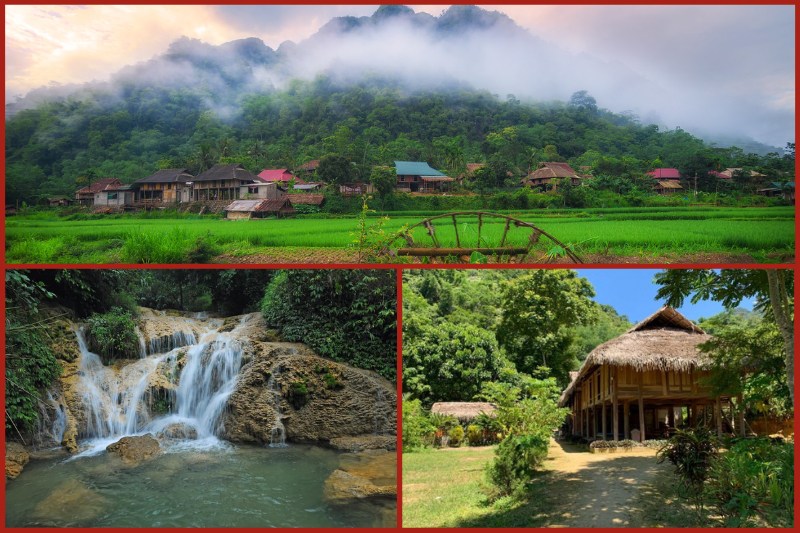 (Hieu villages in Pu Luong)
Besides, you can also easily hunt for ripe rice at
homestays or resorts with direct views of terraced fields
. Some of the most booked accommodation spots in Pu Luong include Puluong Retreat, Pu Luong Eco Garden or Pu Luong Natura Bungalow,...
Pu Luong in the ripe rice season is like a lyrical "fairy" - a peaceful place waiting for you to explore and enjoy the beautiful scenery. Seeing the brilliant rice fields and checking in comfortably makes you happy and forget your sadness in Vietnam Customized Tours. Remember to preserve the beauty of nature here so that Pu Luong becomes more and more beautiful!