In this winter break this year, why don't you opt for a Southeast Asia expedition? With a multitude of striking sceneries and savoury cuisines, this region is worth to give a try. In case you wonder whether to go the renowned Angkor Wat in Cambodia or ancient temples in Myanmar, we are here to support you and help you have a fulfilled trip once-in-a-life-time. Just check it out!
Visiting Cambodia
Where to go?
Cambodia is considered as an attractive nation with a great number of visitors pay a visit to yearly. Therefore, means of transport here are well worn and convenient in order to help you travel smoothly between locations. You are free to explore much picturesque sightseeing varies between popular destinations to obscured locations. In particular, Phnom Penh- the capital city of Cambodia is where you can discover the unique architecture of Cambodia through plenty of monuments like Royal Place, National Museum and so on. Angkor Wat- the valuable gem of Cambodia also welcomes you to stop by and take some shots when sunset glows. Constructed during Khmer Empire, this stone temple complex. You can take a shot with these miracle landscapes and blend into the exotic vibe.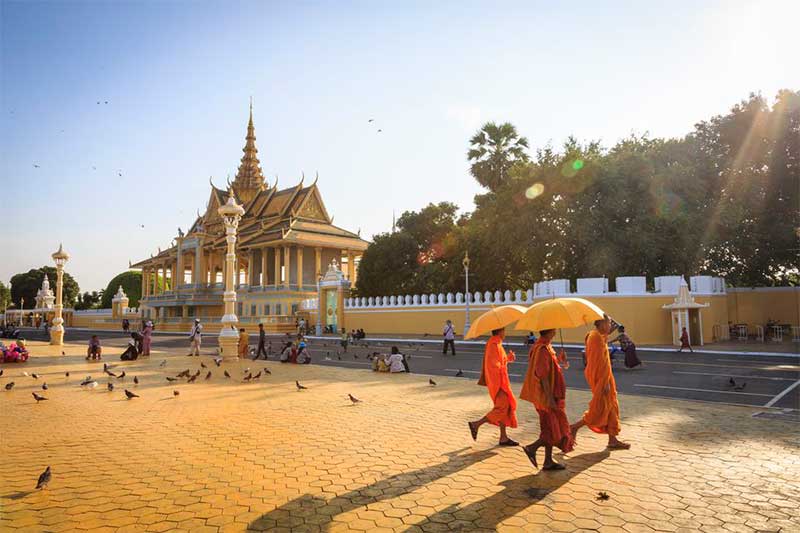 Culture and Cuisines
In your Cambodia private tour, tourists may blend into the long-standing culture with many words of mouth stories or regional customs from locals like enigmatic myths behind Cambodia's temples or the origin of this country with many volatile historical periods. Digging into the particular customs and tradition of Cambodian people. You may see a host of interesting facts: the majority of Cambodians have their religion, including younger generations (in fact, 97% of the population following Buddhism). As a result, monks are respected, pagodas litter the country and temples are attended during religious holidays. They love to sing, dance and throw up parties on this special occasion yearly.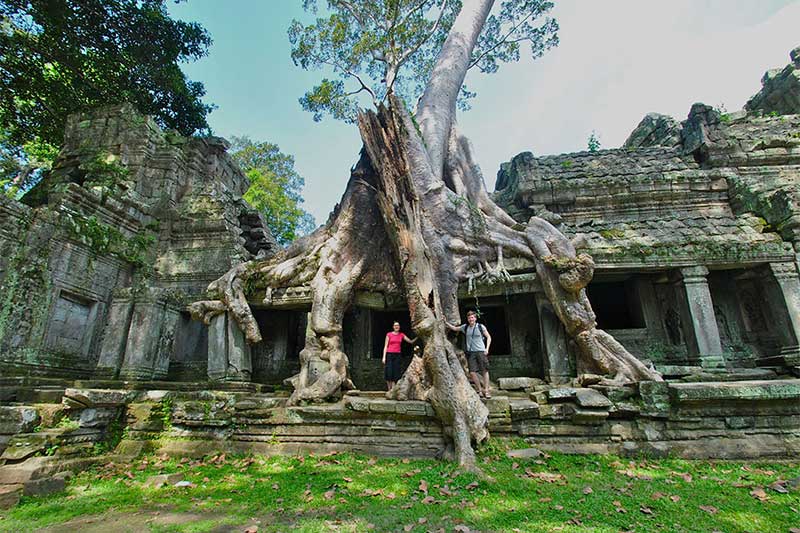 Also, there is no need to worry about the accommodation's price when you have a Cambodia customized tour. Homestays and hotels are affordable but make sure to confirm reservations in advance. Cambodia is home to an array of street food for you to savor. Once you go deep into Cambodian cuisine, you can feel the miracle and surprising flavours. Just moving around local markets or pavements of the towns and you would absolutely be seduced by numerous delicacies which not only satisfy your eyes but also fill your stomach. Lort Cha (stir-fried dish), Num Pang (Cambodian sandwich), Bamboo sticky rice are these must- try dish attracting many tourists. Why don't you take a bite and let us know how did you feel?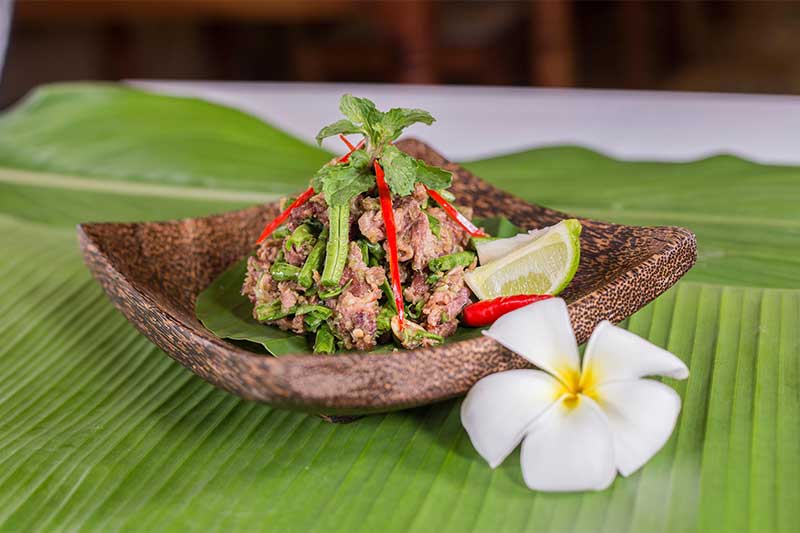 Read more: 7 superb facts you may not know about Cambodian cuisines
Visiting Myanmar
Where to go?
Myanmar seems to be the least developed among Southeast Asian countries, especially in terms of public infrastructure and transportation. However, this nation has its own extraordinary temptation which still attracts global tourists. If you are an adventurous one or want to escape from the hustle and bustle of big cities, Myanmar is a "wonderland" for you with many obscured places. For example, Bagan is one of Myanmar's unmissable sights, and it is truly unique to the country. Home to more than 1,000 Buddhist Temples, sprawled across a grassy plain, it's one of the largest religious complexes in the world. Visitors can explore the mass of monuments by bicycle, e-bike or horse and cart. Alternatively, those looking for the best view should take to the skies on a sunrise or sunset hot air balloon ride. In case you want to bask into the sunrise and know more about local life, you can pay a visit to the U Bein Bridge. This spectacular bridge is located in the south of Mandalay, spanning the Taungthaman Lake for a whopping 1.2km. Built around 1850, it is believed to be the world's oldest and longest teak bridge. The teak wood was once part of the Royal Palace in Mandalay but was turned into a bridge by the mayor, U Bein. The columns were no longer needed so they found a new home for them, helping the common people across Taungthaman Lake. As you cross the rickety wooden panels, you'll spot the bobbing heads of local fisherman in between the paddle boats filled with tourists. Nothing could be quite as magical as sunset view at the longest and oldest wooden teak bridge in the world. Sound great, right? One word to note that if you decide to have Myanmar family tour this year, the time between October and March is quite ideal with cool weather.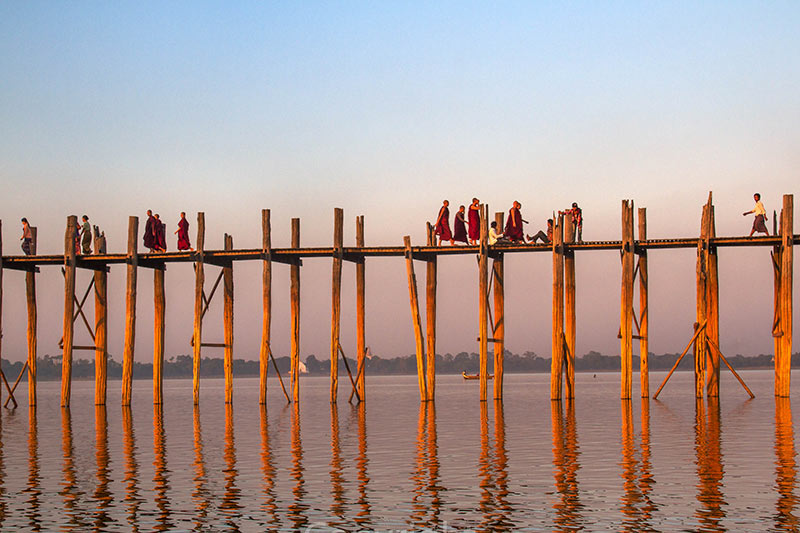 Read more: Top 10 things to experience in your Myanmar travel
Culture and Cuisines
Resembling Cambodia, Myanmar is home to a great number of religious myths and remnants stemming from mysterious hidden treasures. Having existed for a thousand year, Myanmar has repertories of remarkable cultural and artistic values. Coming to this place, you can have more knowledge about the roles between men and women in a family. In particular, family life is a major part of the culture and heritage of Myanmar. People tend to live near each other in the village and are very close and supportive. Children who go off to work in larger cities tend to return home regularly.
In terms of local dishes, Myanmar would offer you succulent cuisines made from various ingredients which are not found in any other cuisine. The most outstanding feature of culinary style in Myanmar is seasonal spices. Local people tend to emphasis on rich, predominantly salty flavours and combine marinades to make perfect dishes. It is a huge mistake if you complete your Myanmar vacation without eating Burmese curry, tea leaf salad or Shan- styled tofu noodles. They strike you in different ways.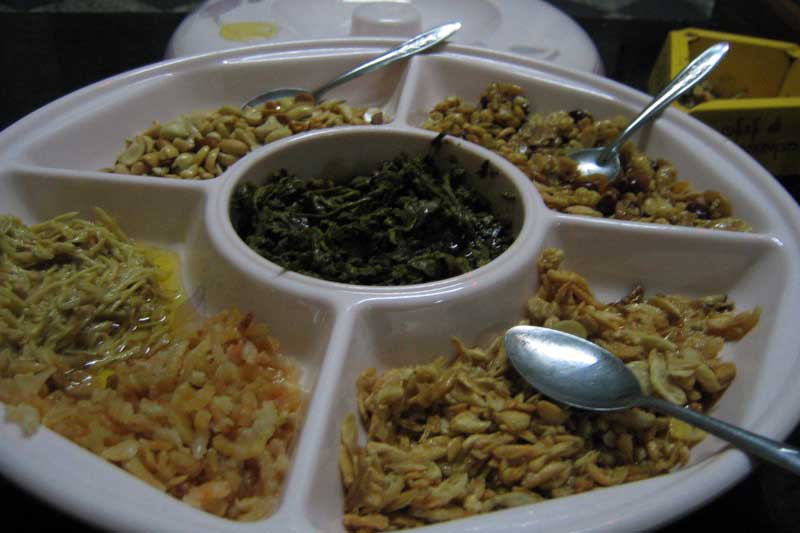 Read more: 4 Brilliant things to do in Bagan
Which country should you choose?
After reading this information above, you can make your choice between Cambodia and Myanmar, aren't you? Both nations are sacred countries with unique architectures and exceptional beauties. To be honest, two countries may offer you amazing experiences to accumulate and so much knowledge to learn, so pay a visit to both would be ideal. Nevertheless, if your time is limited and you are curious about the World Heritage Site- Angkor Wat, Cambodia seems to be the better place for you to ease in Southeast Asia. On the contrary, in case you want to challenge yourself with a further journey, then you should book a Myanmar tailor-made tour.
See tours:
Cambodia - Vietnam Highlights 15 days
Explore Myanmar - Thailand - Cambodia 14 days
Grand Indochina Vacation 26 days