Although churches are more popular in Western countries, tourists can easily find an array of magnificent churches stretching from North to South in Vietnam. Thanks to the influence of evangelism and belief in God, Vietnam is home to numerous churches ranging from Gothic- style cathedrals to French architecture. The harmonious combination between the antiquity of Oriental culture and the modernity inspired by Western religions create extraordinary features of churches in Vietnam. In this article, let's admire the grandeur of top splendid churches in your Vietnam customized tour, you may not know many among them.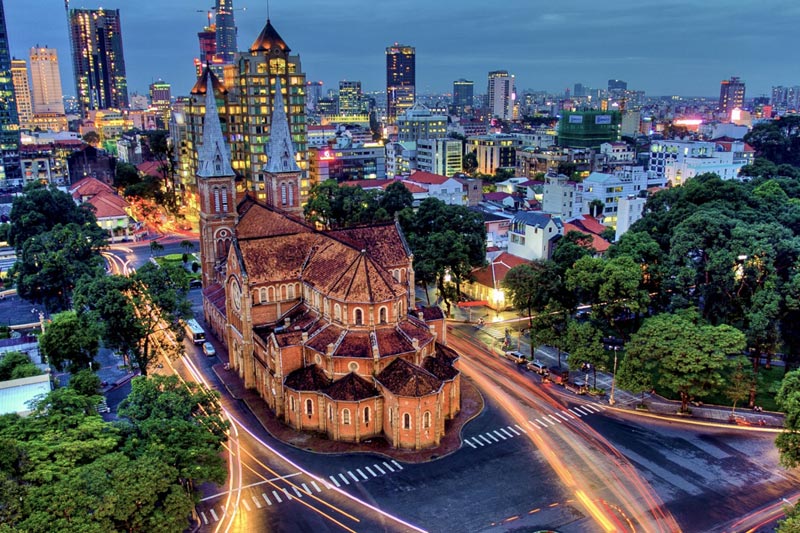 Phat Diem Church – Ninh Binh
Phat Diem Stone is known as an ancient church which was built during 30 years. Constructed by only stone and ironwood in Ninh Binh, the whole complex consists of a major large church and 5 small churches (including one built entirely of natural stone, called the stone church); the communal house (bell tower); ponds and 3 artificial stone caves. Although being a Catholic work, Phat Diem is imitate the traditional Vietnamese temple architecture with many curved bow-shaped roofs. There are many intricately carved details in this church. Sauntering around the building, you can easily see countless familiar images from Vietnamese villages such as pine, chrysanthemum, bamboo, apricot or lotus. In particular, the architectural complex of Phat Diem Church has been ranked as a National Cultural in 1988.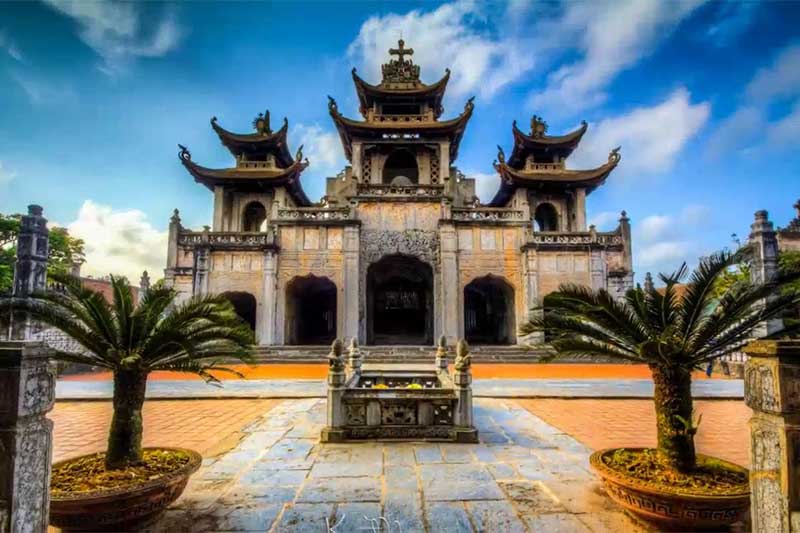 Cua Bac Church - Hanoi
Cua Bac Church has its unique name due to it is located in Quan Thanh Street- on the north gate of Thang Long fortress. The church was designed by a French priest and architect named Ernest Hébrard in a rectangular style (Balinese architecture). Considered as an exemplary building for combining Asian - European style. This architectural style, which is ancient and yellowish, does not obey the rules of symmetry. The whole structure deviates from the high bell tower on the right and balances with the dome in the centre. Moreover, Cua Bac Church is designed to not only give the striking impression for visitors but also match the surrounding sceneries. Commencing your Vietnam private tour with Cua Bac Church definitely soothe your stress after hectic days.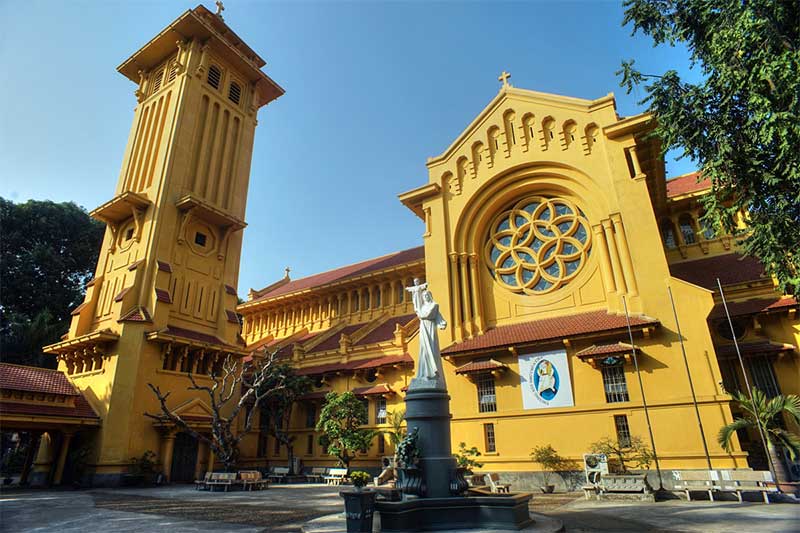 Read more: 7 awesome things to do in Hanoi
St. Joseph's Cathedral - Hanoi
St. Joseph's Cathedral is the oldest church in Hanoi. Constructed in the year of 1886, this church was initially simulated Notre-Dame de Paris in France with high walls, domes and many colored windows. Coming to St. Joseph's Cathedral, you will have the opportunity to admire the curved arches, wide, facing the sky. The doors, granite slabs and all the stained glass windows are fused with beautiful and harmonious stained glass paintings creating a natural light source for the inner hall. In addition, In particular, visitors and parishioners also have the opportunity to see St. Joseph's statue made by terracotta. With a spacious area, the Cathedral can accommodate up to thousands of people. It will be more fascinating if you have a Vietnam family tour on big occasions like Christmas or New Year's Eve. Having stood the vicissitudes of centuries, the exterior of this cathedral is covered by an ancient charming, which seduces a huge stream of tourists. As St. Joseph's is a prime tourist destination, there are several souvenir shops and Western-style restaurants nearby.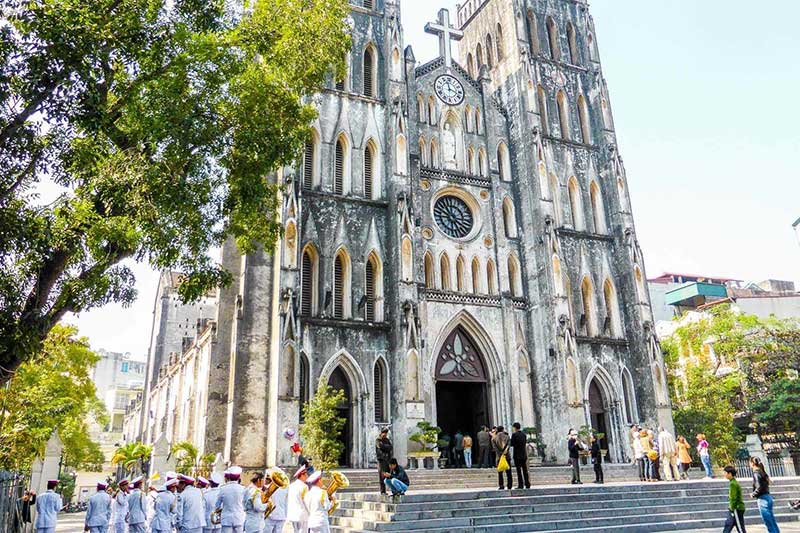 Read more: Best 8 non-touristy things to do in Hanoi
Church of Christ The King (or Mountain Church) – Nha Trang
Built in 1928, the Mountain Church has a robust layout with small cubes of rock rising to the blue sky. The highest point of the church is the place where the Cross is placed on top of the bell tower, 38m high from the road surface. Mountain Church has a large dome, rose-shaped doorways adapting to Gothic-style architecture. Inside the church, there is a spacious and airy space, divided into a sanctuary area and the area behind the sanctuary which is very pure and solemn. Located in the upper part of coastal Nha Trang, the Church of Christ the King not only features an elegant exterior, but it's the interior that will blow you away. One word to note, in case you want to scour this church, use the name of "Mountain Church" when asking locals about it.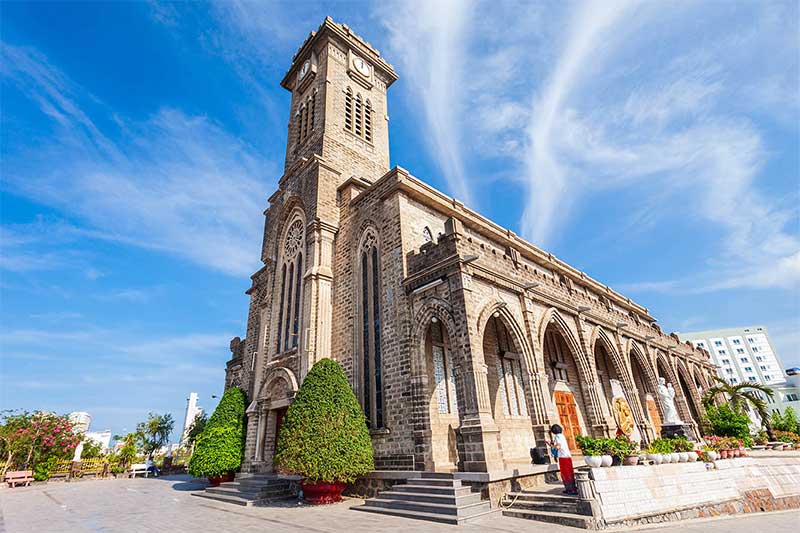 Tan Dinh Church – Ho Chi Minh City
Feast your eyes on the sceneries I bet you have never seen before: a Gothic-inspired hot pink church. Located in Saigon's District 3, this extraordinary church is one of the most renowned places in Ho Chi Minh City by its unique color. Paying a visit to such site, you may be stuck dumb by the unforgettable exterior with numerous delicate decorative details which are typical of Roman and Baroque architecture. Standing out among the crowded streets, the "Pink Church" attracts a large number of both locals and tourists admiring and taking photos. The church is open for visitors to freely visit, so you don't have to worry about the fee. However, only lucky visitors who come here on holidays can enter the chapel.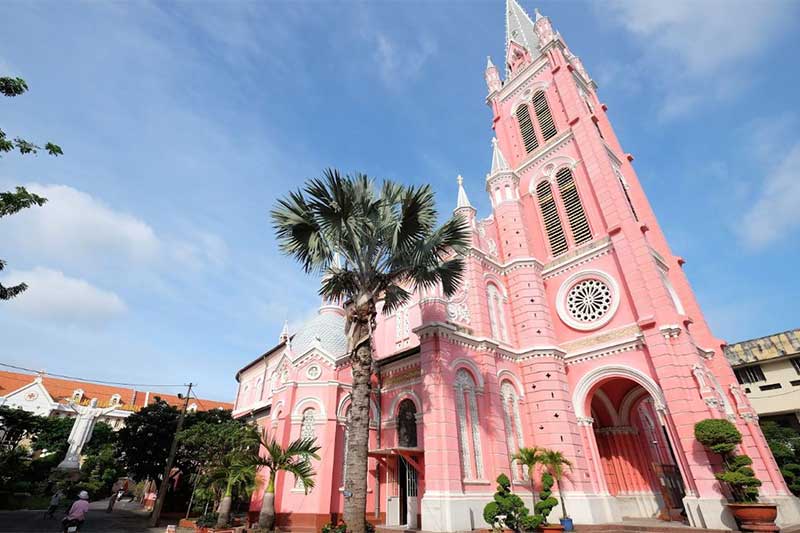 Read more: 8 fun things to do in Ho Chi Minh City
Notre- Dame Basilica – Ho Chi Minh City
It is a huge mistake if you have a tour in Vietnam without stopping by the most famous church in Ho Chi Minh City. Situated in the vicinity of the city centre, Notre- Dame Cathedral is a special place lying in the middle of the square, without fences and separated campus - a highlight in the urban space. The interior of the cathedral is designed with two main rectangular columns consisting of a total of 12 representing the 12 apostles. Behind the main pillars is the corridor with compartments placed more than 20 altars with small statues made of delicate white stone. The cathedral's lighting system is electrically designed. During the day, it is illuminated by sunlight, through stained glass windows and air holes. Plus, the architecture of the cathedral has created a great light effect in the interior giving a sense of calmness and solemnity.
The magical light also makes the interior of the cathedral more subtle and fascinating. At any given day, you can easily find a bunch of teenagers take photos around to post on social networking sites or just-married couples and their professional photographers. During the construction process, all construction materials from cement, steel to screws were brought from France. Particularly, the exterior of the building is adorned by red bricks made in Marseille bars with some broken tiles in the church have the words Guichard Carvin, Marseille St André France.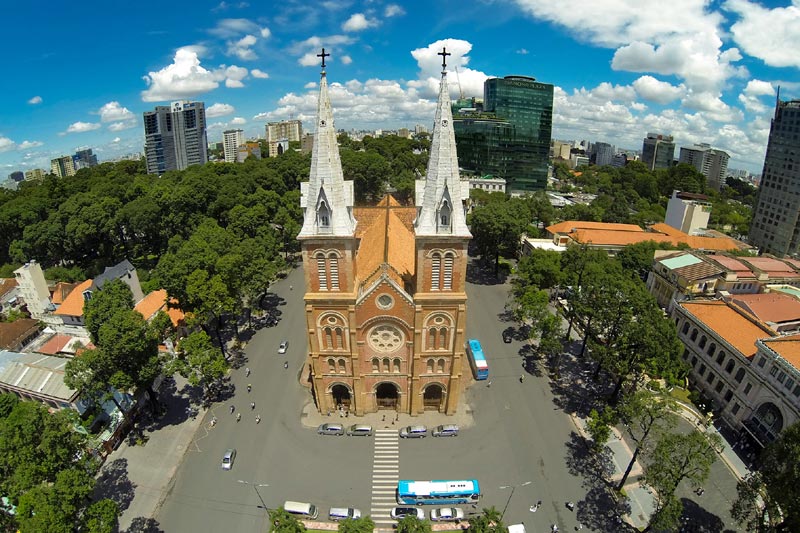 See tours:
Classic Vietnam Family Tour 14 days
Extensive Vietnam Family Holiday 21 days