Hue
is known as
the land of architecture and landscapes imbued with cultural and historical imprints
. Among them, Hue tombs are always a place to attract tourists because of their ancient and mysterious features. Each tomb is a construct that shows great respect for the former kings of
Vietnam
. Discover the
7 most famous Hue tombs
in
Vietnam Customized Tours
right here!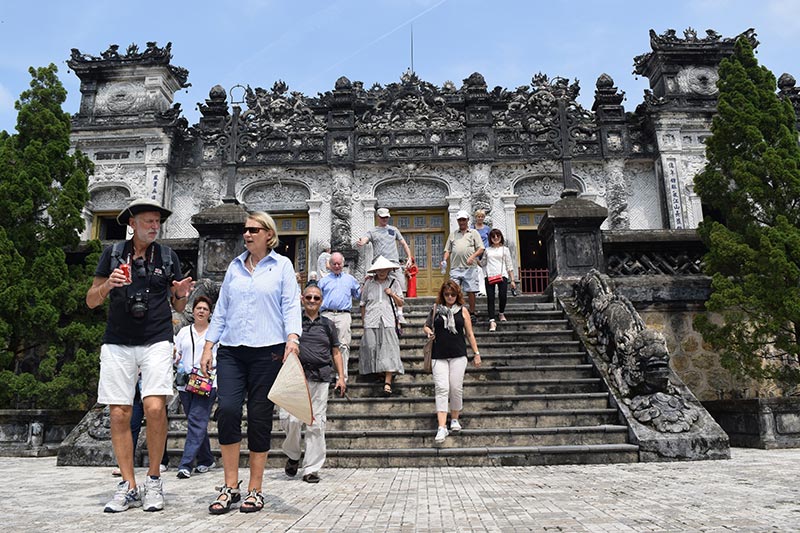 Khai Dinh Tomb

Khai Dinh Tomb was built on Chau Chu mountain, Huong Thuy district. This is the tomb of King Khai Dinh (1885-1925) - the 12th emperor of the Nguyen Dynasty. Although the area is not too large, Khai Dinh Tomb was built in a very elaborate and sophisticated way for up to 11 years.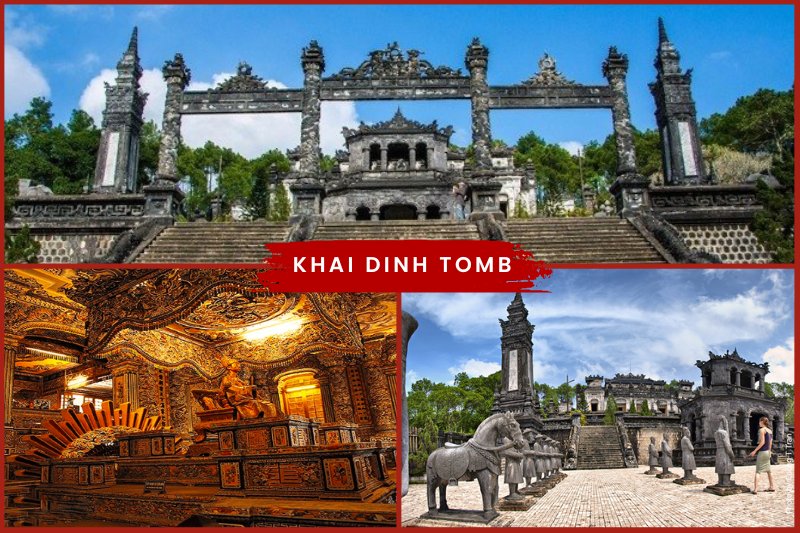 (Khai Dinh Tomb in Hue)

Khai Dinh Tomb is the only architecture of interference between East and West cultures. Arriving here, visitors will have to go through 127 steps with 2 Indian-style gate pillars. The king also sent people to France to import iron, steel and materials and to China and Japan to buy ceramics and colored glass to create this one-of-a-kind tomb.

Tu Duc Tomb

Tu Duc Tomb is the resting place of the most educated and romantic king among the Nguyen Dynasty kings. And this is also considered as one of the works of Hue Tomb with the most beautiful architecture. In addition, the Minh Khiem theater in Tu Duc Tomb is also one of the oldest theaters in Vietnam that has been preserved until now.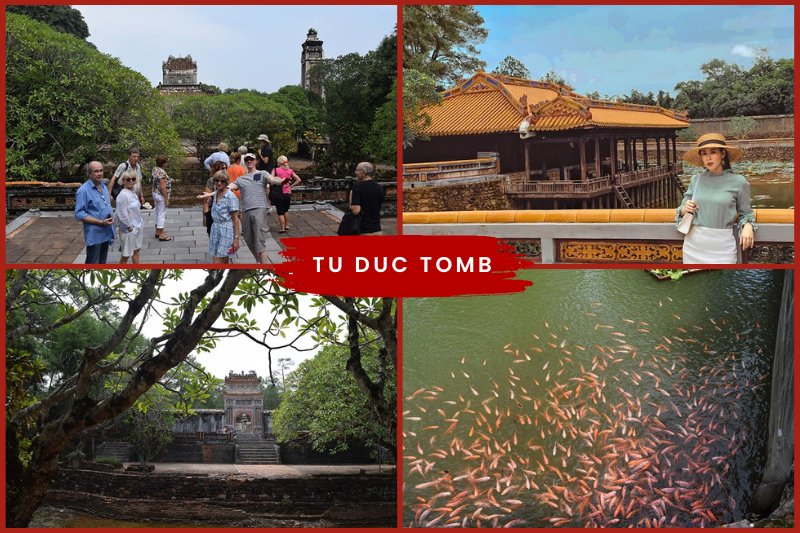 (Tu Duc Tomb in Hue)
This whole area of Hue Tomb has
nearly 50 large and small works
, including the shrine and the mausoleum. Tu Duc Tomb consists of 2 main parts and is arranged into 2 parallel vertical axes. Surrounding Tu Duc Tomb is a poetic green lotus lake and extremely relaxing natural scenery. Visitors can walk on the road to the Tomb and watch the sunset here.
Minh Mang Tomb
Minh Mang Tomb was started and completed in 3 years at the intersection of 2 streams Huu Trach and Ta Trach of the Perfume River. Only about 12 km from the center of Hue city, visitors can easily choose many forms of transportation to the tomb of Minh Mang King in
Vietnam Customized Tours
.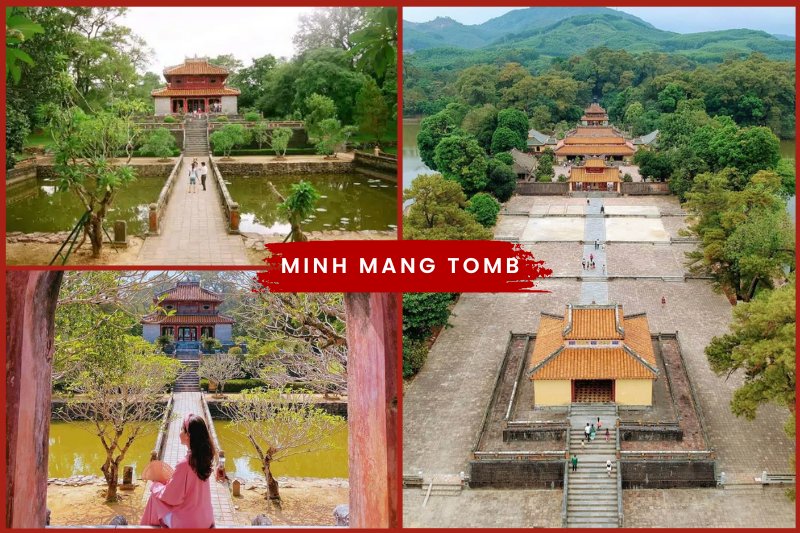 (Minh Mang Tomb in Hue)

Minh Mang Tomb is considered the most majestic and standard work of the Nguyen Dynasty. The entire tomb area has 40 large and small works arranged in balance and symmetry. This contributes to making the space majestic and magnificent.

Gia Long Tomb

Gia Long Tomb (Thien Tho Tomb) was built from 1814 to 1820 located in the area of ​​Thien Tho mountain along the bank of the Perfume River. This is the resting place of the first king of the Nguyen Dynasty. Visitors are also overwhelmed by the natural beauty of 28 large and small mountains surrounding the beautiful landscape.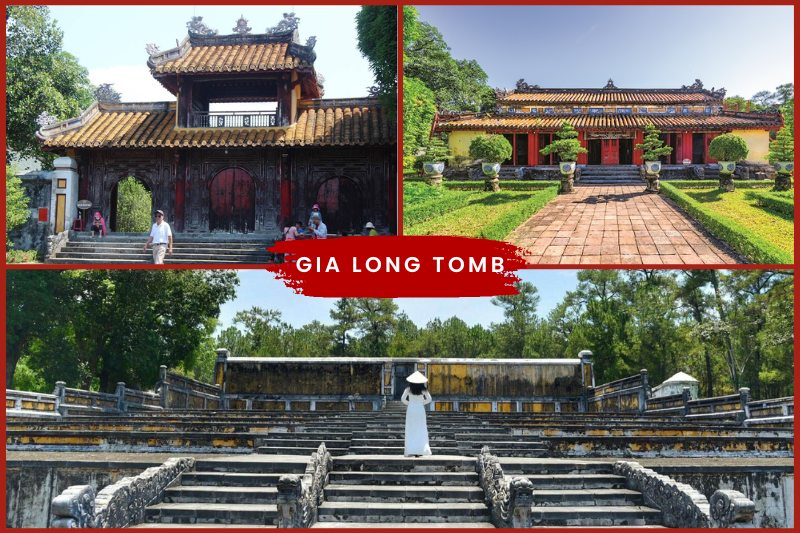 (Gia Long Tomb in Hue)

This can be said to be the mausoleum with the simplest architecture among the tombs in Hue. However, the wild appearance and location separate from the inner city of Hue are the special features of Gia Long Tomb. Visiting this tomb, visitors should once experience rowing on the Perfume River and walking around on Kim Ngoc ferry.

Duc Duc Tomb

This tomb is the burial place of three kings: Duc Duc (father), Thanh Thai (son) and Duy Tan (grandson). Duc Duc Tomb has an extremely simple, modest and simple architecture. It is one of the simplest tombs with an area of ​​about 3,500 square meters but contains many heroic historical imprints of the nation. Duc Duc Tomb is a relic in the complex of Hue relics recognized by UNESCO as a world cultural heritage on December 11, 1993.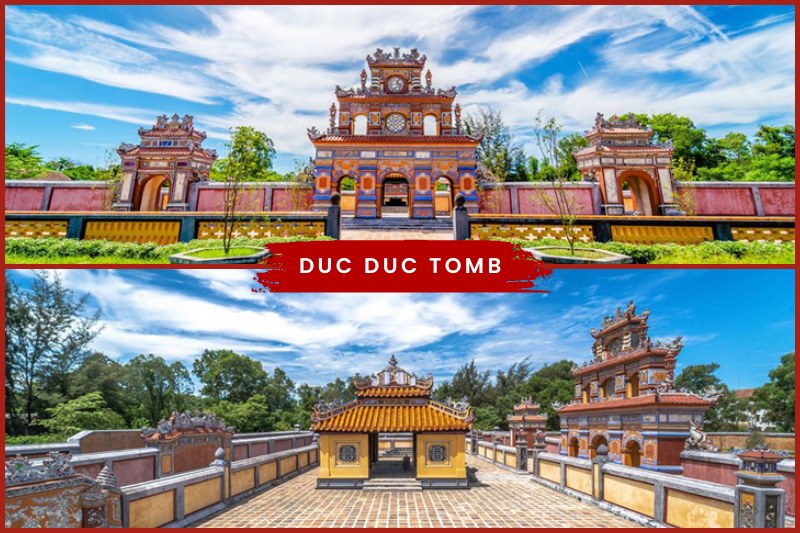 (Duc Duc Tomb in Hue)
Thieu Tri Tomb
Thieu Tri Tomb was built in
the shortest time with only 10 months
and is located close to Thuan Dao mountain - about 8km from the center of Hue city in
Vietnam Private Tours
. This architecture is nestled between lush green gardens, lotus ponds and vast green fields.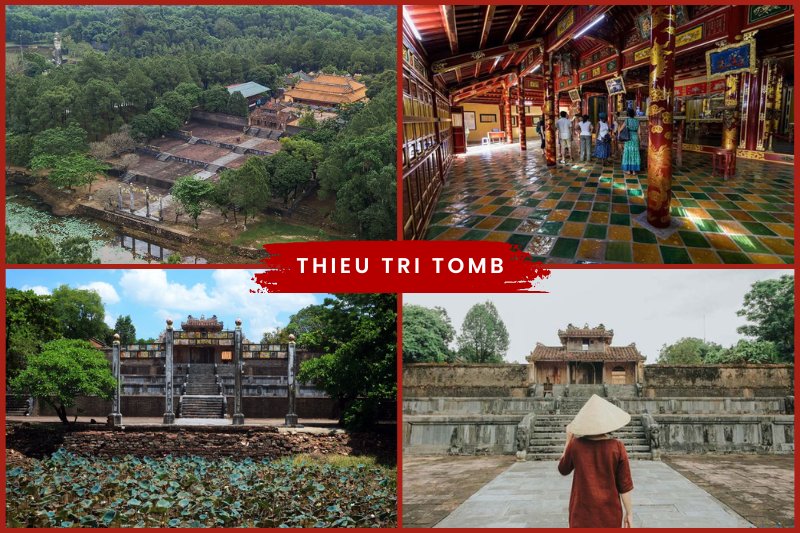 (Thieu Tri Tomb in Hue)
Many people often say that the beauty of Thieu Tri Tomb is
a cross between Gia Long Tomb and Minh Mang Tomb
. Thieu Tri Mausoleum was recognized as one of the famous mausoleums,
a world cultural heritage
in 1993 by UNESCO.
Dong Khanh Tomb
Dong Khanh Tomb was built during 35 years in
4 kings
(Dong Khanh, Thanh Thai, Duy Tan, Khai Dinh) located in Thuong Hai village, Xuan Thuy ward.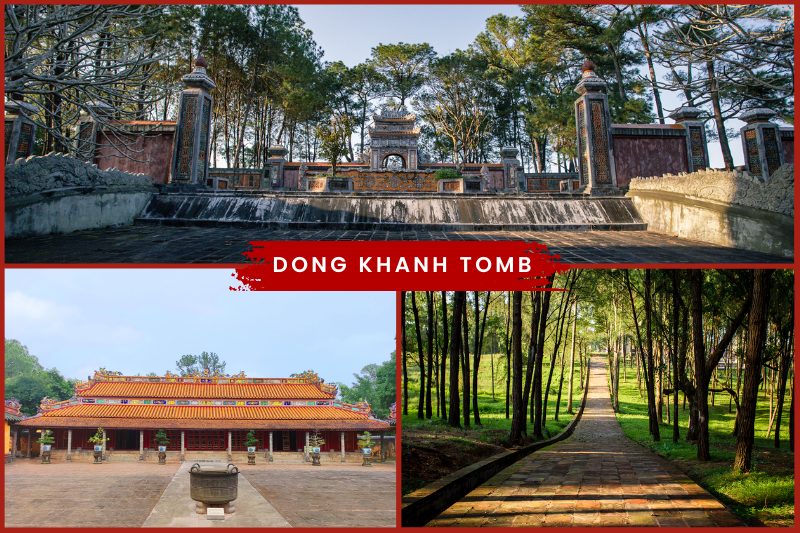 (Dong Khanh Tomb in Hue)
Dong Khanh mausoleum is the quintessence of the Asian-European style, surrounded by a charming and poetic natural setting. There are up to 20 different architectural works, the most prominent is the Ngung Hy Palace.



Referring to the dreamy land of Hue, tourists cannot visit Hue tombs - a historical mark of the Nguyen Dynasty. Each tomb has its own unique architectural features that make visitors admire it. The tombs in Hue are not only a place to learn about the history of a time, but also a place with beautiful scenery that creates many beautiful photo angles for visitors participating in Vietnam Private Tours.