Whether you chose to call it Burma or Myanmar, this South-East Asian gem is truly an extraordinary country – its people, landscapes and culture are all unique. Travelers who visit Myanmar are welcomed by gentle, smiling people and some of the world's most impressive monuments. Myanmar has secured its place as one of the world's 'must-see' destinations. There are few experiences you'll only find in Myanmar.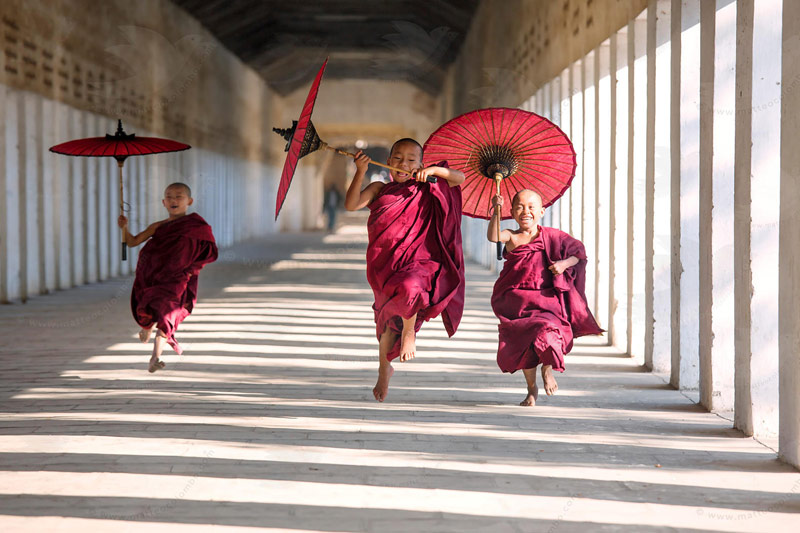 1. Float on a hot air balloon over Bagan
Bagan is one of Myanmar's unmissable sights, and it is truly unique to the country. Home to more than 1,000 Buddhist temples, sprawled across a grassy plain, it's one of the largest religious complexes in the world. Visitors can explore the mass of monuments by bicycle, e-bike or horse and cart. Alternatively, those looking for the best view, should take to the skies on a sunrise or sunset hot air balloon ride. The dawn flights are something special, as the sun gently rises over the Ayeyarwady River, lighting the temples up one by one. Hot air balloon flights in Bagan typically run from October through March and cannot be guaranteed to operate (bookings can be refunded). Price can be a bit expensive, ranging from 260 USD to 330 USD per person, depending on how many people in your group and which company you choose, but it is worth every penny.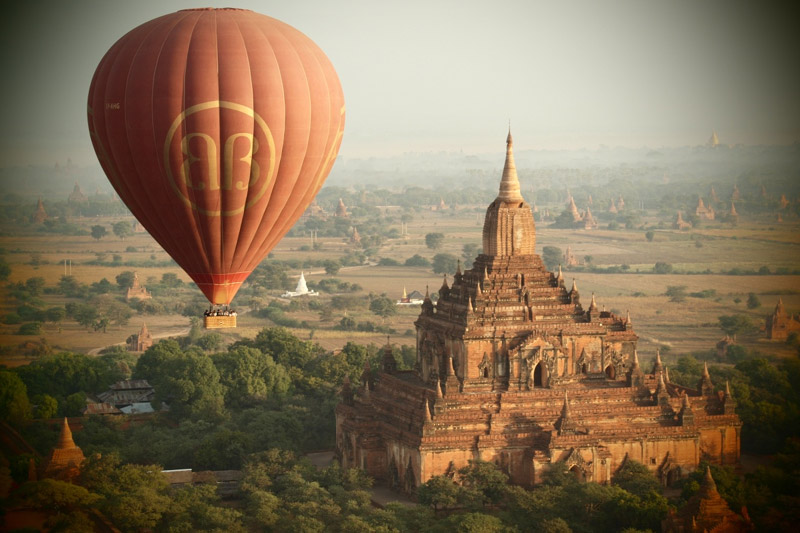 Hot air balloon in Bagan
2. Cross and watch sunset over U Bein Bridge - the world's longest teak bridge
The U Bein Bridge, just south of Mandalay, spans the Taungthaman Lake for a whopping 1.2km. Built around 1850, it is believed to be the world's oldest and longest teak bridge. The teak wood was once part of the Royal Palace in Mandalay but was turned into a bridge by the mayor, U Bein. The columns were no longer needed so they found a new home for them, helping the common people across Taungthaman Lake. As you cross the rickety wooden panels, you'll spot the bobbing heads of local fisherman in between the paddle boats filled with tourists. Nothing could be quite as magical as sunset view at the longest and oldest wooden teak bridge in the world. Just be sure to arrive early, this place is popular with locals and visitors alike.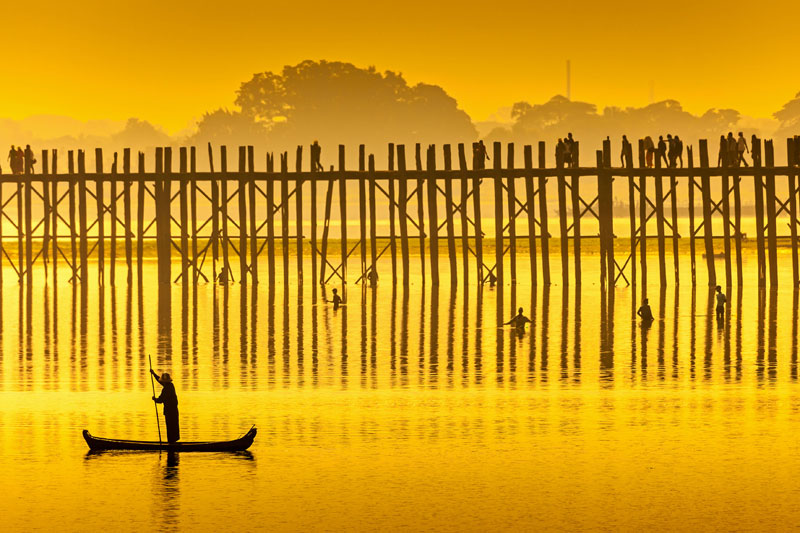 U Bein bridge in Mandalay
3. Feel overwhelmed at Shwedagon Pagoda
Another big-hitter on Myanmar's tourist trail, Yangon's Shwedagon Pagoda is unlike any other temple in the world. Over 2,500 years old, the site is the most visited and sacred Buddhist temple in Myanmar and you'll find the place packed with monks, local worshippers and with a sprinkling of tourists too. Along with a temple complex around it, it is visible from almost anywhere in Yangon. A stream of pilgrims from around the world comes to admire its magnificence every day. It's also a nice gathering place where local people worship, wash statues, and mediate.
The best time to visit Shwedagon Pagoda is just before sunset when local residents paying their respects after finishing work or school. It's the perfect time to photograph Shwedagon Pagoda and mingle with the locals. Bring snacks and water, and wear temple-appropriate clothes that cover your knees and shoulders.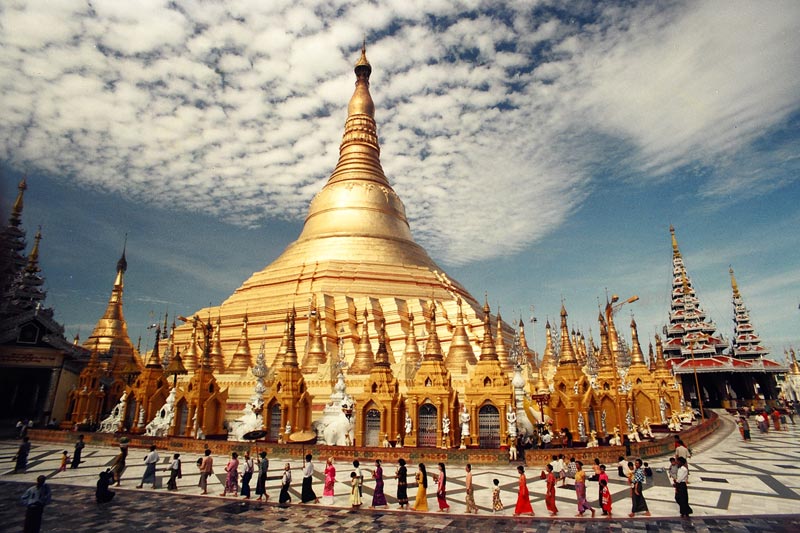 Shwedagon Pagoda in Yangon
4. Cruise the lazy waters and get to know the Intha people of Inle Lake
Inle Lake is another unmissable experience on your trip to Myanmar. Home to floating villages, houses held up by stilts, and sprawling gardens, the lake is a serene and enchanting sight. Inle Lake is also home to the Intha people, who have built their life around this beautiful body of water. One impressive trait of this ethic group is that they have developed a distinctive style of boat rowing – they stand up and row with their legs. Lake Inle is full of reeds, making it difficult to navigate whilst sitting down. Instead, the locals stand up so that they can get a clear view of their path and avoid any plant life. This is a special sight at any time of year, but try and visit during a boat race on the lake, when there are dozens of men per boat all rowing their legs in sync with each other. A boat trip through Inle Lake gives you an interesting peek into life in traditional Myanmar.
If you visit to Inle Lake is in September or October, you may have the chance to witness the grandest event taking place in the region - the Phaung Daw Oo Pagoda Festival.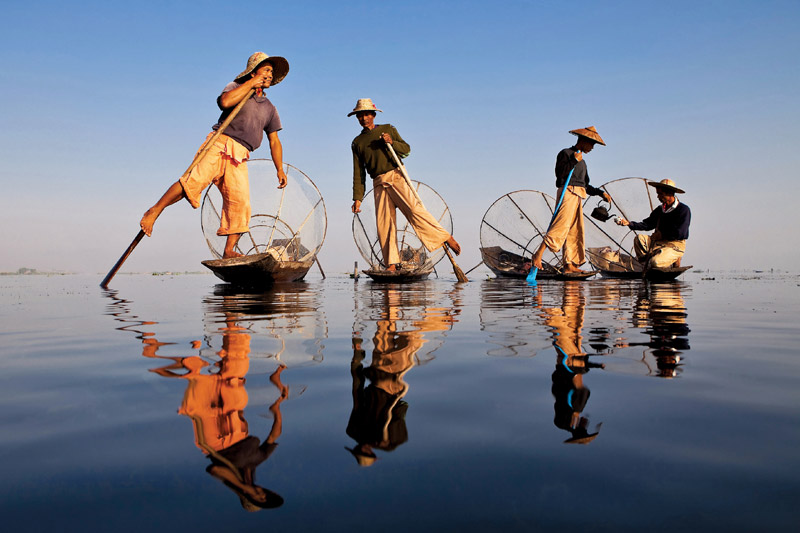 Intha fishermen at Inle lake
5. Spend a few days relaxing on the white sands of Ngapali Beach
Myanmar is not known as a beach destination like it neighours, but it does have some of the finest stretches of beach that remain undiscovered by tourists and unspoiled by development. The most beautiful one is the Ngapali Beach, which is just a 45-minute flight from Yangon.
With miles of sparkling sands, swaying green palms and turquoise waters, the Ngapali Beach is a nice place for you to relax as well as experience true pulse of Myanmar. Here small boats head out every day to catch seafood that is later served up in restaurants. Ox carts wander along the beaches. And a dozen bungalow-style resorts provide space for you to spend a few pampered nights.
The peak season of Ngapali is from November to March. In rainy season (mid-May to mid-September), most hotels are closed.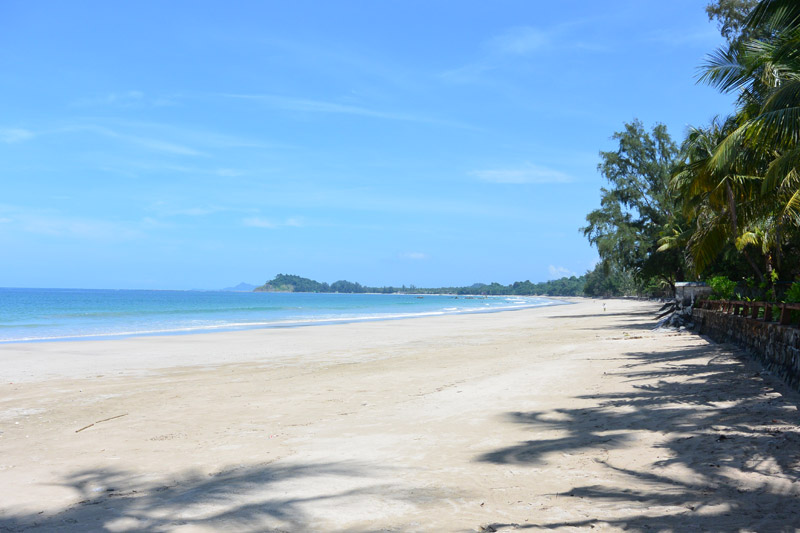 Ngapali beach in Myanmar
6. Discover life along Irrawaddy River by boat
Taking a local boat out along the vast Ayeyawady River as it's a rare opportunity to discover Burma from a different angle - on water. It is the life blood of Burma and one of the World's Best 15 Rivers for Travelers selected by CNN. As you cruise the river, golden temple spires, tiny villages, emerald rice paddies, bustling markets all come into view. The real life of Burmese people is unfolded just before your eyes.A typical Irrawaddy River runs between Bagan and Mandalay with accommodation overnight on the boat and sightseeing in Bagan and Mandalay. So it's not only a chance to catch a glimpse into the real life along the river but also a nice way to get around the two places. There are also many chances to take a short ferry ride across Irrawaddy River and discover life along it.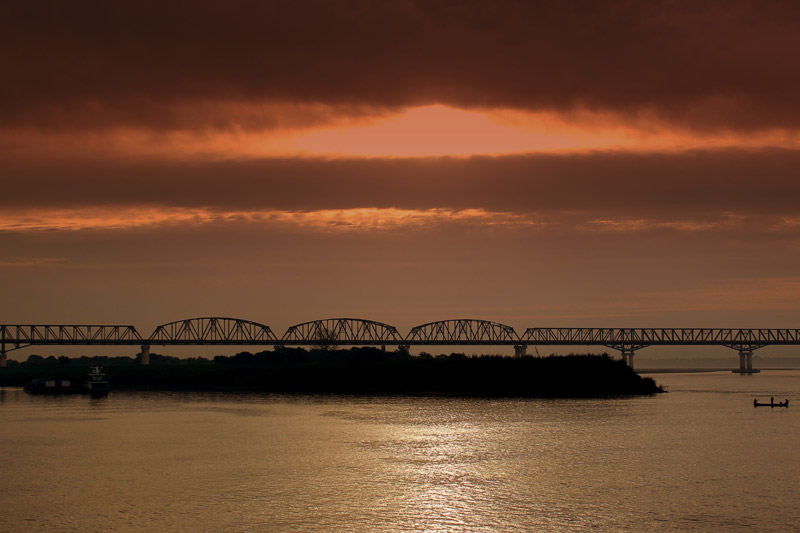 Pakokku bridge over Irrawaddy river
7. Climb to the top of Mount Popa
Not the most delightful experience on the list but one which still needs to be highlighted. Mount Popa is another must-see on your trip to Burma. Close to Bagan in central Myanmar, Mount Popa is well known as a pilgrimage site and a magnificent Buddhist temple and sacred place to worship the infamous '37 Nat' (spirits) gods. To get to the top, you have to hike 777 steps, avoiding monkeys as you pass. The mountain and temple are both incredible but, like at all temples, you must remove your shoes as you enter. Problem is, you enter at the bottom of the slope, before you've passed the monkeys. Our tip? Take something to clean your feet with post-descent.
Mount Popa is usually visited on a day trip from Bagan, as a great way to take a break from the endless temples.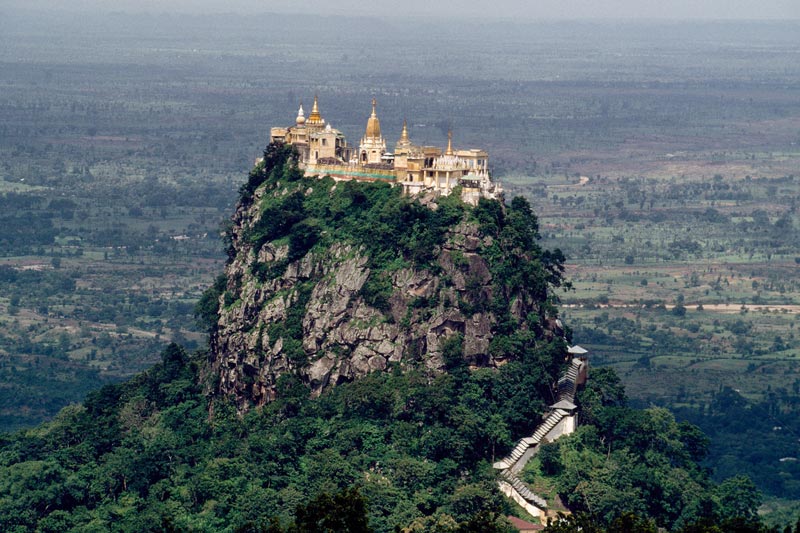 Mount Popa in Bagan
8. Take part in the Thingyan Water Festival
Thingyan, Myanmar Water Festival, takes place toward the end of the hot, dry season and ushers in the Myanmar New Year. This festival is also celebrated in neighboring Theravada Buddhist countries; Songkran in Thailand and Laos, Chaul Chnam Thmey in Cambodia. The festival lasts three or five days. Standing on bamboo stages erected along the streets, people splash water on passersby. Powerful water pipes douse people driving by in jeeps and trucks. Children use water pistols to drench their friends, relatives, and anyone else in range - only monks and the elderly are safe.
The water symbolizes the washing away of the previous year's bad luck and sins. On New Year's Day itself, all the water-throwing ends. This day is celebrated by releasing captive fish and birds as acts of merit, and special feasts are held for monks.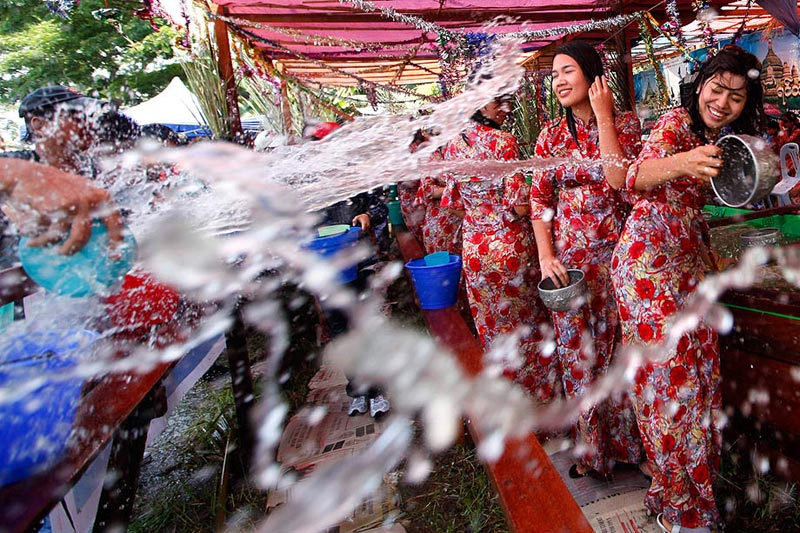 Thingyan Water Festival
9. Taste green tea… In your salad
Green tea has been hailed as a health drink the world over. But have you ever eaten it? Fermented green tea leaves are a local delicacy in Myanmar, and one you shouldn't miss. Often added to salads, they can be mixed with spices, cashew nuts, sesame seeds and more, to make for a hot, fiery but filling dish. The Moon restaurant in Bagan (close to Ananda Temple) makes for a great pit-stop when you're touring temples.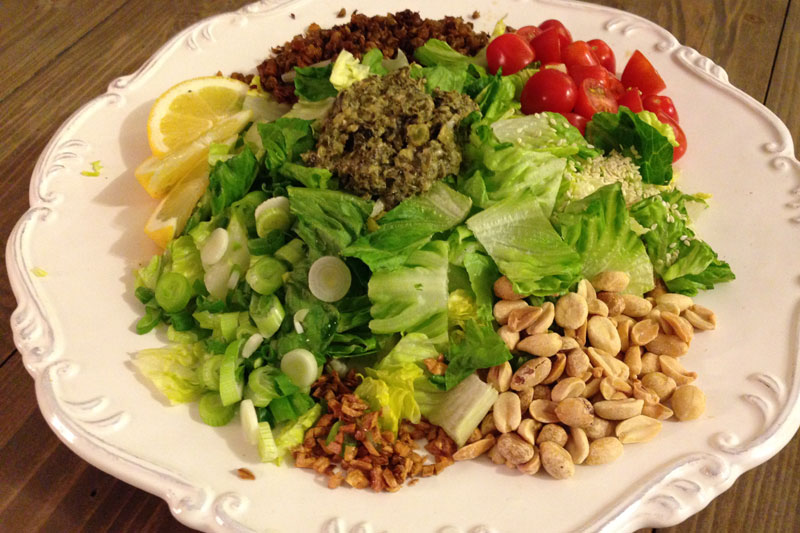 Tea leaf salad
10. Sip wine from Burma's first vineyard
Burma isn't known for its fine wine, but with fruitful growing conditions in the Shan Hills, that's set to change. Myanmar Vineyard was founded by Europeans in 1999, and its Aythaya wine was first showcased in 2004 – with great success. Visitors can take a wine tasting tour of the vineyard, making for a pleasant and unusual day out.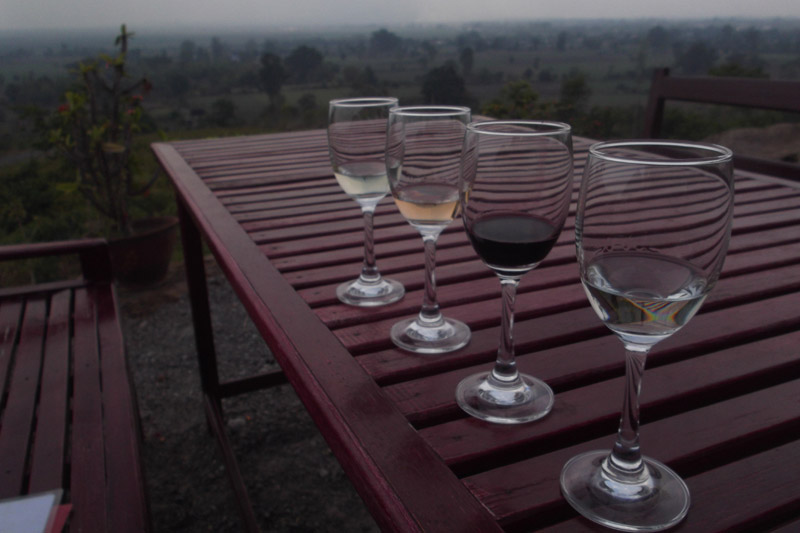 View tour: Myanmar - Vietnam Highlights 15 days