Thailand is one of the most attractive countries in South East Asia. When you are thinking about travelling to Thailand, the first question in your mind: how much money do I need for a Thailand trip?
That is a common question but there is no common answer. The money you spend in Thailand will depend on various things: the grade of your accommodation, the kind of food you want to eat or which parts of the country you plan to visit.
Note: All prices are in Thai baht so you need to exchange money before your customized tours in Thailand.
The exchange rate changes day by day and may affect prices.
The reference exchange rate is $1 = 32 baht (2018).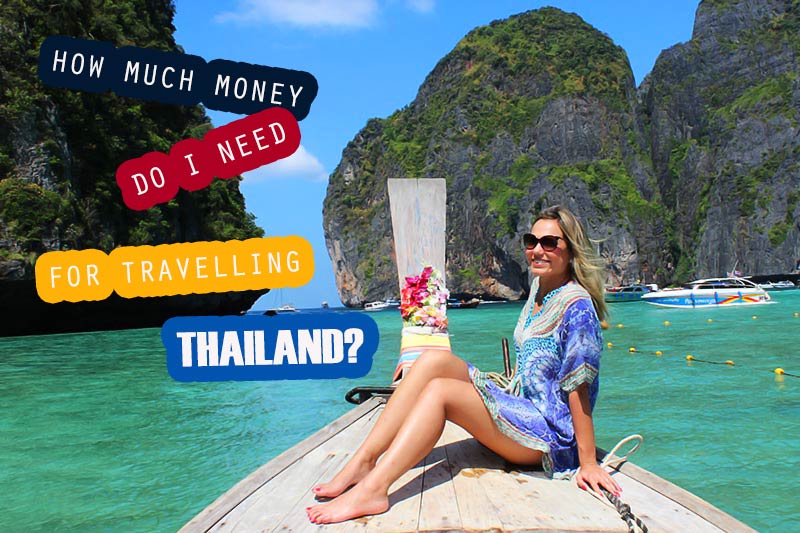 Kok Phi Phi Island - Thailand

Accommodation
Like other tourist destinations in the world, you will find some range of accommodation in Thailand from budget to mid-range or luxurious.
Most of the budget accommodation is around $10 (320 baht) - $30 (1000 baht) per night with standards room. The mid-range hotel is around $40 (1200 baht) - $60 (1900 baht) per night with spacious room and breakfast included while the luxurious accommodation has no limit of prices, you'll pay for what you want.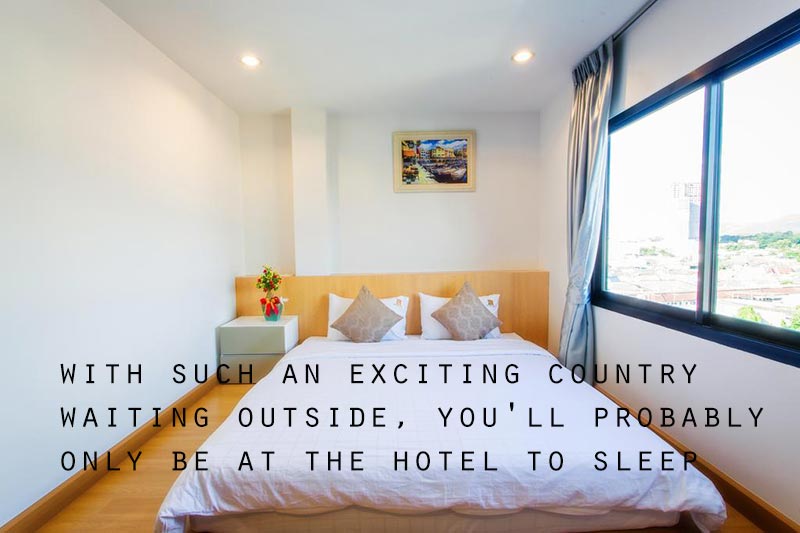 Remember, with such an exciting country waiting outside, you'll probably only be at the hotel to sleep! So taking a standard room is a good way to save money.
If you intend to stay in a place many nights (5 nights or longer), try to negotiate for a better rate, particularly during the low season. Negotiating is an art of dealing in Asia.
Transportation
You can find the proper transportation based on your budget and your time: taxi, tuk-tuk, bus, sky train...
Riding in the tuk-tuk is a fun experience in Thailand. Although it's not cheaper than a taxi, the tuk-tuk is the good choice particularly in a short run because it can run fast in the crowded street (Bangkok is famous for traffic jam). The rates are usually from $2.5 (80 Baht) to $4.5 (150 Baht) and do not forget to negotiate a price before getting inside.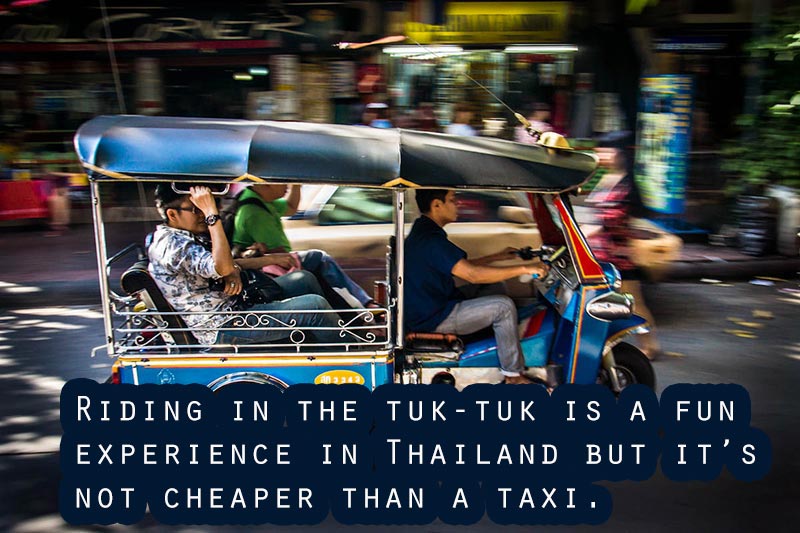 Hailing a taxi on the street is the normal way but always make the driver use the meter! If the driver refuses and tries to name a price, simply pass and wait for the next taxi. Taxis start at $1 (32 Baht) for the first 2 km and then 2 Baht per km after that. The traffic in some city such as Bangkok is terrible so a taxi is not a good way to move in the short run. But in long run, the air-conditioned taxi is absolutely more comfortable than a tuk-tuk or a motorcycle taxi, particularly in a sweaty day.
If you are looking for a cheap and rapid transport for a short distance, Motorcycle taxi is the best way. You will easily find it in everywhere on Thailand street. The price is around from $0.5 (20 bath) to $3 )100 Baht) depends on the distance of your trip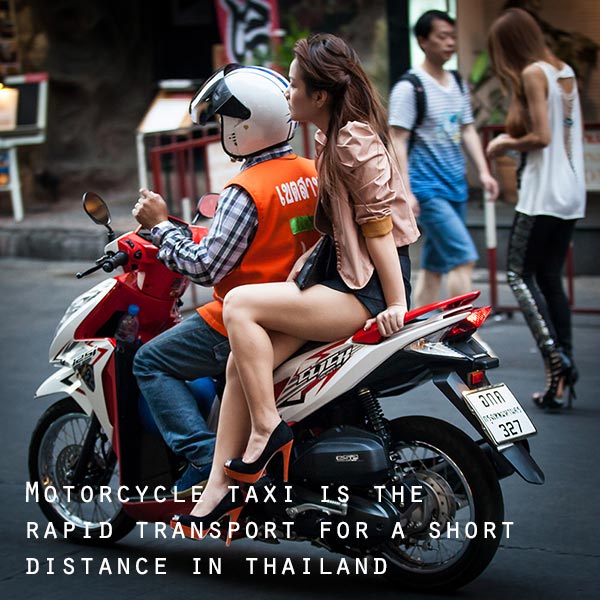 Bus is one of the cheapest transportation in Thailand, it cost around 7 -10 Baht ($0.3) within Bangkok and also not cost too much with the longer route. But bus usually takes time, forget it if you have no time.
If you are in Bangkok, the BTS Sky train and MRT Subway are the best options for rapid transport. They can run at high speed and save your time but the prices are higher than other transport. This also request you have a walk between the stops stations
How much money do I need for travelling Vietnam?
Food
Street food is the best option if your budget is tight. An open-air restaurant will always be cheaper than an air-conditioned restaurant. Thailand has a long coastline in much miles but the seafood still costs you much more than other dishes. The normal dishes will be served with chicken, beef and pork are usually added with a little bit higher cost. Thailand also has many restaurants serving international food like Italian, Indian or Mexican food, but the prices in these eateries are normally more expensive than local restaurants.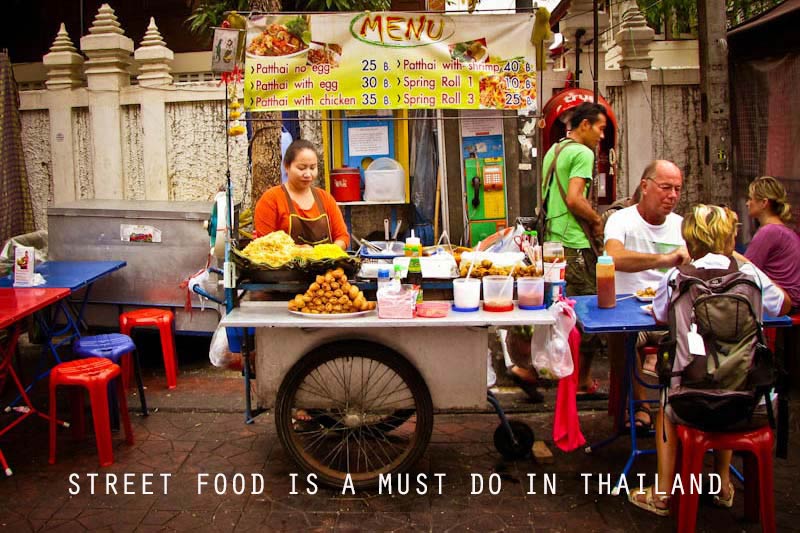 In street carts or simple restaurant, the average of noodle Thai with chicken is around $1 (30 bath) - $2 (60 Baht) per plate depending on you are inside or outside of tourist places. A basic Thai meal in a restaurant is from $2.5 (90 baht) to $5 (150 baht) and seafood will cost you a little bit more.
Note: Thai portions are often small, you should have extra meal or snack during the day!
Other Expenses
- The entrance fees: Normally from $2 (60 baht) to $5 (160 baht)
- Small souvenirs: $1 (32 baht) – $10 (320 baht) per item (need to bargain).
- A pack of cigarettes: from $3 (100) to $4 (130 baht), depending on the brand.
- You can purchase medicine without prescription at a local drug store. The prices are far cheaper than those found in the Western countries
- Laundry costs around $1.5 (50 baht) to $2 (65 baht) per weight and is typically air dried.
Related Articles:
10 best destinations to travel in Thailand
Why is Thailand the ultimate honeymoon destination?