There are many things you can expect from a Thailand private tour when Bangkok is included in the itinerary. Best street eats are, no doubt, on top of amazing experiences you can gain from your travel to Bangkok. Although it is widely said that you can easy find street food everywhere in Bangkok, picking what to eat is not an easy choice. That is why we – Nadova Tours has selected below 5 top dishes for you to try when travelling to Bangkok. Check them out!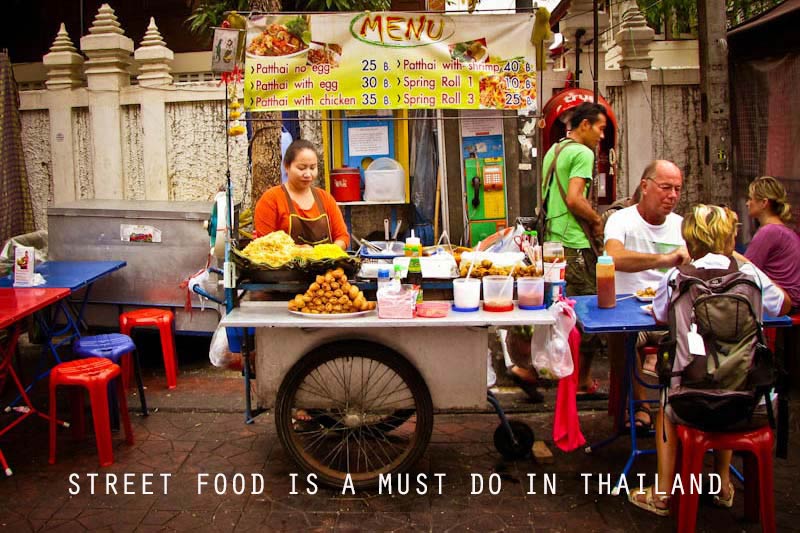 Street food is a must do in Thailand, especially in Bangkok
1. Pad Thai (Thai Stir Fried Noodles)
You must have heard of one of the most famous Thai dish of all time – Pad Thai before your travel to Thailand. Now it has become the national dish of Thailand and to your surprise, it was listed at number five on a list of "World's 50 most delicious foods" readers' poll compiled by CNN Go in 2011.
An interesting fact is that the origin of Pad Thai dated back to nearly 70 years ago when Thailand suffered a rice shortage during World War II. That is why the Thai government has promoted eating rice noodles instead. As a result, Pad Thai (literally means "Fried Thai") was created and it helped to establish the identity of Thailand and become the national dish of this country.
To simply put it, Pad Thai has combined all Thai flavors in a balanced and perfect way. Not to mention it is affordable, usually cooked and served up within minutes and easily found in every Bangkok streets. For that reason, Pad Thai is absolutely worth a try on your Thailand customized holiday. It is a chance you should not miss to explore the culture of Thailand through the traditional and amazing taste of the national dish!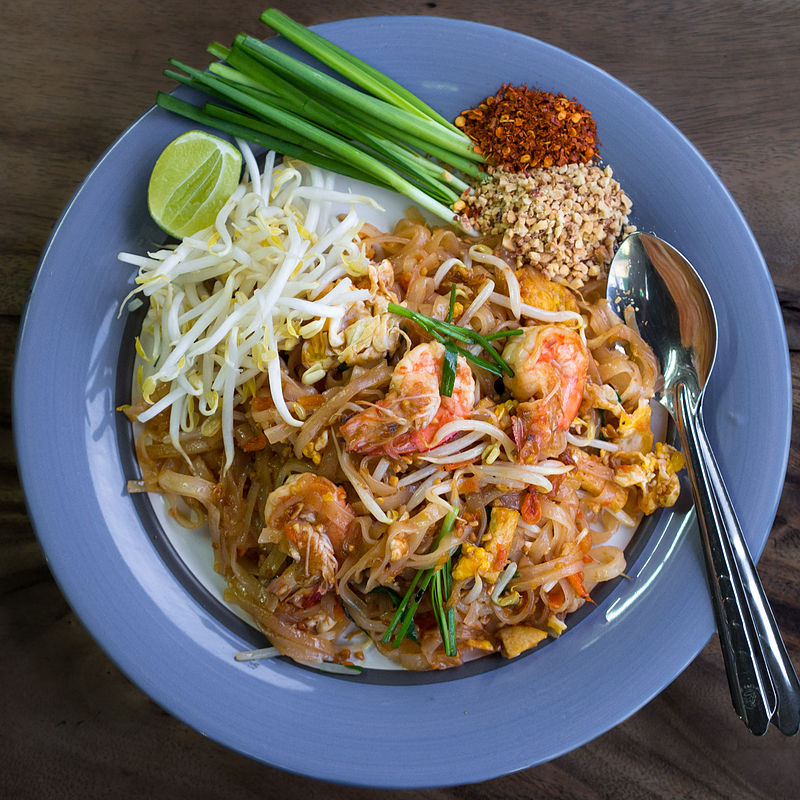 Pad Thai - the national dish of Thailand (photo credit: wikipedia.org)
2. Khao Moo Tod (Fried Pork over Rice)
Khao Moo Tod is one of the most popular traditional dish in Thailand. It can be found not only in street vendors but also luxurious restaurants.
Slices of pork are marinated in soy sauce, garlic, and pepper, then deep fried until it is an irresistible golden color. And then they are placed over a plate of rice and served with an optional fried egg, which makes an inexpensive and delicious meal for those who are hungry.
It is said that every Thai has grown up eating this dish, it is loved by both the young and old alike. And when they can't think of anything else to order, Khao Moo Tod always comes to mind. That's the reason why this dish should be put on your top list of street eats to try when travelling to Bangkok on a Thailand customized tour.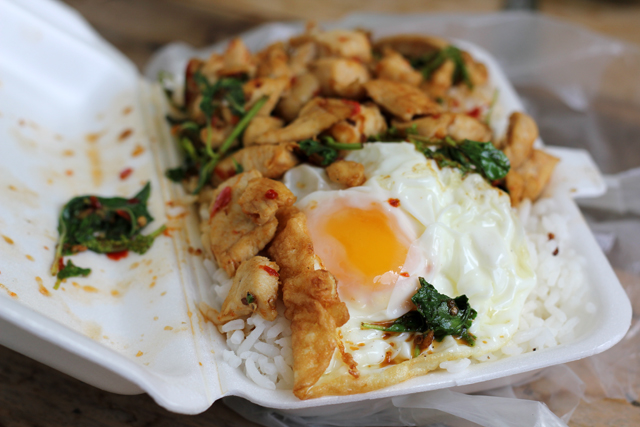 Khao Moo Tod - one of the most popular street food in Bangkok (photo credit: migrationology.com)
3. Khao Kha Moo (Pork Trotters Rice)
Although being less popular than other street food, Khao Kha Moo is absolutely your must-try on your Thailand customized holiday. With cheap cuts of pork, Thai people can turn it into an amazingly delicious dish with their cooking talent.
The pork leg is braised with Chinese herbs and spices for hours until the meat falls off the bone and is fully infused with spices. What makes a perfect Khao Kha Moo dish is the meat – it has to be tender but not greasy. And when it is served with rice, hard- boiled egg and pickled green mustard, the crunchy delicacy of the trotter can leave an unforgettable impression on anyone who has a chance to get a bite.
That is why despite not being so popular among foreign tourists, Khao Kha Moo still achieves a great number of positive reviews from those who tasted and couldn't get over it. On your holidays in Thailand, don't miss this dish!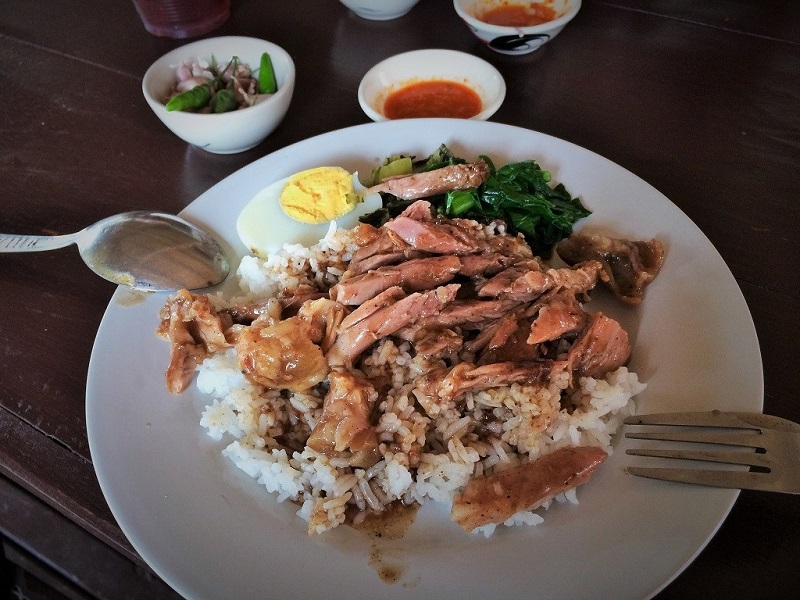 Khao Kha Moo - Pork Trotters Rice (photo credit: slightlyastray.com)
4. Khao Mun Gai (Chicken rice)
This dish - Khao Mun Gai, actually originates from China and is very popular in Singapore and Malaysia with the name "Hainanese chicken rice". It has been adopted by Thais and become a very well-known street eat in this country.
Basically, Khao Mun Gai is tender poached placed over oiled rice and is accompanied by a bowl of hot clear chicken broth together with a spicy dipping sauce. For those who are into the chicken rice, Khao Mun Gai is absolutely a worth-trying dish.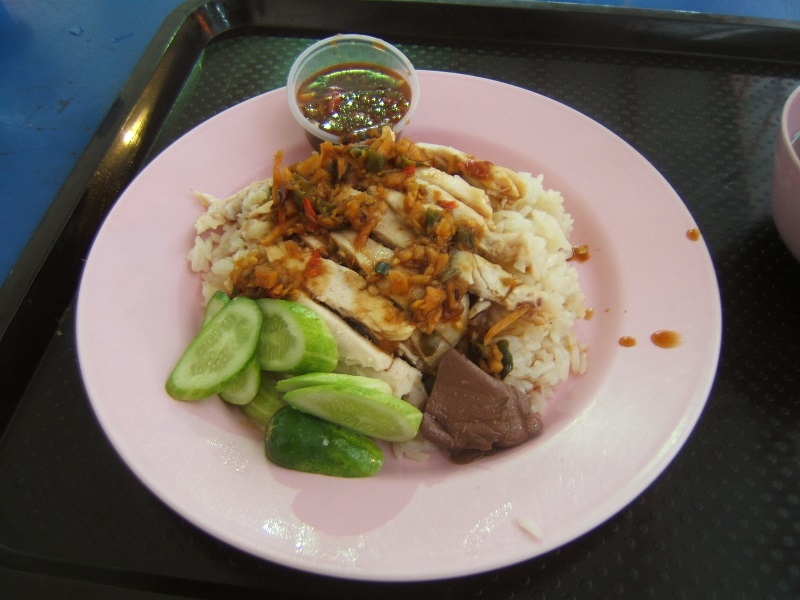 Khao Mun Gai - Chicken Rice (Photo credit: wikipedia.org)
5. Tom Yum Goong (Spicy Thai Seafood Soup)
Tom Yum Goong is surely one of the most famous soup dish in Thailand. This soup has its origin in Thailand and has recently been popularized around the world. It is usually cooked with shrimp and has both a sour and spicy taste.
As this dish has become more and more popular, it gains several variations in Thai restaurants. However, they are still cooked based on the sour and spicy tastes. On your Thailand vacation, remember to try this dish. Its creamy and intensely flavorful broth is a rare find among Bangkok street eats.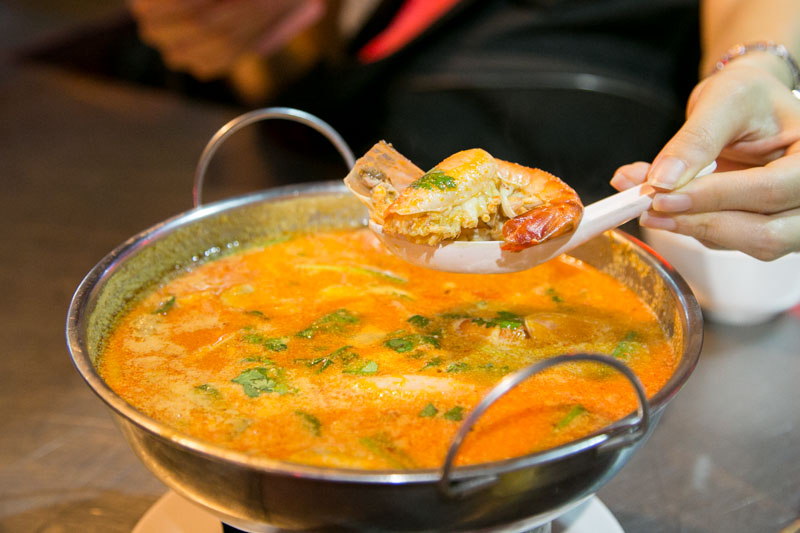 Tom Yum Goong - one of the most popular soup dishes in Bangkok (photo credit: sethlui.com)
---
Read more:
Travel to Thailand - Things you should know
10 best places to go in Thailand
Why is Thailand the ultimate honeymoon destination?
View tour: Best of Vietnam - Thailand Family Vacation 14 days