If you intend to go on a customized tour to Cambodia, Angkor Wat is absolutely a destination you should not miss. Built from thousands of years ago, this ancient temple is said to be surrounded by myths, secrets and interesting facts. Check them out below!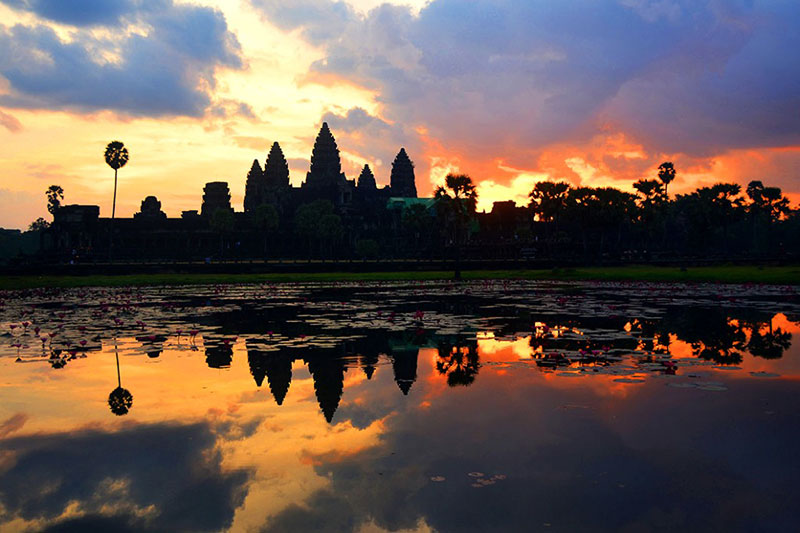 1. "Angkor Wat" means "City of Temples" or simply "City Temple".

2. Angkor wat is deemed to be the largest religious building in Guinness Book of World Records as it covered the area of approximately 1,626,000 m2. Compared to Vatican city – another famous religious structure, it is 4 times bigger.

3. Not only is Angkor Wat the largest religious structure, it is also one of the most complex monuments ever constructed in the history of mankind. Numerous stones of Angkor Wat were carved with high-class craftsmanship to depict historical events and stories from mythology.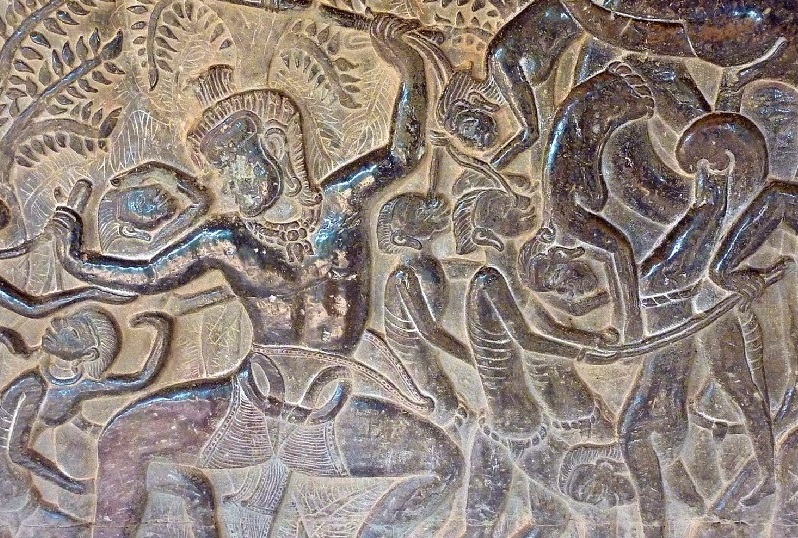 Photo credit: Detail of the Heaven & Hell bas-relief, Angkor Wat © Photo Dharma CC BY 2.0
4. The structure of Angkor Wat is said to recreate the image of Mount Meru, a legendary place called the "home of the gods" in Hindu mythology.

5. It cost Paramount Pictures $10,000 a day to film in the temple Ta Prohm for the 2001 film ''Lara Croft: Tomb Raider". It was after filming in Cambodia that Angelina Jolie decided to adopt her Cambodian son - Maddox.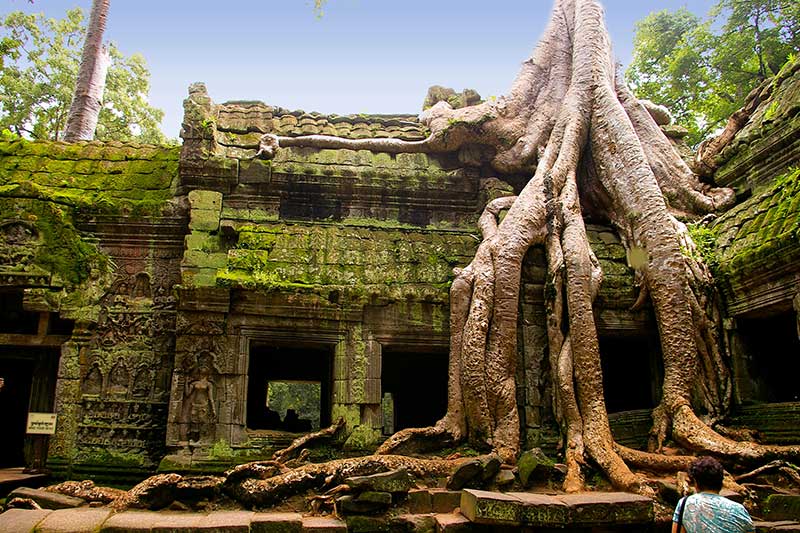 Lara Croft: Tomb Raider" is filmed in Ta Prohm
6. Angkor Wat was built under the Khmer civilization, which was so powerful to the point that it dominated not only Cambodia but also other Southeast Asia countries for 600 years. However, this empire then collapsed for no apparent reasons. Researchers suggest that an environmental collapse may have played a major role in the Khmer civilization's disappearance.

7. It took estimatedly 300.000 workers, 6,000 elephants and 35 years to build Angkor Wat. With that speed of construction, how Angkor Wat was built exactly still remains a myth to researchers. Much smaller buildings which contained less stones in Europe took three or four hundred years to construct. Even considering the 300.000 workers that built it, the speed at which the temple was completed is still astonishing.

8. Beside the fact that Angkor Wat was constructed as a Hindu temple dedicated to the god Vishnu, a large number of scholars suggest that Angkor Wat must have existed primarily as a tomb. The reason behind this theory is that the orientation of this temple is the West – which is unusual since similar temples in the region are directed towards the east and the west is, symbolically, the direction of death.

9. Some myths say that the temple was constructed mathematically to be in harmony with the universe, and the distances and sizes in Angkor Wat are related to the Indian mythology. Therefore, Angkor Wat is called "The replica of universe" and it represents an earthly model of the cosmic world.

10. Angkor Wat was first a Hindu religion temple and then later it was turned into a Buddhist temple. If you have never heard of a religion sharing shrine, Angkor Wat is the one.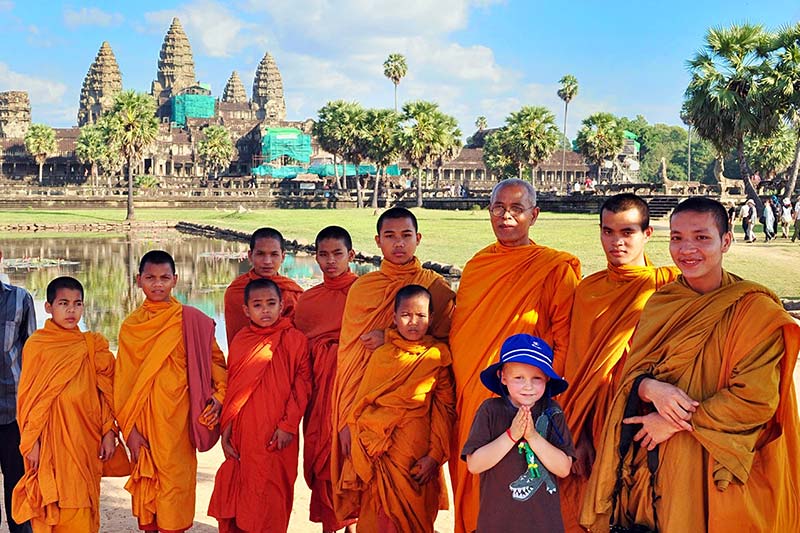 Angkor Wat was a religion sharing site, which served both Hinduism and Buddhism
11. For its important contribution to both Hinduism and Buddhism, Angkor Wat was declared as a World Heritage Site by UNESCO in 1992.

12. Angkor Wat is considered as the heart and soul of Cambodia and the source of Cambodians' national pride. That is why this temple appeared in the national flag of Cambodia, making this country one of only two countries that put a monument in their national flags.

13. Its visitors make up of about 50% Cambodia visitors each year, making Angkor Wat a must-visit for any foreign tourists in their holidays in Cambodia.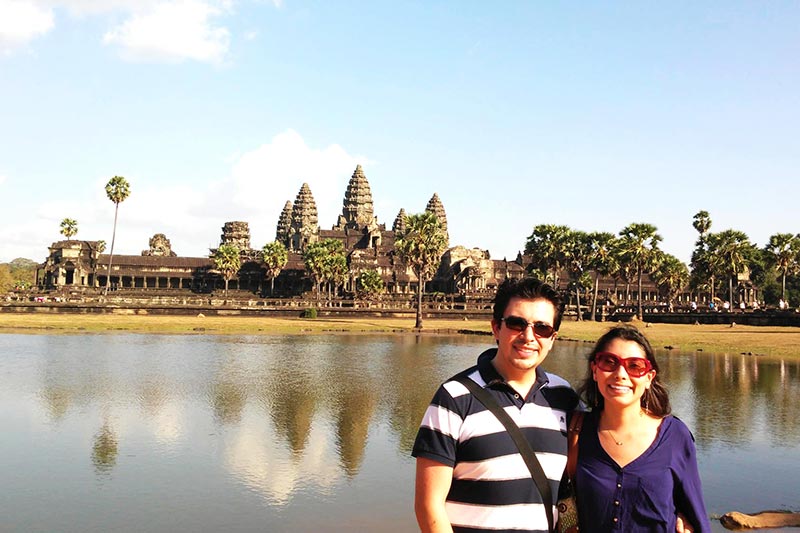 With such impressive facts and myths, this temple has once again challenged our prevailing belief that our civilization is far more advanced than civilizations that existed in the past. For that reason, Angkor Wat is worth every tourists' attention and visit in their Cambodia private tours.
---
Read more:
Travel guide to visit Angkor Temples, Siem Reap
13 interesting facts after Cambodia travel
View tour: