Laos is probably the most obscure place on the tourist map of Southeast Asia, often overshadowed by its neighboring countries. Being isolated from the rest of the world for years, just a few people put Laos in the travel list. However, Laos is surprisingly gorgeous with its untouched beauty. Check out the list of 9 beautiful places that will change your mind and make you want to pack your luggage and travel to Laos right away
1. Vang Vieng
Located approximately 150km from the capital Vientiane, Vang Vieng is a small town in the vast acres of green mountains. Well, every corner in Vang Vieng looks like a scene from a postcard. Vang Vieng is embraced by dreamlike karst mountains, underground rivers and scenic cliffs, and it guarantees an awesome experience for adventure lovers. Just with the peaceful and tranquil countryside on Nam Song River, Vang Vieng attracts a huge number of tourists every year.
Vang Vieng town
2. Khoun Kong Leng Lake
In Khammouane Province, Khoun Kong Leng Lake located around 30 km north of Thakhaek town in the Phu Hin Pun foothills. The lake is stunningly beautiful with crystal clear water and bright emerald colour. The luminescent green water comes from an underground river which flows through the limestone layer located around the mountain. In the local language, "Kong Leng" means "Evening Gong" and the lake is believed by local people that it has mystical powers and the ability to ring a gong in the dead of night on full moon.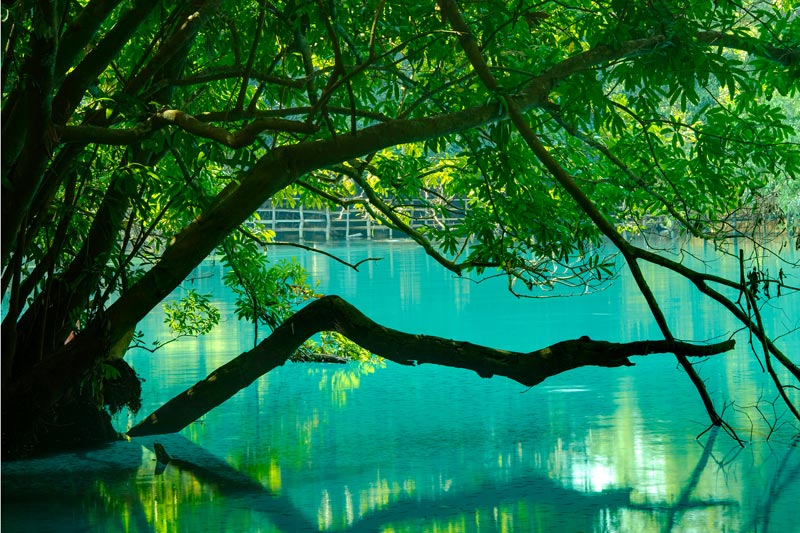 Khoun Kong Leng Lake
3. Pha That Luang
Great Sacred Stupa, namely Pha That Luang is a gilded stupa in Vientiane which is the most important national monument and a great pride of Laos people. The stupa was built by a Laotian King on an old Khmer temple in the 16th century. Despite the ups and downs in its history, Pha That Luang is still an amazing place that tourist must not miss when visiting Vientiane.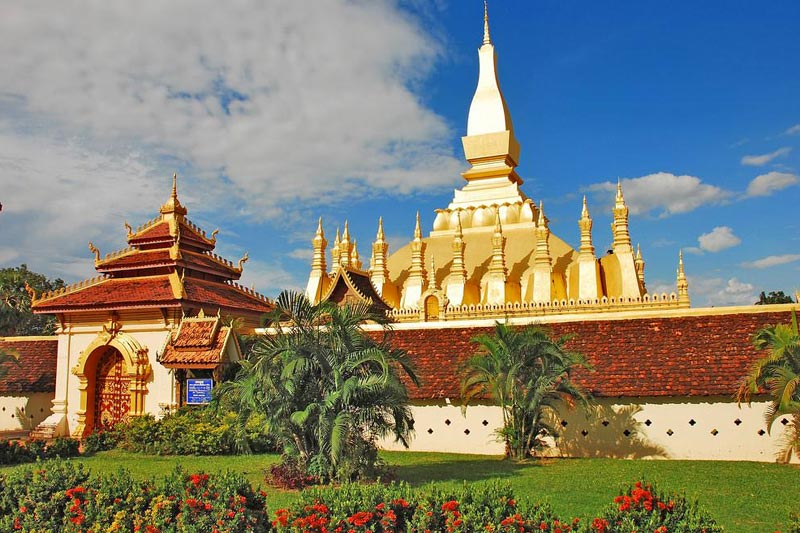 Pha That Luang in Vientiane
4. Kuang Si Waterfalls
Kuang Si is a giant waterfall that flows through limestone-rich jungle and empties out into a series of three gently cascading pools. From the lowest one, each pool seems like a step on your way up to a holy temple. Breathtaking cascades of water make the Kuang Si one of Luang Prabang's most popular tourist attractions. The journey to the waterfall is worth taking time over with vistas across rice fields and the opportunity to meet locals along the way. Legend has it that a wise old man summoned the water by digging into the earth. Then a golden deer made its home under a rock protruding from under the new waters. That's where the name Kuang Si comes from: Kuang means deer, and Si means dig.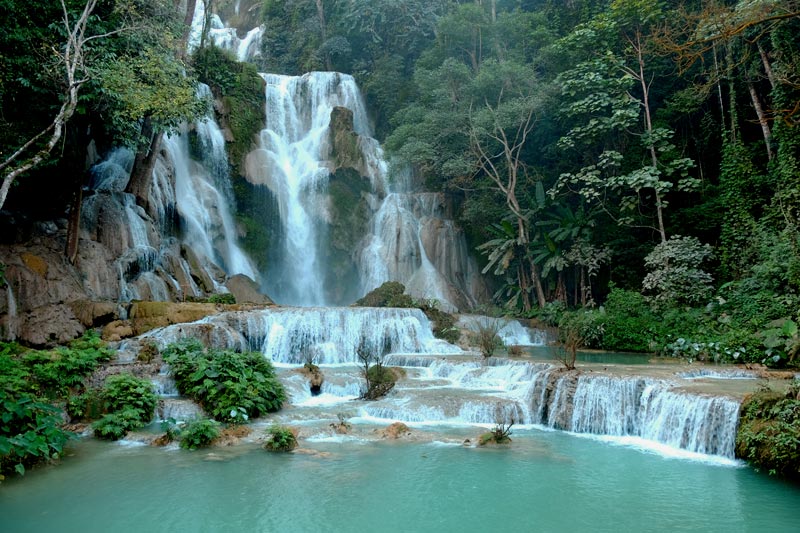 Kuang Si waterfalls
5. Plain of Jars
The Plain of Jars is considered the most distinctive and enigmatic of all Laos attractions. The large area around Phonsavan, the main city of Xieng Khouang Province is dotted with stone jars but no one has a clear idea as to why they are there. The mysterious jars were carved from both sandstone and granite in various sizes from very small to about 3.5 metres high and are thought to be more than 2,000 years old. Legend has it that they were made to store rice wine while some believe they were for storing the dead. Until today the function of the jars is still disputed although they have been discovered over a century ago.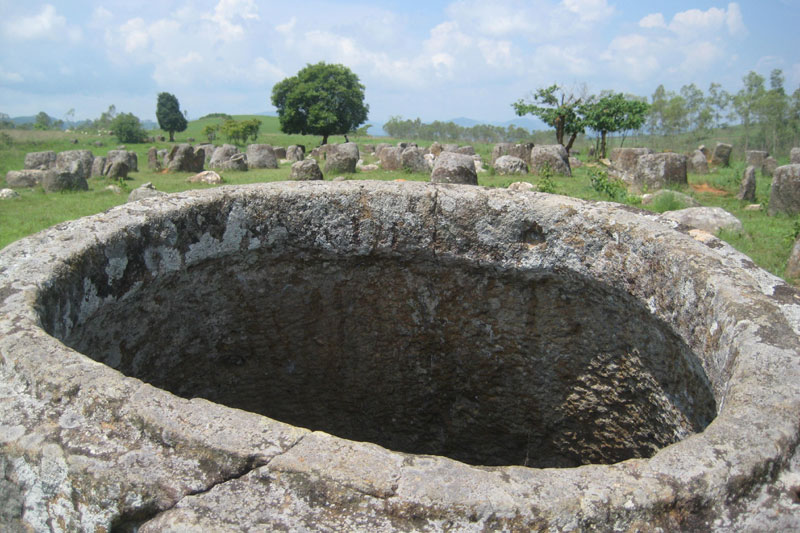 Plain of Jars in Xieng Khouang province
6. Tham Khoun Xe Cave
Tham Khoun Xe Cave, also known as Xe Bang Fai River Cave, is an immense river cave located in a remote corner of Khammouane Province in central Laos. It is believed to be one of the largest river cave in the world with enormous passages some 120 meters tall and 200 meters wide. In the cave there is a good green forests thrive at the entrance to the cave, the forest green color contrasts with white, orange strips of terraces, creating a unique array of colors, exquisite on the limestone walls.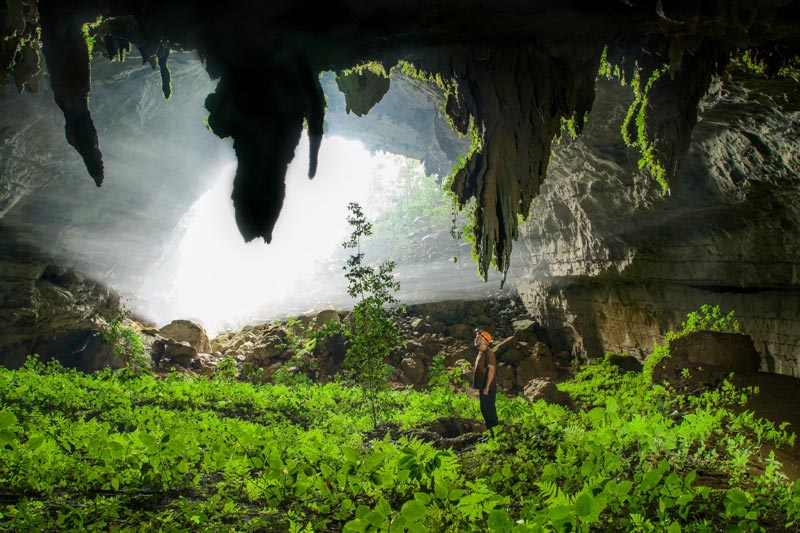 Tham Khoun Xe Cave
7. Si Phan Don
Si Phan Don in Lao language means 4000 islands, a destination that any visitor to the country of million elephant would like to have a visit. Mekong River at this stage bulges to the breadth of nearly 14 km – the river widest reach with 4,000 islands which they call Don. Si Phan Don is an archipelago of islands where the pendulum of time swings slowly and postcard-worthy views are the rule rather than the exception. Many a traveler has washed ashore here, succumbed to its charms and stayed longer than expected.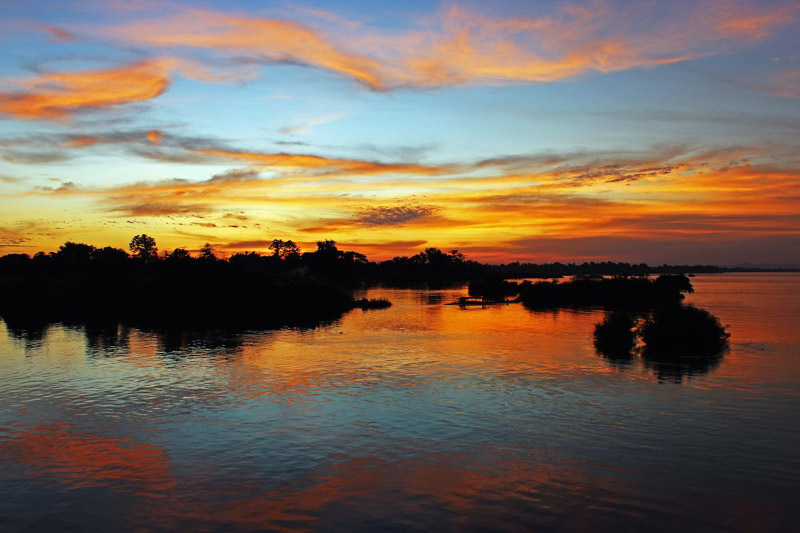 Sunset at Si Phan Don (4000 islands)
8. Wat Phu
Wat Phu (meaning 'mountain temple'), is situated on a hillside and offers stunning views over the surrounding land and Mekong River. Visitors who appreciate art and history will be amazed by the magnificent workmanship in this ruined Khmer temple complex in the form of temple pillars, barays, lintels, pediments, terrace, courtyard, walls, doorways, sanctuary, shrine, library and palaces. Older than the great temple complex at Angkor Wat in Cambodia, Wat Phu was named a World Heritage Site by UNESCO in 2002.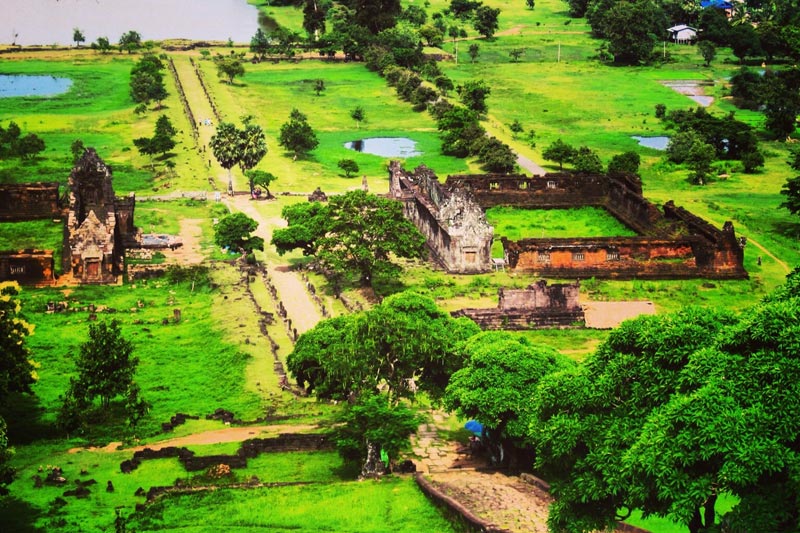 Wat Phou
9. Pak Ou Caves
One of the most respected holy sites in Lao; Pak Ou Caves have a history dating back thousands of years. Packed with over 4,000 Buddha icons, the caves, a shrine to the river spirit and Lord Buddha, are set in a dramatic limestone cliff at the point where the Mekong joins the Nam Ou River. There are two caves to visit, the lower cave called Tham Ting and the upper cave Tham Theung, both boasting miniature Buddhist figures that are mostly made from wood.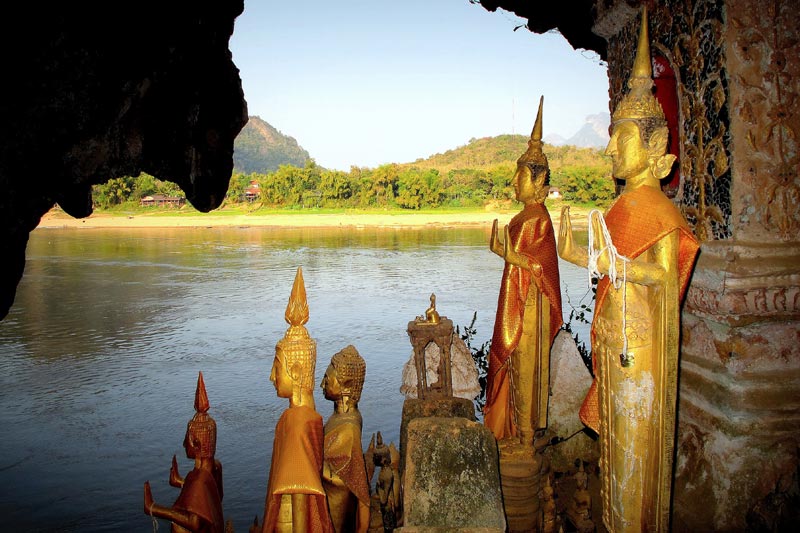 Pak Ou Caves
View tour: Vietnam - Laos Discovery 14 days