Autumn in
Hanoi
is certainly a time that people and tourists look forward to. Experience Hanoi's autumn with a series of
casual and simple activities
that will make you love the capital of
Vietnam
even more. Visitors will have the opportunity to
enjoy the chilly air, enjoy warm dishes or walk around streets filled with fallen yellow leaves
. If you want to have a
Vietnam Private Tours
trip to the Capital right at this time, let's join Nadova in taking a look at the Hanoi autumn experiences that cannot be missed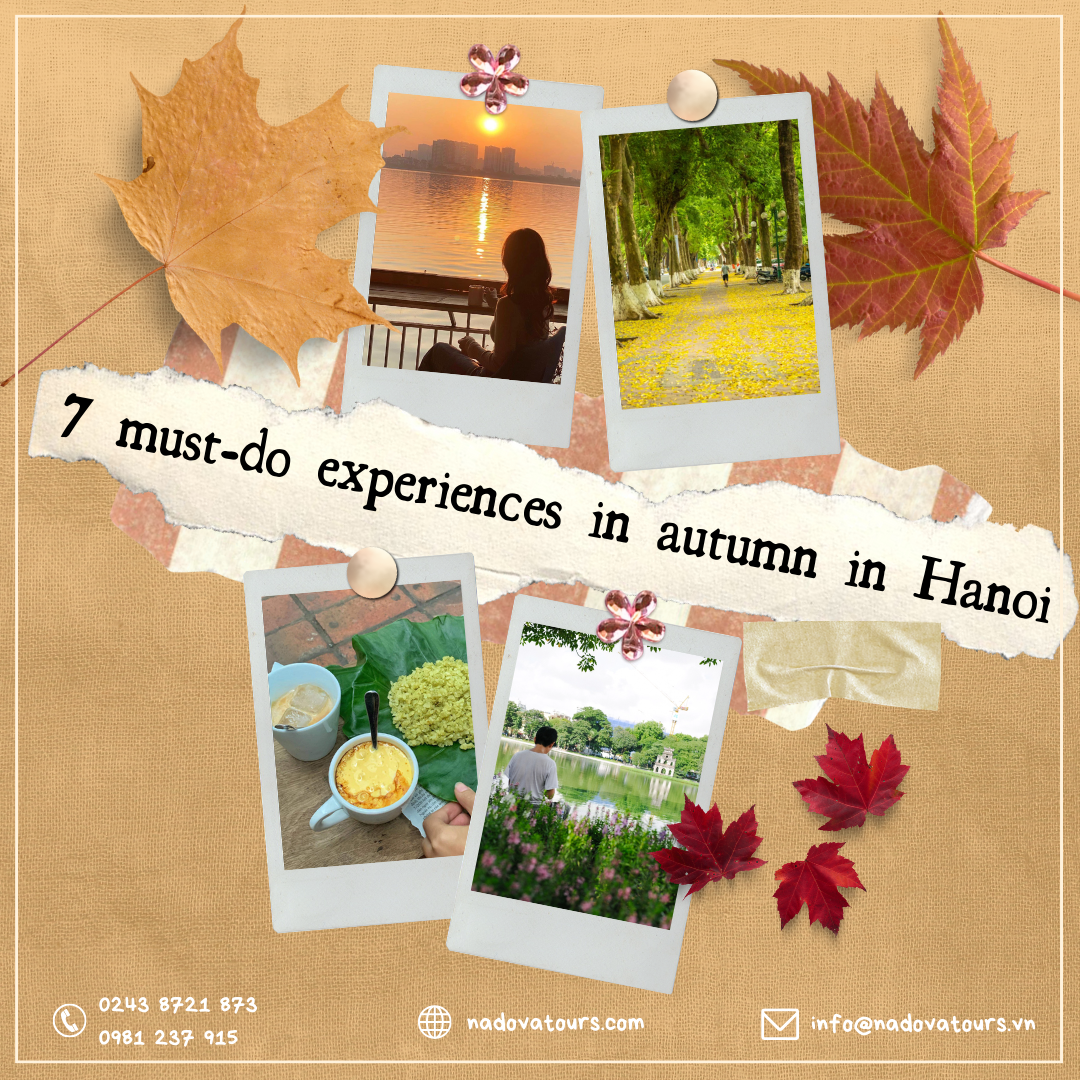 Eating Com (Green Rice) - Hanoi's autumn specialty
When talking about autumn specialties in
Hanoi
, you cannot ignore Com- Green Rice. This is a special gift made
from young green sticky rice
, fragrant with milk, making diners nostalgic every time they enjoy it. Com is wrapped in potato leaves, wrapped in lotus leaves, and tied with straw to prevent it from drying out. When walking around Hanoi's Old Quarter in the fall, it is not difficult to
see women selling fresh green rice and sticky green rice.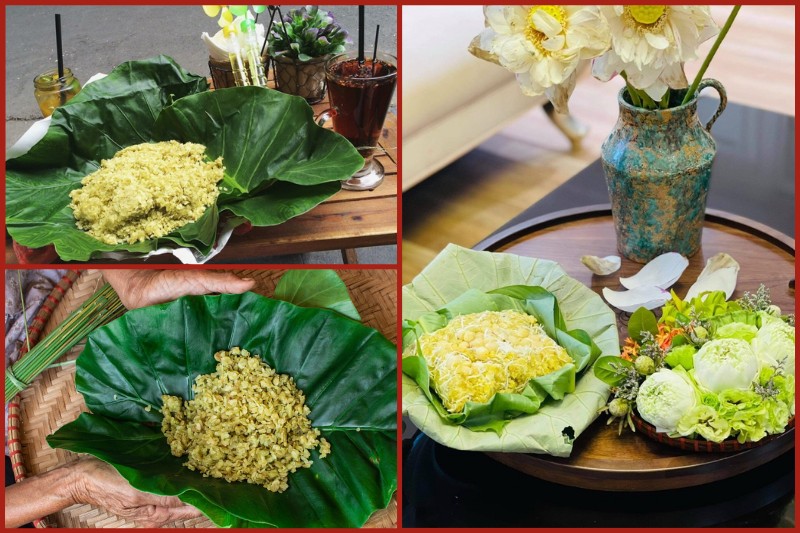 (Eating Com (Green Rice) - Hanoi's autumn specialty)
To enjoy Com properly, diners must
taste it slowly
so that they can slowly feel the fragrant and sweet flavor in each grain of green rice. Hanoi people often like to
use ripe banana peppers
to dip into green rice. This combination creates a special, unforgettable flavor.
Sitting on the sidewalk and sip a cup of coffee
There is no more beautiful season than autumn in
Hanoi
and it is extremely suitable to
go to Hanoi's beautiful outdoor cafes for the most romantic moments of sightseeing
. When it comes to drinks with a strong culinary flavor in the capital, surely everyone immediately thinks of
egg coffee cups
. Each cup of whipped cream is made from two egg yolks beaten until fluffy. The combination of eggs and coffee creates a fragrant, nutritious and not at all fishy drink.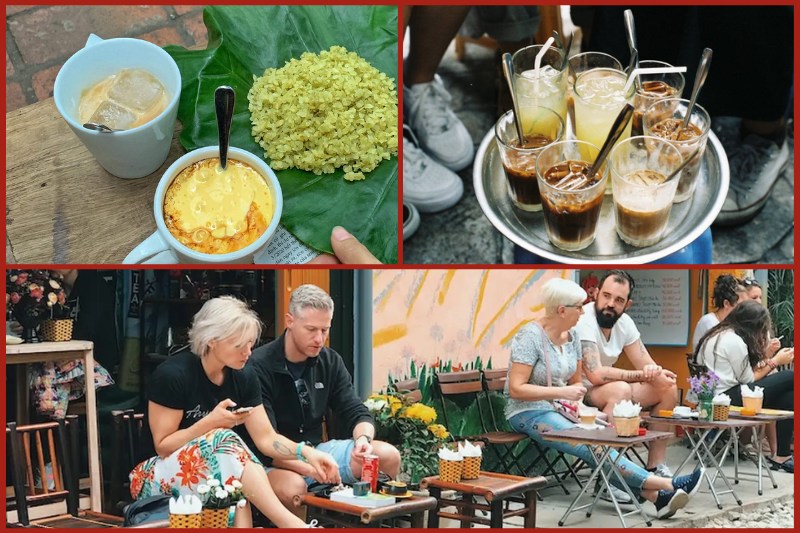 (Sitting on the sidewalk and sip a cup of coffee)
Besides, Hanoi has many shops
selling traditional coffee using familiar aluminum filters
. If you want to truly experience Hanoi's autumn in
Vietnam Customized Tours
, you can wake up early,
take a leisurely stroll and then visit a row of sidewalk cafes
.
Strolling around the banks of Hoan Kiem Lake
Hoan Kiem Lake is a famous place, the heart of the capital Hanoi. Every time we harvest, there are more and more colors of flowers, trees, and even lake water. In particular,
walking around the middle lake to enjoy the cold weather of autumn is also loved by many tourists
.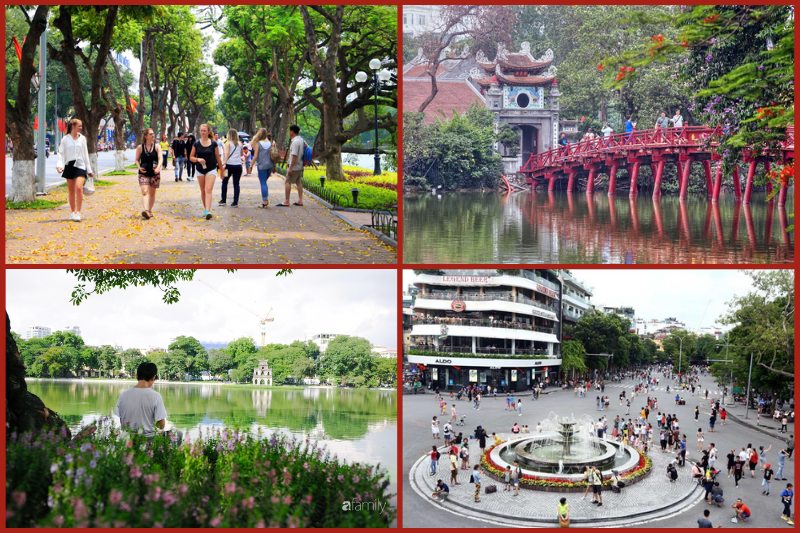 (Strolling around the banks of Hoan Kiem Lake)

When standing on both sides of the lake and looking out into the distance, you will immediately see the image of the quiet Turtle Tower in the middle of the lake, the Pen Tower - Dai Nghien (symbol of the studious tradition of Vietnamese people and The Huc Bridge is painted prominently in red, leading to the sacred Ngoc Son Temple.

Filling your stomach with warm dishes

Coming to Hanoi in the fall, hot dishes to dispel the cold atmosphere will be the top choice of every visitor. Step into any street on the street and you will see small shops and street vendors selling hot dishes such as Pho, Banh Duc Nong (Hot plain rice flan), Bun Cha (Vietnamese grilled pork and noodle), Sticky Rice, Bun Mang Vit (Vietnamese duck, bamboo and noodle),…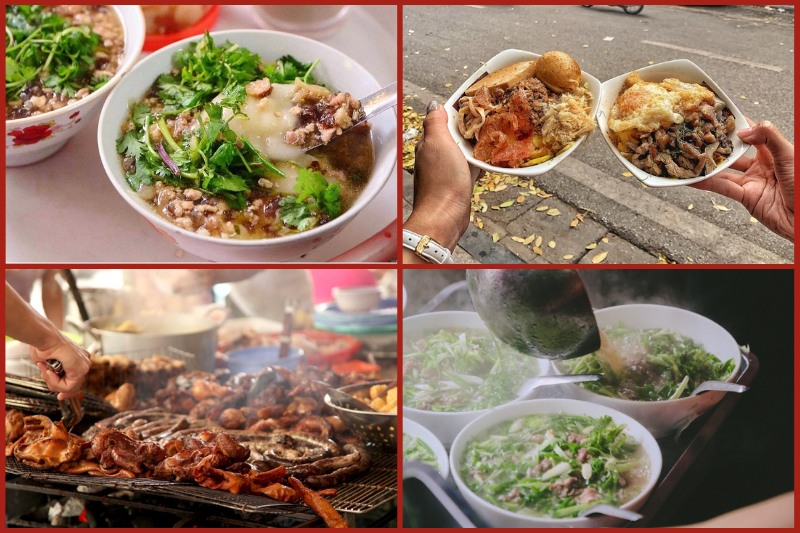 (Filling your stomach with warm dishes)
Hanoi's Old Quarter is one of the "meccas" of the capital's cuisine when a series of famous restaurants appear here. You can
go to markets
to enjoy a variety of different dishes at affordable prices such as Dong Xuan market, Mo market, Long Bien market,...
Watching falling yellow leaves and take photos on Phan Dinh Phung street
Phan Dinh Phung Street has become a symbol of Hanoi's autumn and is known as
one of the most romantic streets of the capital.
Fall comes, the old trees along the road begin to lose their leaves, making the road covered with
beautiful falling yellow leaves
. Walking around Phan Dinh Phung street to immerse yourself in the
romantic space
, admire the unique architecture and enjoy rustic dishes, you will appreciate the ancient corners of Hanoi even more.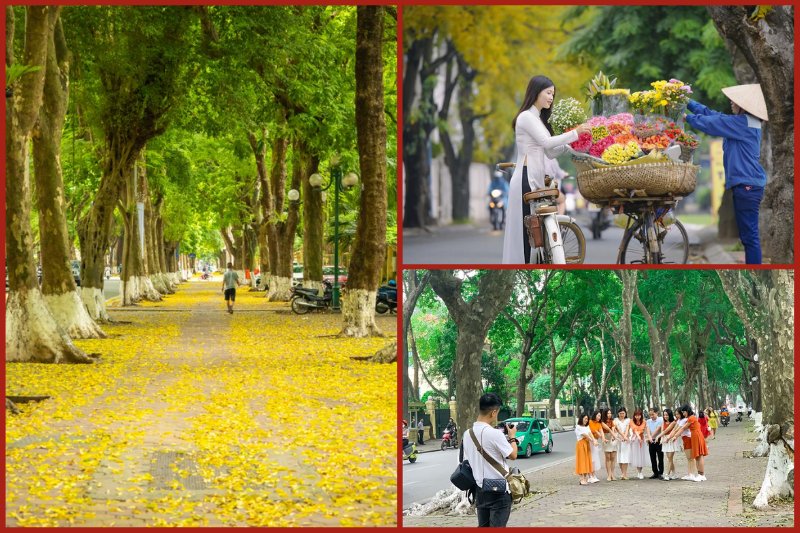 (Watching falling yellow leaves and take photos on Phan Dinh Phung street)

This poetic scene attracts many young Hanoi people as well as photographers to come here to capture this beautiful moment. In particular, nowadays there are often colorful flower stalls such as lotus, sunflower, hydrangea, etc. This makes the autumn atmosphere more vivid than ever.

Admiring the West Lake sunset

West Lake is considered the most beautiful place to watch the sunset in Hanoi. In the autumn afternoon, when dusk begins to fall, the red sun silhouettes on the lake, reflecting the sunset sky, creating a beautiful scene. In the chilly autumn afternoon weather, we temporarily ignore the hustle and bustle of the streets and immerse ourselves in the moment between afternoon and evening, making our souls strangely peaceful.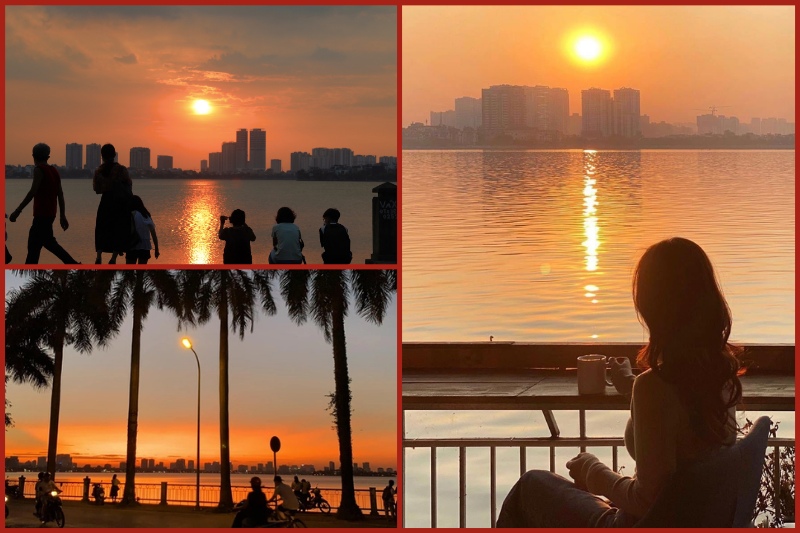 (Admiring the West Lake sunset)

An interesting activity that many tourists experience when coming to West Lake is cycling around the lake. Don't forget to stop and check in at lakeside roads such as Thanh Nien street, Japanese wharf, Korean wharf... Then visit Tran Quoc pagoda, Tay Ho palace, Quang Ba flower market to discover more beauty. of the Capital in autumn in Vietnam Private Tours.

Seeing and smelling the milk flowers in Hanoi

When autumn comes to Hanoi, the sweet scent of milk flowers begins to spread throughout the streets. This flower has become a symbol of autumn, imprinted in the memories of many generations. The tiny, white flowers form small clusters to create a white space. Just one blooming milk flower tree is enough to fill the whole street corner with its fragrance.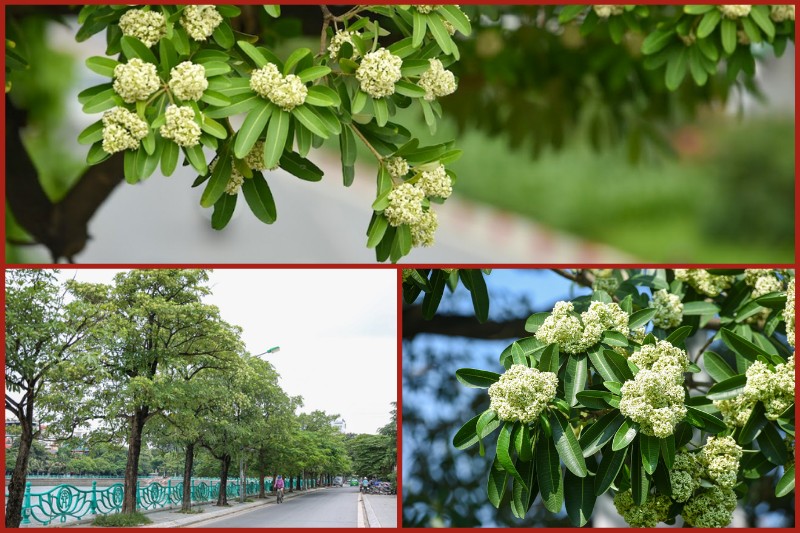 (Seeing and smelling the milk flowers in Hanoi)
Although not everyone can get used to this scent, this is also an experience worth trying in the fall.
Milk flowers are grown a lot in Hanoi
, in which Quan Thanh, Nguyen Du or Le Duan streets are the streets with the most milk flowers.
Perhaps in the minds of many people, Hanoi is a cramped and crowded city. However, the capital of Vietnam still has
peaceful and romantic moments
, especially in the autumn- a season that easily makes people nostalgic when going away. So if you have the opportunity to travel to Hanoi in the autumn on
Vietnam Customized Tours
, you must definitely
experience all the simple things that only the autumn Hanoi has
.