Traveling to Mekong Delta is definitely a must-do for every first-time visitors to Vietnam. The entire Mekong Delta covers around 39,000 square kilometers of rich and lush area. The nickname of Mekong Delta is "The rice basket of Vietnam" for the massive rice fields and fish farms that yield sizeable surplus to feed the country. Besides that, Mekong Delta is also considered as the biological treasure trove with over 1,000 species in the same region. The beautiful attractions and the local unique lifestyle feature the region's diversity that make Mekong Delta as the most visited place for tourists in South Vietnam. A trip to Mekong Delta is such a memorable experience that can be a highlight on any Vietnam Customized Holidays. Here are some fun and interesting things for travelers to do in Mekong Delta: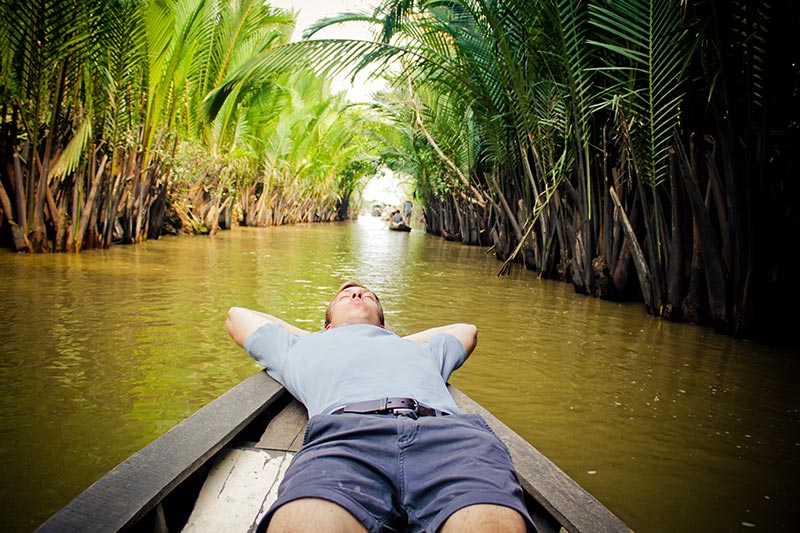 1. Cruise the rivers and row sampan through canals
There is no better way to explore Mekong Delta than traveling on the waterways. Cruising the rivers on boat and rowing traditional sampans through the labyrinth of small canals give tourist a unique experience of this region. From the boat cruise, travelers will get to see the beautiful sights of lush orchards, lines of coconut tree, colorful floating markets and the yellow or green rice paddies. Several stops on the way for visiting a coconut candy factory or a brick kiln is the typical thing to do on a Mekong Delta tour.
Undoubtedly, rowing a traditional sampan zigzag the endless canals lined with coconut trees and exotic fruits gardens of Mekong Delta is the most interesting activity of a Vietnam Custom Holidays and should not be missed.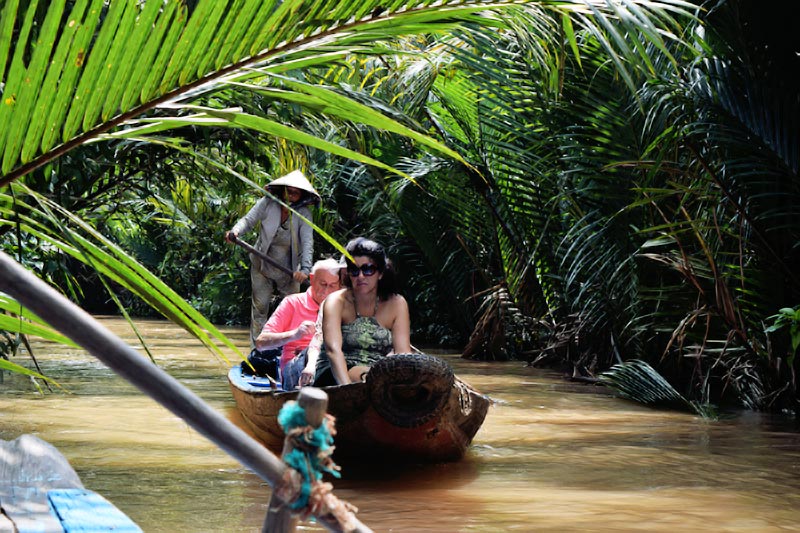 2. Visit the floating markets
The most special thing that makes Mekong Delta unique and different from other destinations in Vietnam is the vibrant floating markets. The sellers with their goods are all on the boat and in order to help buyers notice their goods, the sellers hang a sample on top of the pole on the boat. Floating markets sell all kinds of goods, vary from live animal to fresh fruit and vegetable. In fact, discovering floating markets of Mekong Delta is truly a wonderful way to understand the local lifestyle and interact with friendly people of the delta.
The most famous floating markets are Cai Be (Tien Giang) and Cai Rang (Can Tho). It is easy to visit the market, normally a day-trip is good for visiting Cai Be Market from Ho Chi Minh City or a more relaxing 2-3 day-trip Ho Chi Minh City to Can Tho can include visiting to Cai Rang Market. These kind of tours can be organized by any Vietnam travel agent.
There are also other interesting floating markets to visit in Phong Dien, Tra On, Chau Doc and Long Xuyen. Immersing yourself in the fresh and amazing atmosphere of floating markets with locals is the best way to feel the lifestyle of Vietnam, do not miss this chance on your Vietnam Custom Tour.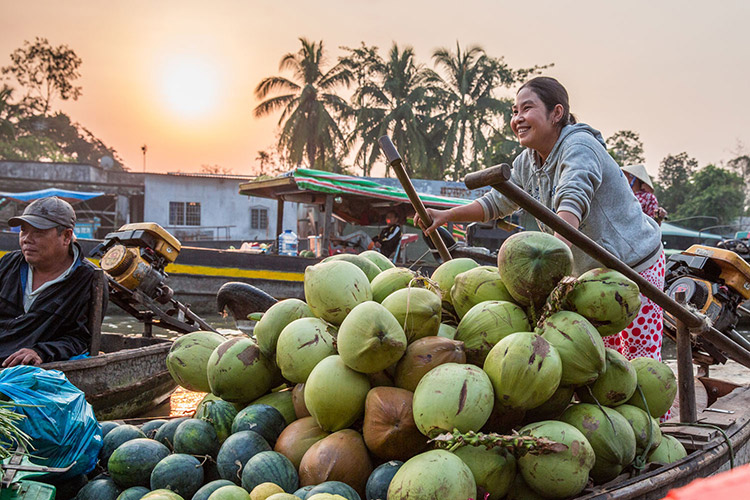 3. Ride bicycle on narrow village roads
Beside the countless rivers and canals, the quiet narrow village roads in Mekong Delta is perfect for discovering by a cycling tour. This is another world where locals live in such a peaceful life, surrounded by lush orchards, rice fields, fish ponds and coconut trees. Cycling in this area is not only to see the beautiful sights but also to interact with the super friendly people and feel the laid-back local life. It is absolutely a chance to stay calm and relax after a long journey.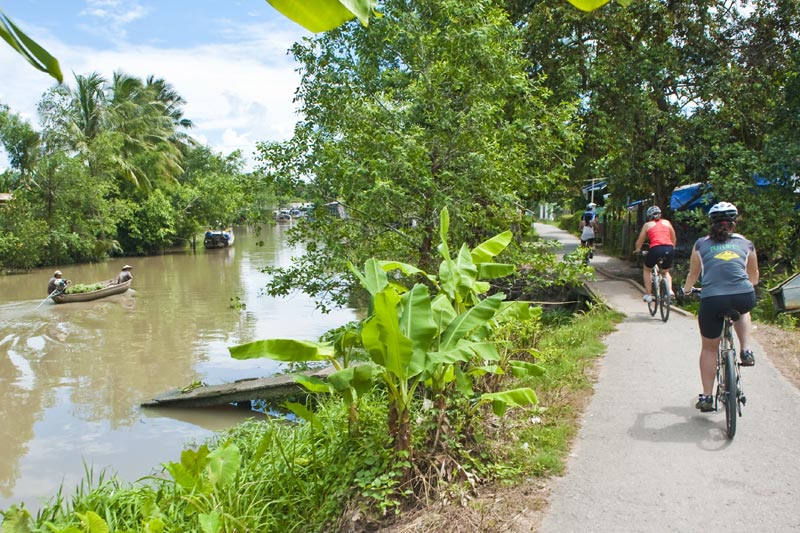 4. Taste fresh fruits in local gardens
Mekong Delta is famous not only for being a massive rice basket but also a heaven for tropical fruits. Thanks to the fertile delta and pleasant weather, the local orchards seem to have fruits all year round, such as dragon-fruit, plum, mandarin, orange, mango, coconut, durian and jackfruit. After rowing the sampan through small canals, visiting a local orchard, picking and tasting fruits while listening to funny stories of the host have become highlights of any Mekong Delta Tour. Further, it is also a great opportunity to broaden your knowledge of tropical fruits, especially for Vietnam Family Tours when the children can play and learn more in the fruit gardens.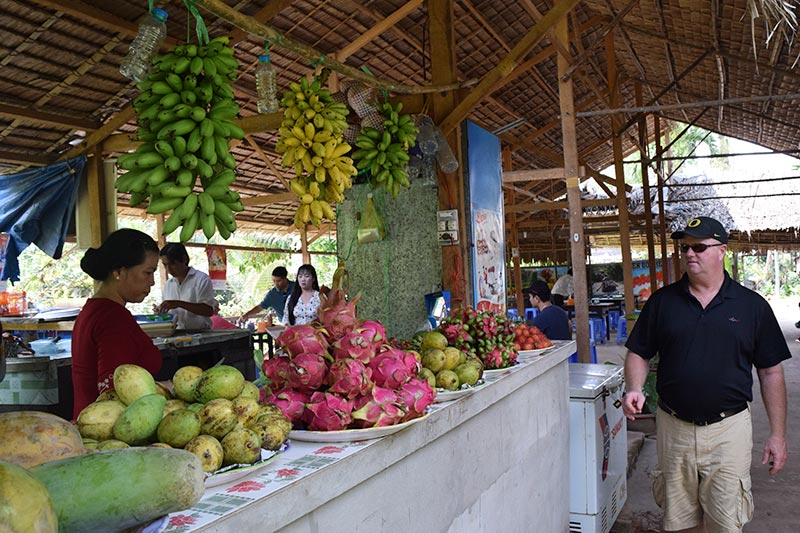 5. Catch and cook fish
Why don't go fishing while you are in the maze of rivers, canals and lakes. Mekong Delta is so lucky to have a great natural environment for many kind of fresh water fish. There are many fish farms in the region that can offer chances for fishing and then enjoying your own achievement by cooking fish with the fresh ingredients in the garden. Buckets of bamboo baskets can be used to catch small fish while a bamboo rod is good for bigger fish like carp, catfish or elephant ear fish. If you are traveling to Mekong Delta with your family, catching and cooking fish is a recommended activity to join.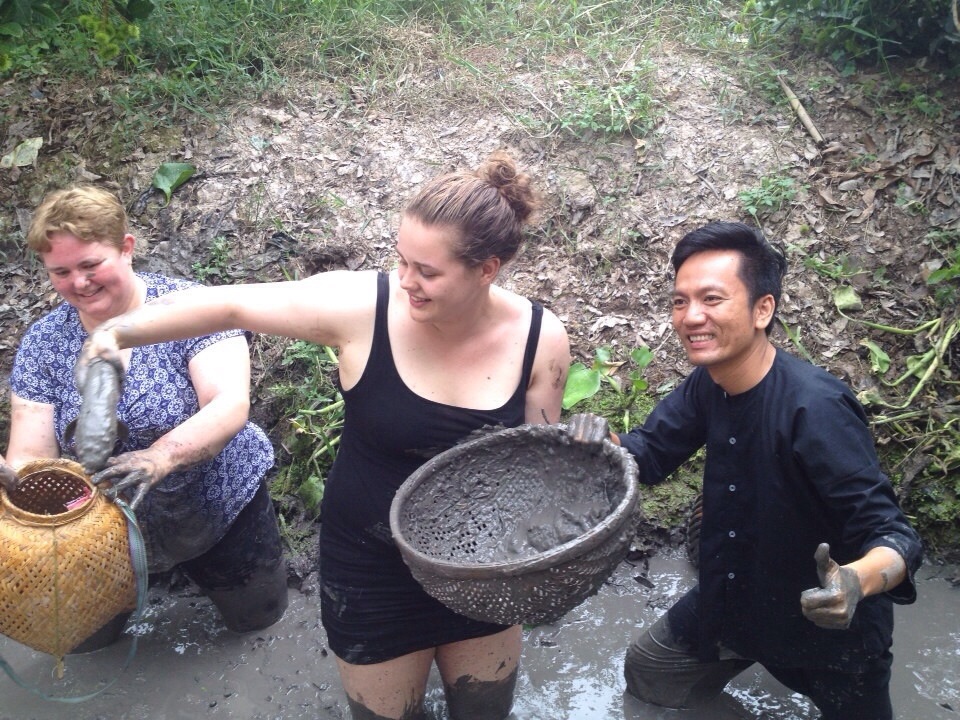 6. Visit islands around My Tho
My Tho is a gateway to Mekong Delta and it has several islands that are really worth a visit by boat. Con Long (Dragon Island) is the closest one and has the most inhabitants, Con Lan (Unicorn Island) is the largest island with a large tropical orchard, Con Quy (Turtle Island) is the smallest one while Con Phung (Phoenix Island) is special with a temple of a coconut monk. These islands are beautiful, peaceful and perfect stops for a day trip to Mekong Delta from Ho Chi Minh City. In My Tho, Vinh Trang Pagoda is also a recommended place to visit and learn about the Theravada Buddhism in Mekong Delta.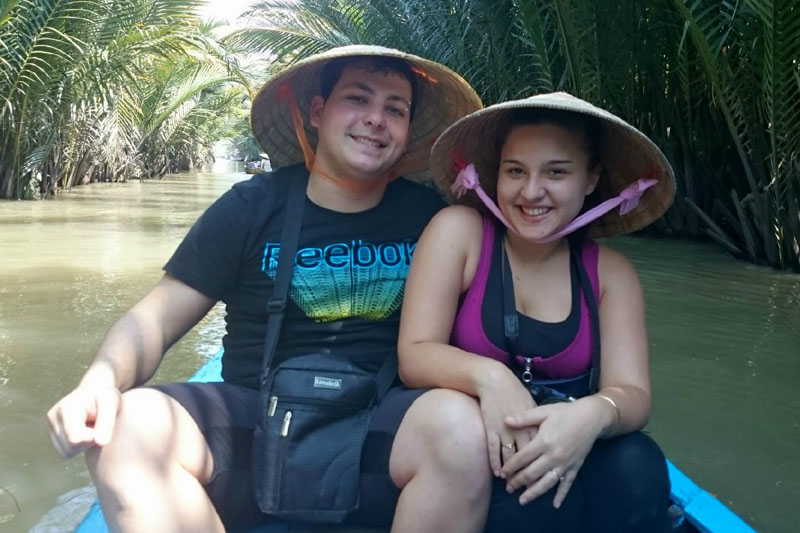 Related posts:
7 awesome things to do in Hanoi
6 brilliant things to do in Hoi An
5 amazing things to do in Sapa
How to spend 12 days in Vietnam