When travelling to Da Nang on a Vietnam private tour, there are many things you want to try within a limited budget of time and money. If you prefer relaxing moments, lying down at My Khe Beach – one of the most beautiful beaches in Asia, is an ideal choice. If you are into ancient architectures then My Son Sanctuary is a wise selection. But if you fancy adventurous experiences, there are 5 things you can try in Da Nang, check it out!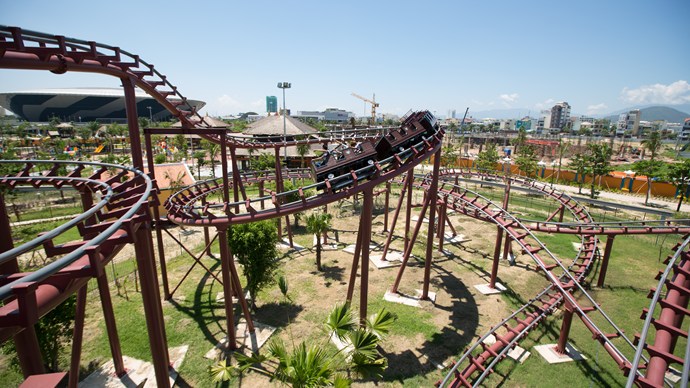 4 adventurous things to try in Da Nang (photo credit: hemerahotel.com.vn)
1. Enjoy thrilling games at Asia Park or Ba Na Hills
Da Nang is the city where you can find yourself a lot of parks to enjoy thrilling games from indoor to outdoor, from inland to underwater. Among these parks, Asia Park and Ba Na Hills stand out as the most popular ones.
Not only being an impressive park in Vietnam, Asia Park is also recognized as one of the most modern amusement parks in South East Asia. There you can have a great adventurous experience with thrilling games such as Singapore Sling, Sky Treasure, etc. If you would love to test your bravery then these games are absolutely made for you.
Besides Asia Park, Ba Na Hills is one of the must-visits when travelling to Da Nang on a Vietnam customized tour. An interesting fact is that Ba Na Hills was honored to be the "Top Tourist Destination of Vietnam 2018" in the award ceremony of the Vietnam Travel Awards 2018 for enterprises who made notable contributions to the overall development of Domestic tourism. That is why you should never miss out on this tourist attraction when visiting Da Nang.
Like Asia Park, there are many things you can discover in Ba Na Hills. The admirable beauty of French Village, the well-designed Golden Bridge and of course, fascinating and thrilling experiences at Fantasy Park and Alpine Coaster – where the cars can go up to 40km/h. Wandering around Ba Na Hills can take you one day, so prepare your time and itinerary.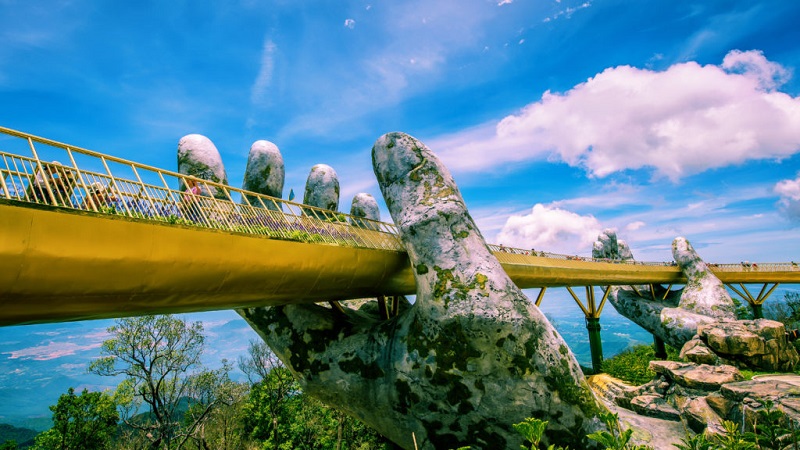 There are many things you can explore in Ba Na Hills (photo credit: banahills.sunworld.vn)
2. Explore Hai Van Pass
When travelling from Da Nang to Hue or vice versa, it is worth taking a journey over the Hai Van Pass – recognized as the highest and one of the most scenic passes in Vietnam.
Standing on the peak of Hai Van Pass, you will have the chance to witness the stunning landscape of Da Nang city. And on your way to the peak, you can catch a glimpse of Vietnamese history through several wartime gun towers, the ruins of a fort during the Vietnam War, the ancient Tran Dynasty's Hai Van Gate, etc.
That is why Hai Van Pass is a perfect place to oversee the city of Da Nang and trace back to Vietnamese history. There are several ways to travel through Hai Van Pass and if you are an adventure lover, you can consider renting a motorbike to fully your explore this pass. But since there are dangerous bends on the pass, taking safety precautions is recommended.
Apart from that, it is convenient for you to enjoy great views and take beautiful pictures along your journey. On your Vietnam customized holiday, it is absolutely an experience you should not miss!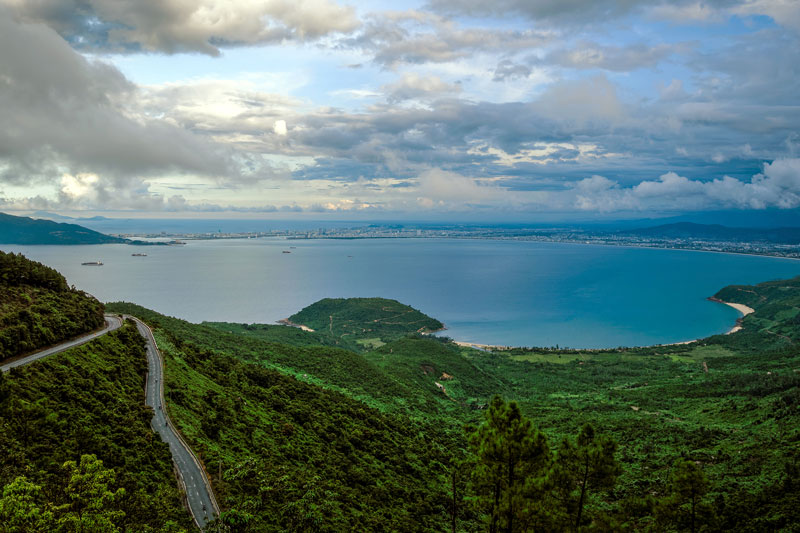 Hai Van Pass can bring you unforgettable experience (photo credit: danang-shopping.com)
3. Hike at Son Tra mountain
Son Tra Mountain, locally known as Son Tra Peninsula, is a breath-taking national park as well as an ideal retreat for tourists looking for a way to escape the heat and traffic of the city. The mountain is covered in green and surrounded by pristine beaches such as Bai Bac, Bai Nam, etc. – which makes this destination worthy of your time.
The winding and inclining road around Son Tra Mountain is suitable for motorcyclists, however, only powerful ones are allowed. Besides, enthusiastic hikers can also enjoy their experience spotting rare species of red monkeys that are hardly found anywhere else in the world along the verdant jungle trails. It will absolutely one of the most wonderful memories of any Vietnam customized tour!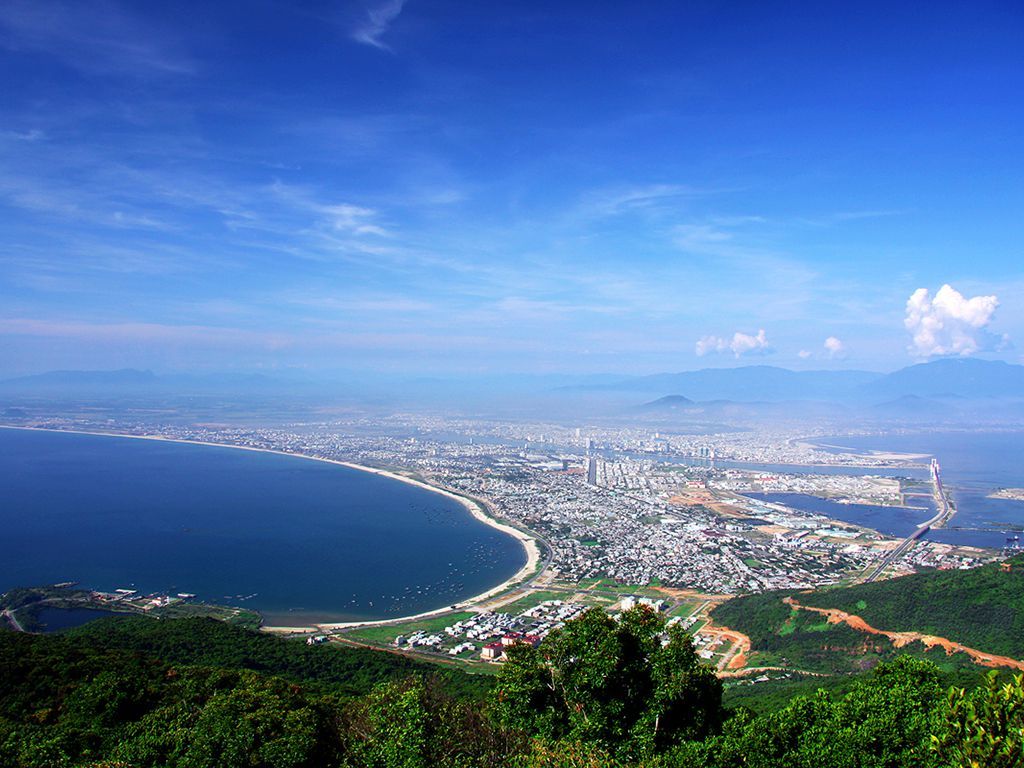 Son Tra is an ideal choice for enthusiastic hikers (photo credit: justgola.com)
4. Parachute at the beaches
Da Nang, besides its modern civilization, is famous for marvelous beaches. My Khe beach is the most amazing one and it is also recognized as one of the most beautiful beaches in Asia.
There are a wide range of activities you can take part in when visiting My Khe Beach. Of course, relaxing and admiring its beauty is not a bad choice but there are other adventurous things you would love to try to test your limits.
You can choose to surf or to parachute at the beach. When parachuting, you will be flying in the blue sky to admire the vast ocean and be immersed in the wild nature. The thought of flying high comes with the fear of falling down might scare you a little bit, but the sight of a vast ocean in front of your eyes will surely be a significant reward. Tying your safety bells and complying with safety regulations and you are free to go into the wild. On your Vietnam vacation, it must be a moment to remember!
---
Read more:
5 interesting facts that will make you want to travel to Da Nang
Top dishes to try when travelling to Da Nang
View tour: Absolute Vietnam Holidays 15 days