This is a private tour with a flexible schedule. There is no other traveler on the tour. You will have a private English speaking tour guide and a private air-conditioned vehicle in each destination. This is meant to be a sample tour and can always be customized to meet your personal needs and travel budget.
Planning the tour with Nadova Tours:
- Prompt response in 0.5-10 hours
- Supported always by private travel consultant
- Free tour enquiry, no charge
- Unlimited changes, no charge
It is an unquestionable truth that your holiday enjoyment will be increased by a good choice of accommodation. For many years of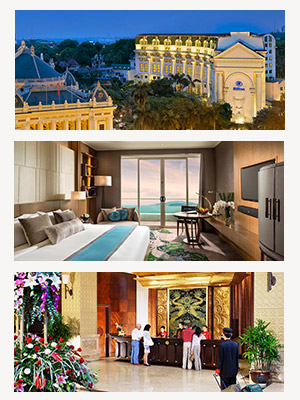 experience in tourism, Nadova Tours has established a list of best hotels and resorts around Indochina area that will bring you more benefits of competitive rates and guaranteed quality with availability.
We pick hotels for you based on:
Location: The hotels must be centrally – located, close to the main attractions or main transportations and most convenient for you to enjoy your holiday.
Facility & Service Quality: We only used hotels that are inspected strictly and regularly, must be with great performance on accommodating English speaking customers, and excellent feedbacks from our pervious clients as well.
Variety in Choice: We offer many styles and grades of hotels which are available for different budgets, tastes and culture backgrounds.
Hotel Standards Information
3-Star Class (Standard): It will meet the basic requirements for a comfortable stay, good size and clean guest rooms with AC, TV, coffee and tea, wake-up service, hot water, shower and private bathrooms. On-site restaurants with breakfast included and lunch or dinner at your own pick up. A small fitness center, spa or some places a swimming pool can be expected.
4-Star Class (Superior): Across Indochina, a wide range of comfortable boutique hotels are available with shopping, dining and entertainment facilities nearby. Featuring quality service, fully furnished rooms, restaurants, fitness center with spa (and swimming pool in most cases), the hotels are expected to offer an above-average accommodation experience.
5-Star Class (Deluxe): Top-notch services and an extensive range of facilities for an excellent accommodation experience. Multiple restaurants on site and a wide range of choice for buffet breakfast, good size of swimming pool, fitness center and concierge service round out the experience.
We all know that a good and experienced tour guide will make a wonderful holiday; a safe and reliable driver will make a worry-free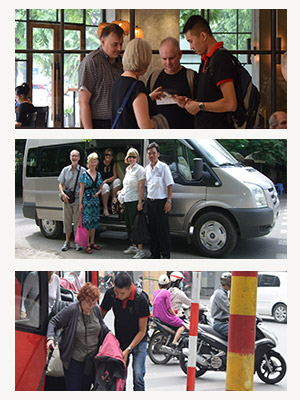 traveling time. All of our tour packages are private and 100% tailor-made so during your travel, you will have a private tour guide, private driver and an air-conditioned vehicle at every destinations you visit. This will provide you with maximized personal care, security, and flexibility.
Private Tour Guide
All tour guides working for Nadova Tours are qualified professionals and registered English Speaking Tourist Guides who are reassessed annually. They are always eager to exchange our culture, lifestyle, knowledge...with travelers, and have a great passion for their country and understand the personal touch.
You will always be greeted punctually on arrival at each destination airport. At every departure, you'll be escorted & assisted until you have checked in and passed through the security checkpoint.
All of our tour guides in every destination are locals. Knowing the area well, they are good at guiding you around and telling background stories of the tour sites, as well as showing you the secret spots for best photos.
If any change of itinerary is needed for unexpected reasons, your private tour guides will be more than accommodating in suggesting alternatives to ensure that you always have a wonderful experience.
Private Transportation and Licensed Driver
Nadova Tours offers you comfortable and safe private transportation, your holiday will be more relaxing and less tiresome, keeping you in the best spirits to make the most out of your journey across Southeast Asia.
Your vehicle in each destination is air conditioned, insured, clean, and regularly maintained. Your private drivers are licensed and your safety is always their first priority.
Indochina region will offer you the world's best food and the local cuisine is really a highlight of your travel here. Nadova Tours tend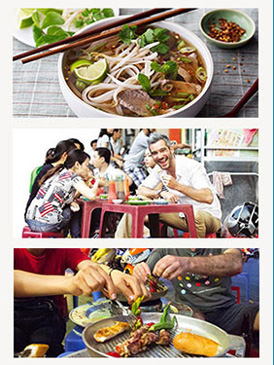 to include good meals where necessary and when special. Other meals are on your own choice.
Breakfast
It is normally served at the hotel where you stay. Depending on the hotel, the breakfast would be in western style, local style, or a combination.
Lunch
Lunches (if included) are usually set menu at handpicked local restaurant with comfortable dining environment where you can rest assure to taste the local flavor. All the restaurants are well selected and reevaluated constantly.
Dinner
Dinners are only included if you stay overnight in a homestay, overnight on cruise in Halong Bay and Mekong Delta or at some special occasions such as welcome dinner, farewell dinner or on your requirement. So dinners are at your own choice and arrangement, but Nadova Tours private tour guides will always give you good suggestions based on your preferences.
Food allergy or Vegetarian
We suggest you to list any food or ingredients that you are allergic to or if you are a Vegetarian and let our travel consultant know. Then your travel consultant will put that in the tour guide's itinerary, so that our reservation's team and tour guides in different cities can make some preparations and arrangements to accommodate your needs in advance.
- High quality service and affordable price with added value
- 1 on 1 travel consultant
- Use of excellent local guides
- Use of well-selected hotels
- Use of comfortable vehicles
- Worry-free & one-stop service
- Excellent customer care
- Deposit 30% in advance after the tour is confirmed (by Credit Card, Bank Transfer, Western Union or Money Gram)
- Balance will be paid on arrival in cash, credit cards, traveler's cheque
- Online and secure payment by bank transfer or credit cards